13th Batch of the Youth Empowerment Programme
Start Date : 15 Aug 2022 TO End Date : 15 Aug 2023
YOUTH EMPOWERMENT PROGRAMME (YEP13)
(YUVA VEER COURSE)
ORGANIZED BY: All India Chinmaya Yuva Kendra (AICHYK)
DURATION: 15 August 2022 to 15 August 2023 (training is from 15 August to 31 October)
CHIEF FACILITATOR: Swami Swatmananda
SUPPORTED BY: Swamins / Brahmacharins / Experts in various fields from Chinmaya Mission and other organizations
OBJECTIVE: Empower youth with knowledge of Vedanta, Hindu Culture & Patriotism. They will in turn empower thousands of youth across the world.
PROGRAM STRUCTURE:
LEARN for 3 months at Chinmaya Vibhooti, Kolwan, Pune
SERVE for 9 months in various Chinmaya Mission centres and projects
GROW for life
ELIGIBILITY:
Young graduates who are fluent in English
Age criteria - Below 28yrs
Willing to commit 1 year exclusively to serve the Nation sincerely.
ADMISSION & REGISTRATION -
Only for 30 Participants - through process of application & personal interview
Register to join YEP-13 at  
https://bit.ly/YEP132022
Last date of registration is 31st July 2022
YEP is conducted FREE - Support through donations or CSR funding. Use the link -  
https://bit.ly/yep13sponsor
to sponsor.
For details of sponsorship, write to 
yep@chinmayayuvakendra.org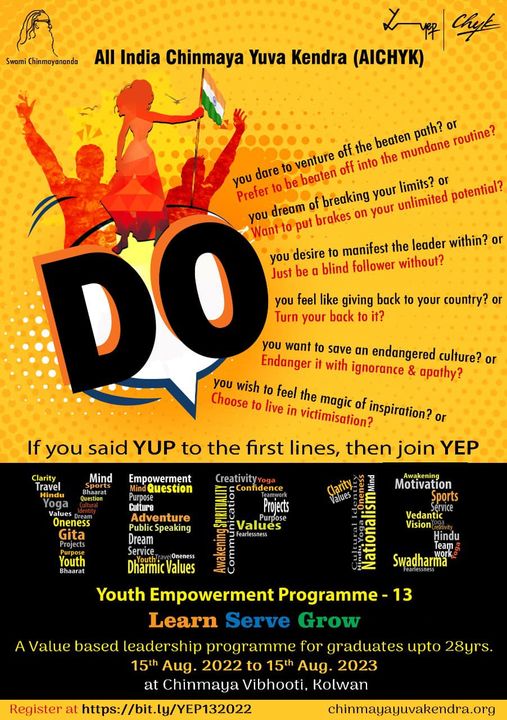 Other Details
| | |
| --- | --- |
| Facilitator | : Swami Swatmananda |
| | : |
| Type | : Courses |
| State | : Maharashtra |
| Country | : India |
| Charges | : |
| Centre | : Chinmaya Vibhooti |
Contact
Quick Contact