Advaita Vedanta Immersive
Start Date : 25 Dec 2023 TO End Date : 31 Dec 2023
An intensive residential programme for advanced students of Advaita Vedanta. The third edition of this immersive focuses on the second sutra of the Brahmasutra - 'janmadyasya yatah' (Janmadyadhikarana) that reveals the very definition of Brahman. Participants will be guided through the sutra with detailed discourses on the Shankara-bhashya, supplemented with sessions of svadhyaya, group discussions, Q&A sessions and meditation right in the birth home of Sri Adi Sankaracharya.
Facilitator: Swami Advayananda assisted by Brahmachari Ved Chaitanya, Brahmacharini Bharati Chaitanya, Brahmacharini Devaki Chaitanya, Brahmacharini Shubhani Chaitanya and Brahmacharini Taarini Chaitanya
Language: English
Venue: Adi Sankara Nilayam, Ernakulam, Kerala
Eligibility: Interested students have to take a quick online test to find out their eligibility. Those eligible will be asked to register and prepare by studying the recordings of the first and second set of immersive discourses prior to the camp in December.
For details on the camp highlights, eligibility and preparations, visit the website:
https://www.chinfo.org/AVI2023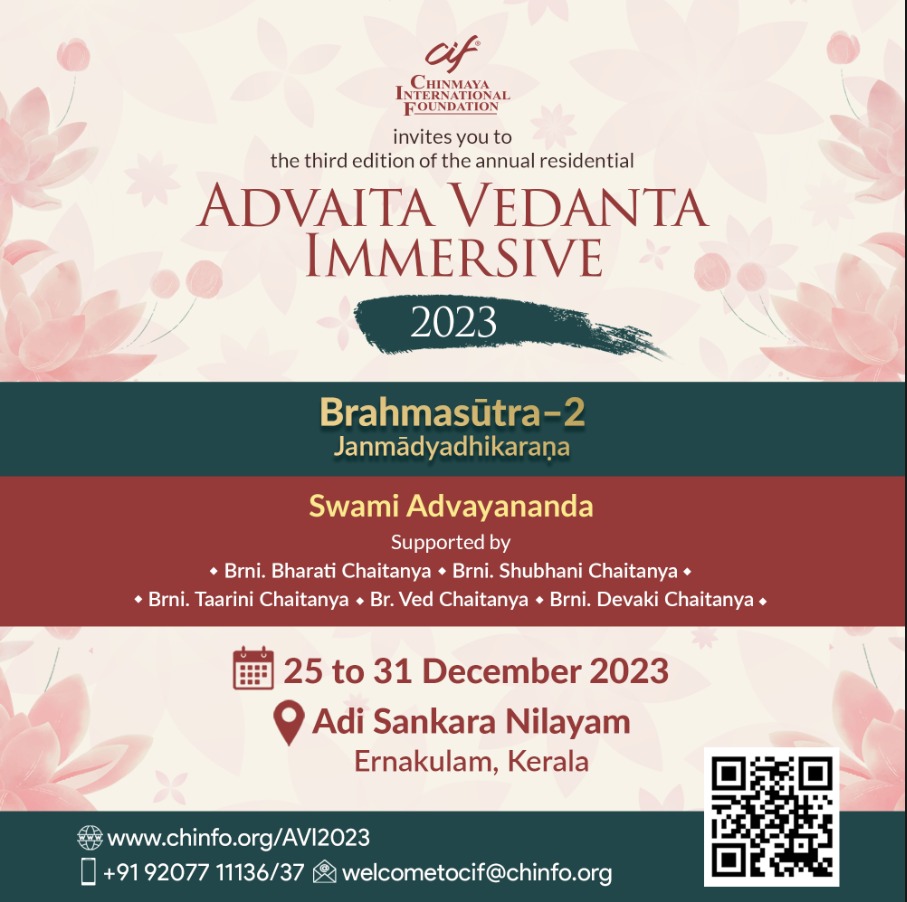 Other Details
| | |
| --- | --- |
| Facilitator | : Swami Advayananda |
| | : Br Ved Chaitanya |
| | : Brni Bharati Chaitanya |
| | : Brni Devaki Chaitanya |
| Type | : Camp |
| City | : Ernakulam |
| State | : Kerala |
| Country | : India |
| Charges | : |
| Centre | : Adi Sankara Nilayam |
Contact
Quick Contact