Advaita Vedanta Immersive 2018 By Swami Advayananda
Start Date : 25 Dec 2018 TO End Date : 31 Dec 2018
Objective
The Advaita Vedanta Immersive is an opportunity for seekers to attain clarity and appreciation of essential and deep concepts of Advaita-vedānta in the span of one week. This year the text for the study is the first sutra of the Brahmasūtra (jijñāsāsūtra).
Eligibility
For attending this programme, you should have been already introduced to Advaita-vedānta and must have studied at least a few basic texts of Advaita-vedānta like the Bhagavad-gītā (at least a few chapters), a few Upaniṣads and some prakaraṇa-Granthas. Knowledge of Sanskrit is not compulsory though it will be advantageous.
Pedagogy
The one week program consists of lectures, time for personal reflection, discussion groups, doubt clarification sessions, and demonstrating the understood concepts through written samples and meditation. These written samples are checked by facilitators and returned to the students. The pedagogy is the triple means of śravaṇa, manana, and nididhyāsana.
Course Facilitators
Swami Advayananda, Chinmaya International Foundation (CIF) and Chinmaya Vishwa Vidyapeeth (CVV); Sri Rahul Maini, Chinmaya Somnath, Northern Virginia; Br Ved Chaitanya, CIF; and others
Application Process    
Participants will be selected through an application and review process.
Special Highlight
Viṣṇu Sahasranāma Arcanā on 31st to welcome the new year.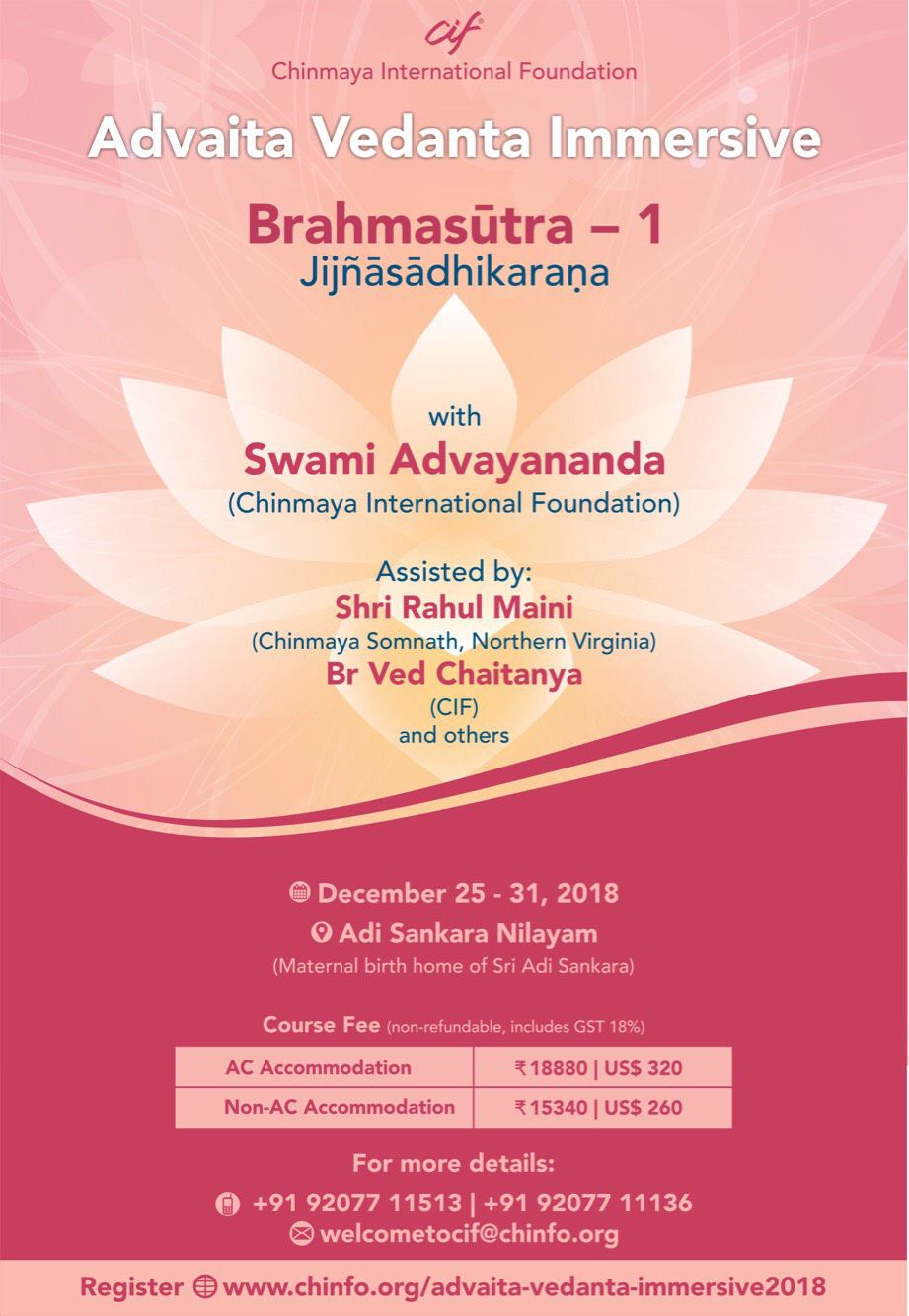 Other Details
| | |
| --- | --- |
| Facilitator | : Swami Advayananda |
| Type | : Camp |
| City | : Ernakulam |
| State | : Kerala |
| Country | : India |
| Charges | : |
| Centre | : Adi Sankara Nilayam |
Contact
Quick Contact