Bhagwat Saptaha by Swami Subodhananda at Vrindavan
Start Date : 25 Jan 2018 TO End Date : 31 Jan 2018
Hari Om !!Salutations !!
It is a matter of great pleasure that to commemorate Shasthipurti (completion of sixty years age) of, one of the senior most Swamiji of Chinmaya Mission, Regional Head (U.P, H.P,. M.P, & Rajasthan), Chief Acharya of Sandeepany Himalaya, Sidhabari,Swami  SubodhanandaJi's Bhagwat Saptaha Camp from 25th Jan. to 31st Jan 2018 have been organized inPhogla Ashram, Vrindavan by Chinmaya Mission, Kanpur headed by Br. Jayadev Chaitanya, Acharya, Kanpur.
Swami Subodhnandji is great scholar and one of the best KATHAVACHAK (Speaker).Books authored by him have been published by CCMT Publications. In this Bhagwat Saptah he, himself is KATHAVAKTA.
Many Swamis and Brahmacharis of Chinmaya Mission will be offering their Shraddha and respect by attending the above Camp. Personally I am also attending the full camp to offer my Shraddha and respect.
Shasthipurti of Swamiji, Bhagwat Katha by him, presence of many Swamiji and venue being one of the best Ashram of Vrindavan ,all these make this BhagwatSaptah a rare occasion.
By the grace of PujyaGurudev and Lord Shri Krishna we are getting this rare opportunity to offer our Shraddha, to respected Swamiji.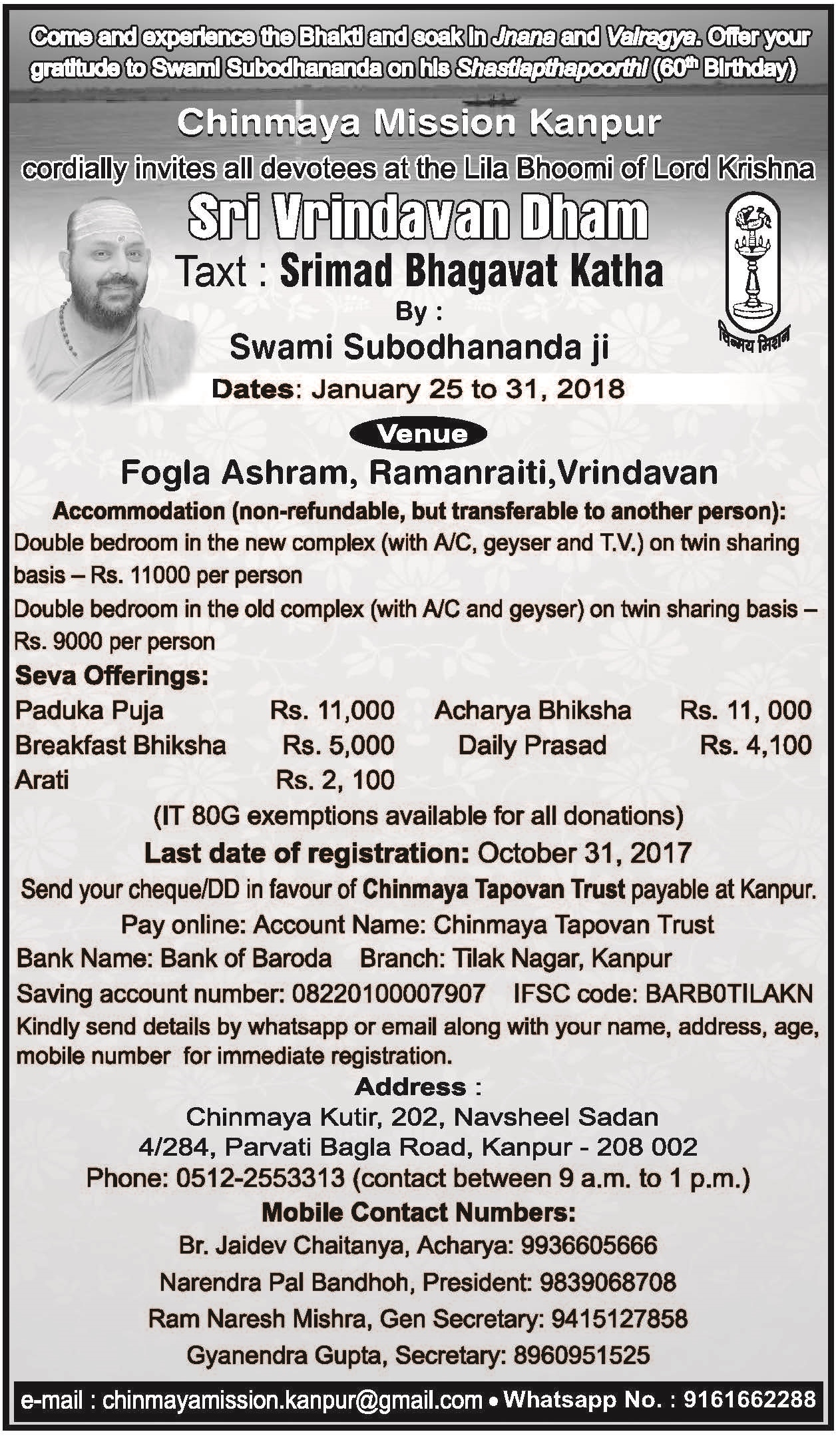 Other Details
| | |
| --- | --- |
| Facilitator | : Swami Subodhananda |
| | : |
| | : |
| | : |
| Type | : Camp |
| Venue | : Fogla Ashram, Ramanraiti,Vrindavan |
| City | : Kanpur |
| State | : Uttar Pradesh |
| Country | : India |
| Charges | : |
| Centre | : Chinmaya Mission Kanpur |
Contact
Chinmaya Kuttir, 202 Navsheel Sadan, 4/284 Parbati Bagla Road, Kanpur - 208 002
Quick Contact