Hindu Chaplaincy Certificate Programme
Start Date : 19 Jan 2022 TO End Date : 30 Sep 2022
Chinmaya Vishwavidyapeeth is launching its Certificate in Hindu Chaplaincy programme in January 2022.
More details can be found at https://www.cvv.ac.in/program/certificate-in-hindu-chaplaincy
Spiritual Caregiving, another word for Chaplaincy, is as ancient as Hinduism. Spiritual Caregiving has always been provided in the past and even today by Kulagurus, Swamins, wise grandfathers and grandmothers, compassionate aunts and uncles, and one's own caring teachers and mentors.
Instead of relying on the natural talents of wise mentors, people with a sense of service and love for all can enhance their natural talents by studying with others who have walked the path and paved the way to develop those natural talents. With such study, people can enhance their natural skills and be more effective Spiritual Caregivers.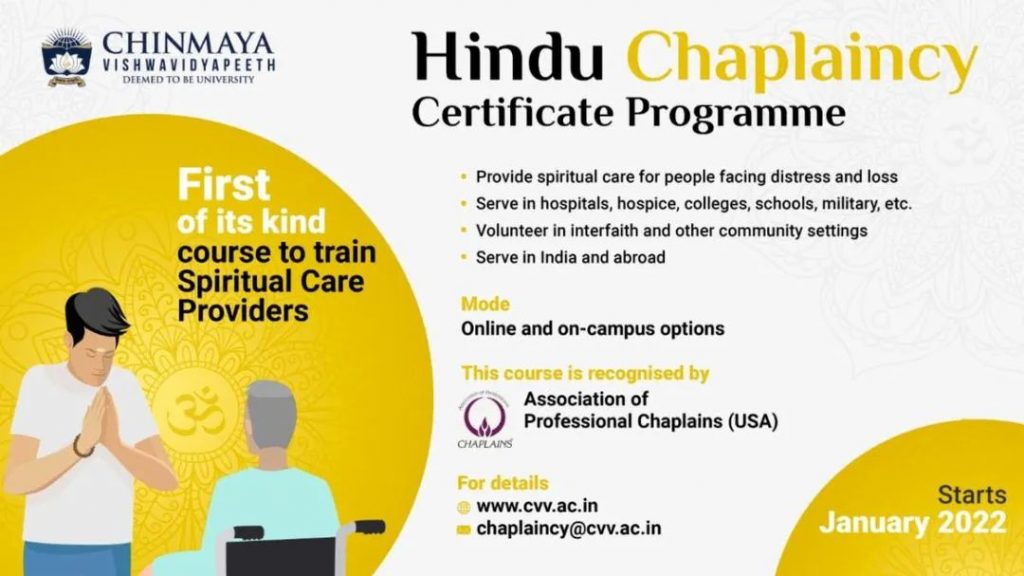 Other Details
| | |
| --- | --- |
| Facilitator | : - |
| | : |
| Type | : null |
| Charges | : |
| Centre | : null |
Contact
chaplaincy@cvv.ac.in
Quick Contact