Mahasamadhi Aradhana Camp by Chinmaya Mission West
Start Date : 29 Jul 2022 TO End Date : 03 Aug 2022
A special online camp with the theme 'naumi janaka sutāvaraṃ' (Sampoorna Ramayana).
The camp inauguration will be on the evening of Friday 29 July 2022 and the camp will conclude with Chinmaya Mahasamadhi Aaradhana puja on Wednesday 3 August 2022.
It will be hosted by Chinmaya Mission Dallas Fort Worth (CMDFW), USA.
Camp highlights include Swami Swaroopananda's two talks daily on Ramayana and Swami Tejomayananda's daily talk on 'Vedanta Madhuryam', i.e. the sweetness of Vedanta, a text which he has composed himself.
In addition to talks for adults, there will be programmes for Bala Vihar children and the youth (Chinmaya Yuva Kendra). There will also be daily enactment of scenes from Ramayana by different Centres.
Please mark your calendars. More details will follow soon.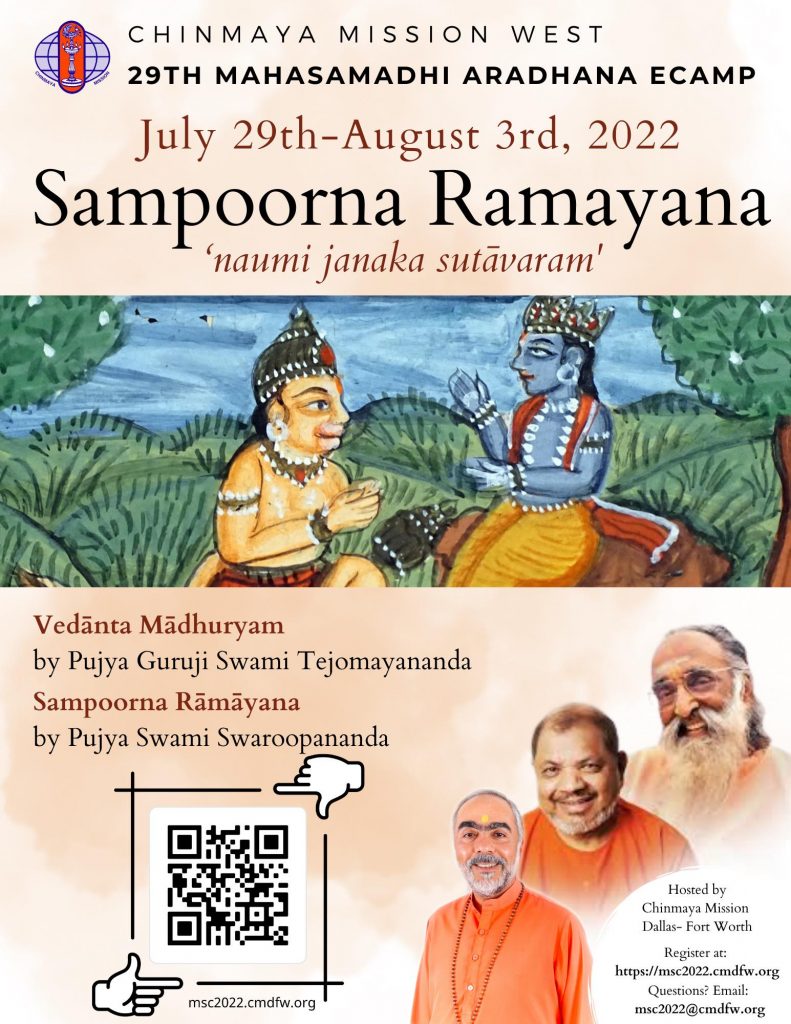 Other Details
| | |
| --- | --- |
| Facilitator | : Swami Swaroopananda |
| | : Swami Tejomayananda |
| Type | : Online Event |
| Charges | : |
| Centre | : Chinmaya Mission Dallas-Fort Worth |
Contact
Quick Contact