Talk based on Bhagavad Geeta Chapter 8 by Swami Tejomayananda
Start Date : 06 Nov 2017 TO End Date : 10 Nov 2017
Remember your target and think of it day in and day out. Leave no room for other thoughts, and you will attain it effortlessly.
Talk based on Bhagavad Geeta Chapter 8 by His Holiness Pujya Guruji Swami Tejomayananda at Kamaraj Memorial Hall from 6th to 10th Nov 2017 between 7 to 8.15 pm.
One of the foremost disciples of Swami Chinmayananda is a living portrait of simplicity with depth, humility with courage and wisdom with devotion. His down to earth and pleasing personality, his devotional heart, intellectual clarity and easy accessibility have earned him intergenerational appeal and endeared him millions around him.
Golden opportunity for young parents to attend the Talk. There would be simultaneous sessions by Swami Mitrananda, for children in the age group 6 to 12 years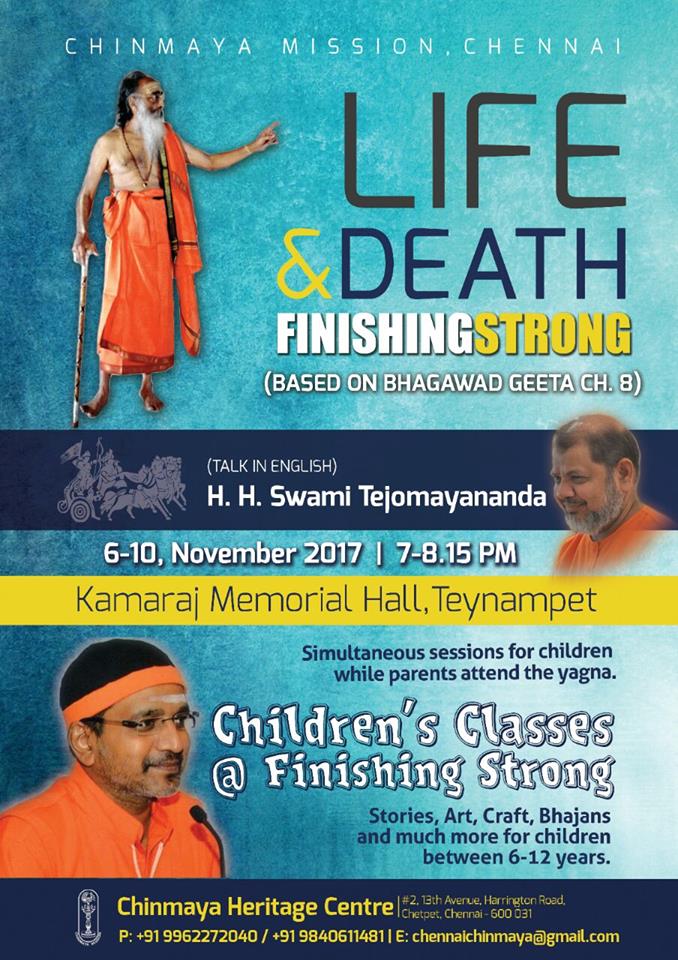 Other Details
| | |
| --- | --- |
| Facilitator | : Swami Tejomayananda |
| | : Swami Mitrananda |
| | : |
| | : |
| Type | : Talk |
| City | : Chennai |
| State | : Tamil Nadu |
| Country | : India |
| Charges | : |
| Centre | : Chinmaya Mission Chennai |
Contact
Chinmaya Heritage Centre, #2, 13th Avenue, Harrington Road, Chetpet, - 600 031
Quick Contact