Talks on Bhagavad Gita Chapter 16
Start Date : 19 Jul 2022 TO End Date : 22 Jul 2022
Chinmaya Mission Sydney invites you to attend free public talks in English by Swami Shrikarananda - 'The Flawed And The Fabulous', based on Bhagavad Gita Chapter 16.
The flawed and the fabulous, the good and the bad, the divine and the devilish - these divisions are clearly seen in the world. Why be good? Often those who adopt unfair means are seen to be achieving great success. The Lord explains that the path to the Highest must be fair; it cannot be paved out of the flawed, devilish qualities in us. Shri Krishna holds a mirror to each of us to face our current status. A very confronting chapter. Be ready to see yourself and lift yourself to the Divine.
Free Registration
https://Geeta-chapter-16.eventbrite.com.au
Parking
You can park at the back of the Ashram or at 40 Carrington Road, or across the road at the Hills Showground Metro Station car park.
Contact:
Nish (61) 0433 212 135, Nandu (61) 0408 445 941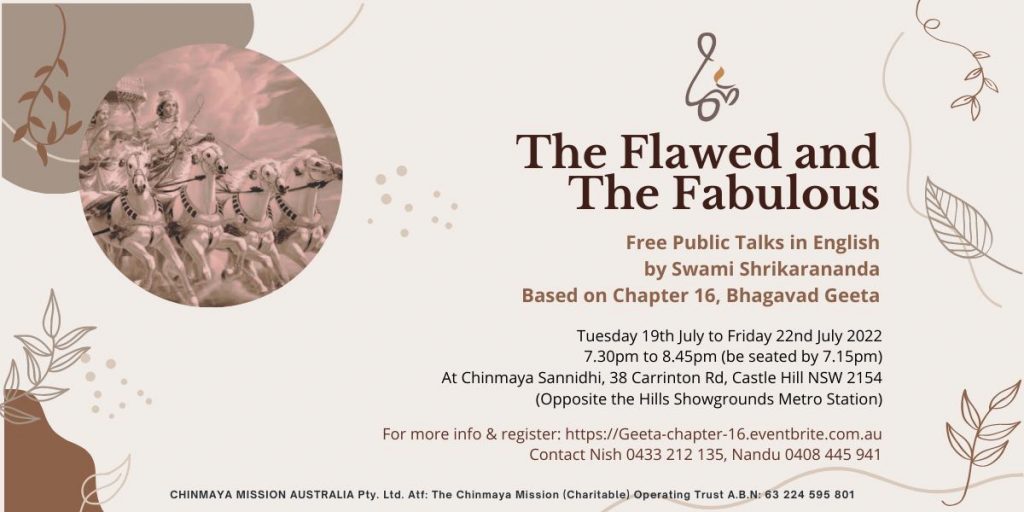 Other Details
| | |
| --- | --- |
| Facilitator | : Swami Shrikarananda |
| | : |
| Type | : Talk |
| Charges | : |
| Centre | : Chinmaya Mission Sydney |
Contact
Quick Contact