The Art of Parenting – Offline Event in Perth
Start Date : 17 Jul 2022 TO End Date : 17 Jul 2022
The 'Art of Parenting' is a half day workshop brought to you by Chinmaya Mission Perth.
Parenting is easily the most challenging job and the most rewarding as well. Traditionally, children were raised by communities, not parents. But in modern society we find that this is harder to achieve. Thereby leaving greater stress on parents. The added challenge is the different cultures that we live in and that shape our childrens' thinking. How can we impart the culture of the East to the children growing in the West? These issues and many more will be handled in this half day workshop conducted by Swami Aparokshananda.
While you are learning the Art of Parenting, your child will be looked after and engaged in some stimulating activities run by our dedicated group of Bala Vihar sevaks.
Sunday 17 July 2022
9.00 am to 1.00 pm AWST
Hillview Intercultural Community Centre, 1-3 Hillview Pl, Bentley
Fees: $65 per person, $100 per couple (AUD)
Please click on link below for registration
https://forms.gle/ua4NEducPj7ZKRXL8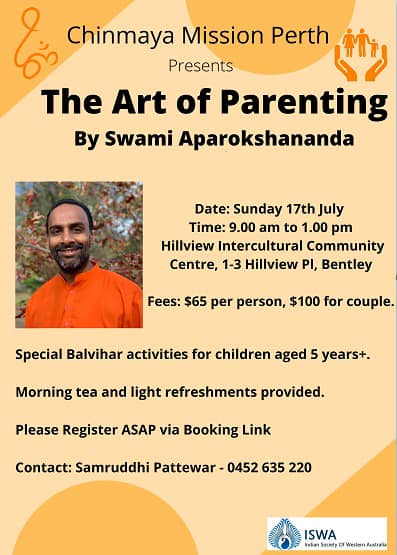 Other Details
| | |
| --- | --- |
| Facilitator | : Swami Aparokshananda |
| | : |
| Type | : Camp |
| City | : Perth |
| State | : Western Australia (WA) |
| Country | : Australia |
| Charges | : |
| Centre | : Chinmaya Mission Perth |
Contact
Samruddhi Pattewar
0452 635 220
Quick Contact