Vedanta Course in Hindi at Sandeepany Himalayas
Start Date : 08 May 2021 TO End Date : 08 May 2023
13th Batch of Vedanta Course in Hindi at Sandeepany Himalayas,Chinmaya Tapovan Ashram,Sidhbari 2021-2023
Himalayas has been a centre of Vedanta learning in Hindi language since many years; and 12 batches of students have studied in this Gurukula situated in Sidhabari, Himachal Pradesh.
The 13th batch of Vedanta Course in Hindi at Sandeepany Himalayas, Sidhabari will be inaugurated on 8th May 2021,Pujya Gurudev's Jayanti . This course will be taught by Swami Avyayananda. He is fluent in Sanskrit, Hindi, Gujarati and English.
Over the years, the generous donations of well-wishers have enabled the legacy of the Vedanta Courses to grow in numbers and stature. Members can partake of the blessings of this rich heritage by contributing to the Rishi Putra Scheme. The sponsorship can be for the training of one or more brahmacharins, and part sponsorships are also welcome.
For all available seva options as part of the Rishi Putra Scheme, please contact :-
General Manager,Chinmaya Tapovan Ashram,Sidhbari
Mobile: +91 9899107730,Email:
ctt@chinmayamission.com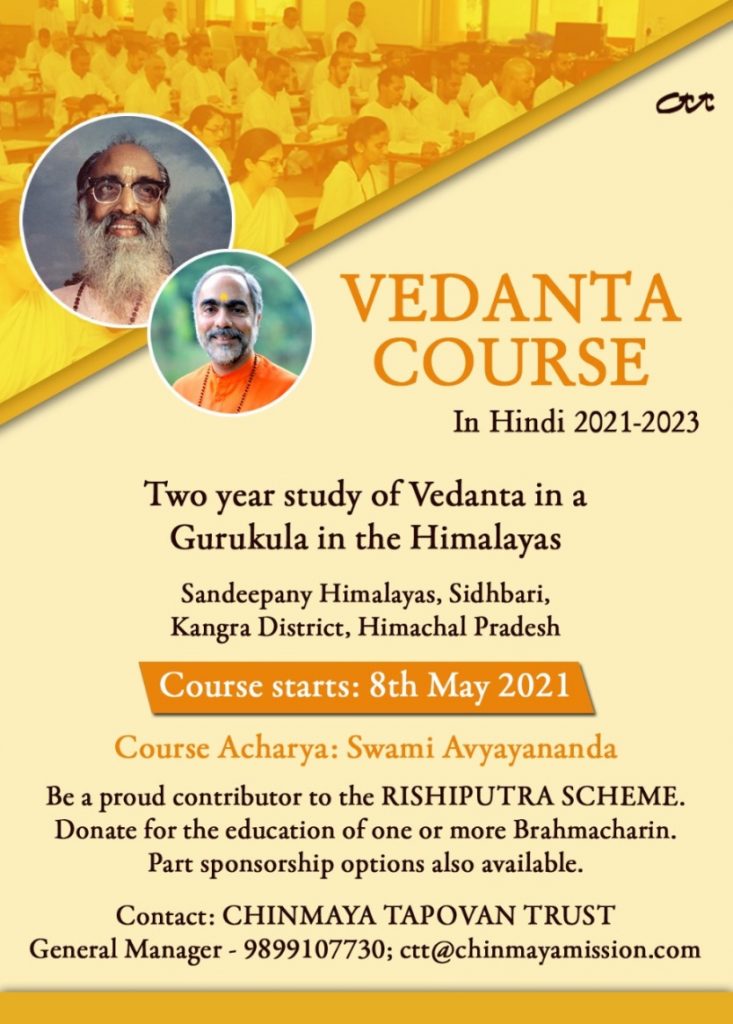 Other Details
| | |
| --- | --- |
| Facilitator | : Swami Avyayananda |
| Type | : Courses |
| City | : Sidhbari |
| Country | : India |
| Charges | : |
| Centre | : Sandeepany Himalayas |
Contact
General Manager, Chinmaya Tapovan Ashram,Sidhbari Mobile: +91 9899107730, Email: ctt@chinmayamission.com
Quick Contact