Vedanta Unveiled Camp at CIF, Kerala
Start Date : 23 Nov 2023 TO End Date : 29 Nov 2023
Enjoy a hearty retreat with Swami Tejomayananda, as he unveils the subtle concepts of Vedanta through the Bhagavad Gita Chapter 15 – Purushottama Yoga.

Swamini Vimalananda will unravel the mahavakya 'aham brahmasmi' through the crest jewel of the Brihadaranyaka Upanishad (Purushavidha Brahmana).

Swami Advayananda will expound on the prakarana-grantha – Svarupanusandhanam of Adi Shankaracharya.

This is indeed a rare opportunity to bask in the presence of Swami Tejomayananda and learn from him the crux of Vedanta and that too in the best of the places, the birth home of Shri Adi Sankaracharya!

Camp Details: Dates: 23 to 29 November 2023
Language: English
Venue: Adi Sankara Nilayam, Ernakulam, Kerala
Note: If you are a youth in the age-group 18 to 28, and wish to avail of a special discount of 30%, please write to: 
welcometocif@chinfo.org
About the Texts:
Bhagavad Gita Chapter 15 – Purushottama Yoga The fifteenth chapter is one of the rarest pieces of literature available in the world that directly indicates the Infinite. It may be the shortest chapter of the Bhagavad Gita, with only twenty verses, and yet it is the most succinct and a most comprehensive presentation of Vedantic wisdom, so much so that Shri Krishna declares this chapter to be by itself a 'shastra'!

Crest Jewel of Brihadaranyaka Upanishad (Purushavidha Brahmana) 
The Purushavidha Brahmana of the Brihadaranyaka Upanishad is a classical exposition of the famous Purusha-Sukta of the Veda. By means of this Purushavidha Brahmana, the Upanishad gives us a complete description, not only of the nature of Reality, but also of the process of creation up to the lowest limits of manifestation. This is where the famous Mahavakya 'aham brahmasmi' is expounded.

Svarupanusandhanam by Shri Adi Sankararacharya One's true nature is of the nature of Sat-Cit-Ananda. In the eight verses of this lucid prakarana-grantha, Shri Adi Sankaracharya brings home to the ardent seeker the method of deeply contemplating on this Truth. To engage in such a contemplation, one needs the necessary preparation and clarity of knowledge. This too he elaborates upon. The last verse promises for the seeker the ultimate liberation if he were to follow the path and teachings expounded in these eight verses of the Svarupanusandhanam.


For further information:
Contact: 9207711136/37
Email: welcometocif@chinfo.org 
https://chinfo.org/home/event/vedanta-unveiled/130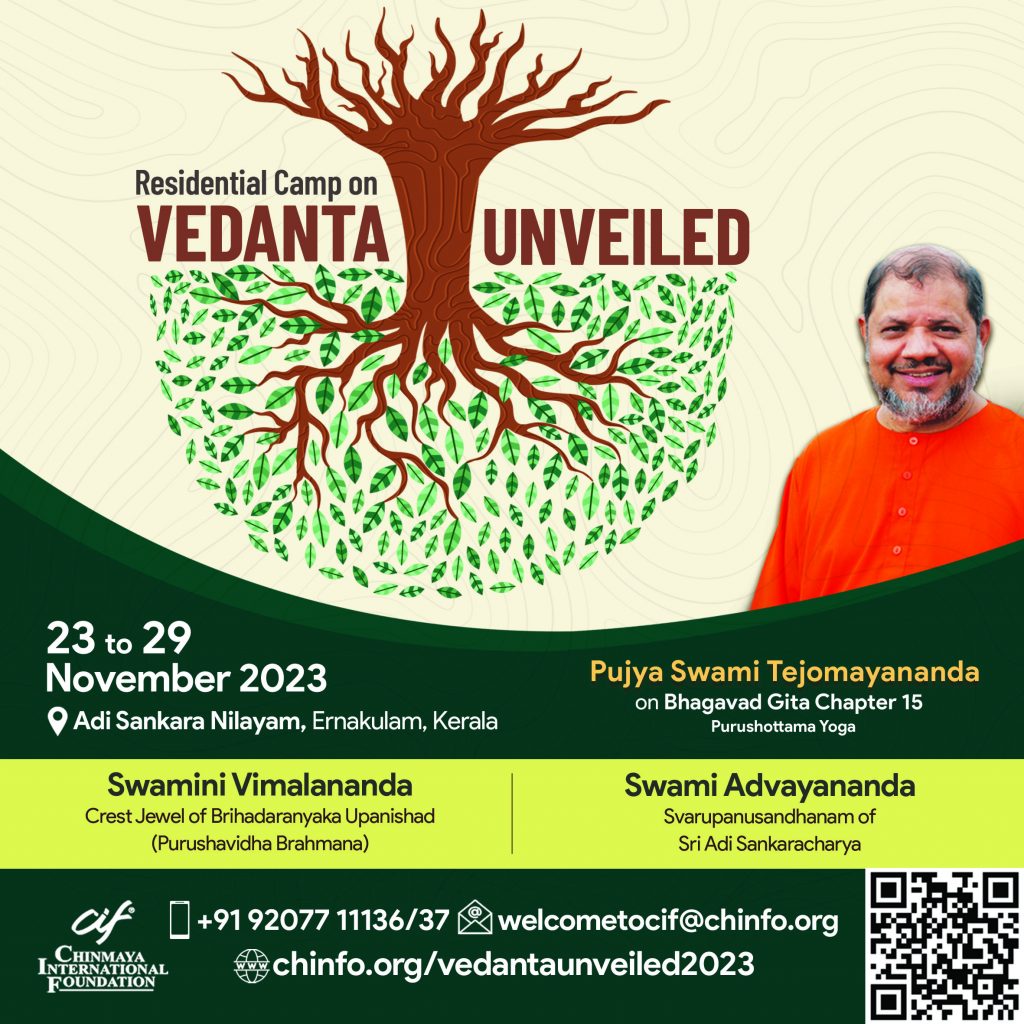 Other Details
| | |
| --- | --- |
| Facilitator | : Swami Tejomayananda |
| | : Swamini Vimalananda |
| | : Swami Advayananda |
| Type | : Camp |
| City | : Ernakulam |
| State | : Kerala |
| Country | : India |
| Charges | : |
| Centre | : Adi Sankara Nilayam |
Contact
Quick Contact