Webinar on Mundakopanishad
Start Date : 24 Jul 2023 TO End Date : 22 Sep 2023
Chinmaya International Foundation (CIF) brings you an online webinar on Mundakopanishad with Shankara-bhashya (commentary by Shri Adi Shankaracharya). The webinar will be facilitated by Brahmachari Ved Chaitanya.
Brahmavidya is the main subject matter of the Upanishads. Through discussions, they establish 'jiva-brahma-aikya', the identity between jiva and Brahman. Mundaka Upanishad, conforming to the same approach, presents these concepts in a unique manner with beautiful analogies in three chapters each with two sections.
Through the study of this Upanishad the seeker is enabled to falsify the world and realise the oneness with the supreme Reality, which is one's own Self. The Upanishad also provides meditative techniques to realise the supreme Truth.
Mundakopanishad, through its resplendently woven mantras, guides the seekers towards the Supreme and it contains some of the most oft-quoted analogies indicative of the highest Truth.
Study of this Upanishad along with the classic commentary of Shri Adi Shankaracharya provides necessary depth and clarity in understanding.
Webinar Highlights:
Recorded sessions will be made available for a month after the camp
Lucid and easy to follow methodology with sessions on doubt-clarification
Class Attendance Guidelines:
Students are encouraged to attend the online live classes as it will also provide an opportunity to resolve queries at appropriate opportunities. Students are advised not to miss any class, and if they do miss for any inevitable reasons, they are required to catch up with recordings before attending the next class.
If one is unable to attend the Live Webinar sessions because of time difference and so on, one can watch the recorded sessions that will be made available on the dashboard.
All recordings will be available on the dashboard up to a period of one month (until the end of October 2023) post the completion of the Webinar.
Language: English
Dates and Schedule: Starting 24 July 2023
Every Week (Monday to Friday)
Time: 7 to 8 PM IST
Duration: 30 Sessions over 2 months
Age Group: 18 and above
Prerequisites:
Prior exposure to concepts of Vedanta will be useful.
Basic knowledge of Sanskrit will be useful.
Since the webinar is an online programme, a good internet connection will be required.
About the Facilitator
Br. Ved Chaitanya comes from a family steeped in the Chinmaya Mission. An Electronics and Telecommunication engineer from Pune, he withdrew from work in TCS to follow his heart. He received Brahmacharya Diksha in 2013. An impactful orator, cheerful, kind hearted and a scholarly student of Sanskrit and Vedanta, his particular interest lies in the application of Vedanta in daily life.
For further information or clarification:
Contact: +91-92077 11517
Email: onlinewebinars@chinfo.org
Registration link:
https://chinfo.org/home/course/mundaka-upanishad-with-shankara-bhashya/142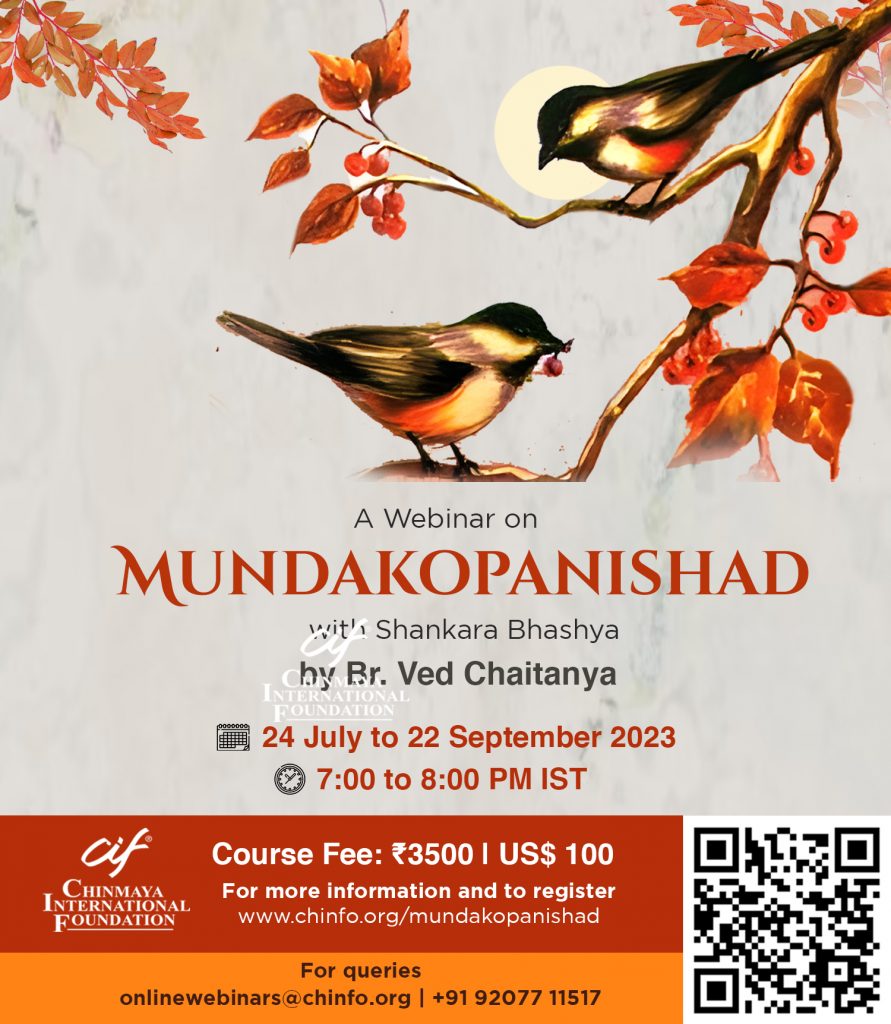 Other Details
| | |
| --- | --- |
| Facilitator | : Br Ved Chaitanya |
| | : |
| Type | : Other |
| City | : Kochi |
| State | : Kerala |
| Country | : India |
| Charges | : |
| Centre | : Chinmaya International Foundation (CIF) |
Contact
+91-92077 11517
Quick Contact