Date : 30 May 2023
Activities in Bengaluru during May 2023
Gita Jnana Yajna in V V Puram
Pujya Swami Adityananda of Mandya center conducted a Gita Jnana Yajna in Kannada from 11/05/2023 to 16/05/2023 taking Bhagavad Gita for Daily Life in Prashanta Ganapati Temple, Prashantanagar. The Yajna was inaugurated by Pujya Swamiji himself in the presence of temple trustees.
Pujya Swamiji focused his discourse on chapters 7 to 12 stressing the need to understand that meaningful living is possible only when sincerely understand that outer world cannot be held responsible for our condition. We ourselves create heaven or hell in the present life with our reactions to individuals, objects & situations that just should be accepted as they are using our viveka. This is possible only when we develop a vision of oneness experiencing the Lord / Self in all manifest world of plurality accepting the fruits of our actions as His will and continuing to perform selfless actions for the benefit of society.
The Yajna was a grand success with participation of sincere devotees.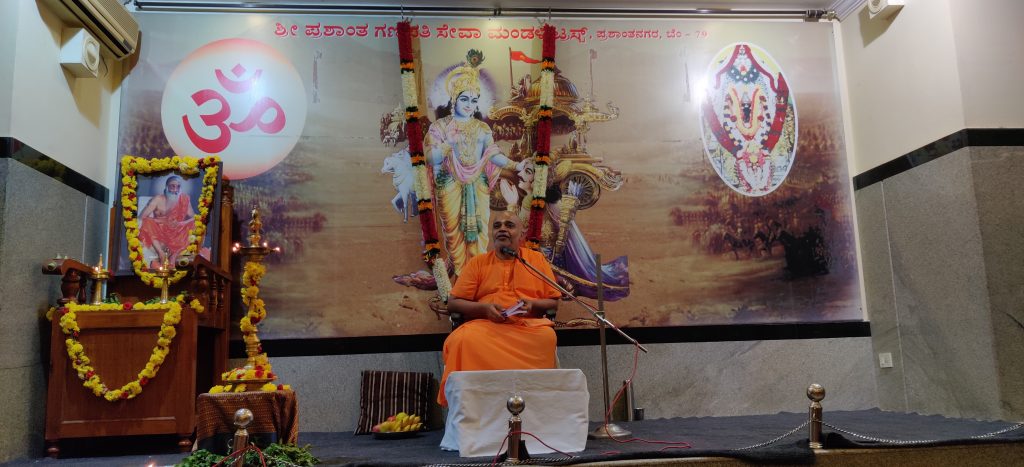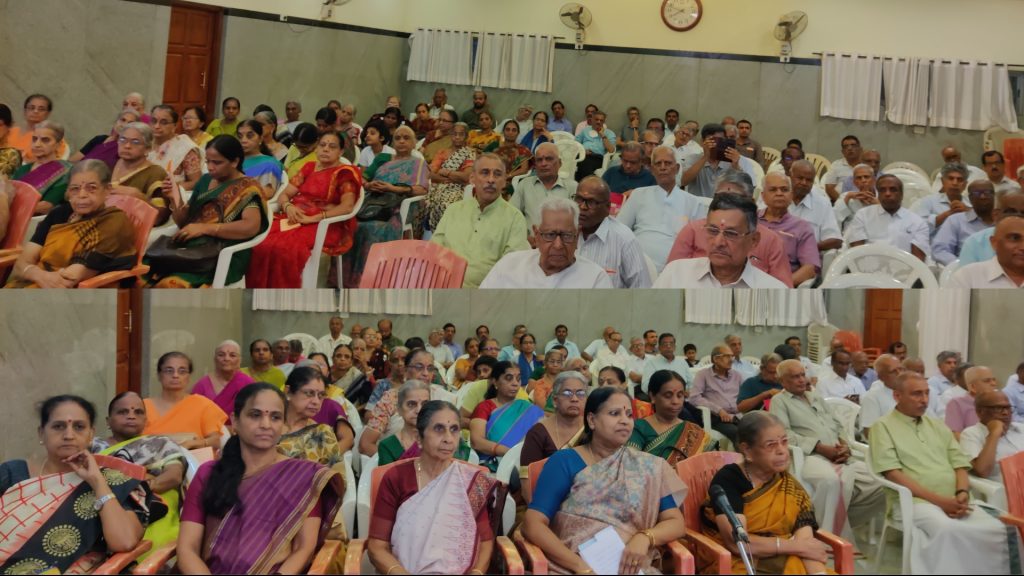 Deenabandhu Pratishta Day and Pujya Gurudev's 107th Jayanti
Deenabandhu Kalia Mardha Krishna temple's Pratishta and Pujya Gurudev's Jayanti were jointly celebrated on Sunday, 7th May, 2023 in Deenabandhu Krishna Temple with the usual religious fervour. The panchamruta abhisheka of the presiding deity Kalia Mardhana Krishna along with Ganesha and Hanuman was done to the chanting of Purusha Suktam, Narayana Suktam, Vishnu Sahasranama, Bhruguvalli, Deenabandhu Ashtakam, Mukundamala and Madhurashtakam followed by bhajans.
 The entire temple complex wore a festive atmosphere with flower decoration and devotees moving around chanting stotrams and bhajans.
The entire programme was divinised by the presence of all Karnataka Acharyas. Pujya Swami Brahmananda blessed the gathering highlighting the significance of sincere devotion along with Pujya Gurudev's contribution in spreading the message of scriptures and the Bhagavad Geeta as Art of Living to the common people.
The highlight of the function was Paduka Puja of twelve pairs of Guru Padukas that were later distributed by Pujya Swamiji to representatives of different areas of Bengaluru for conducting Paduka Puja in residences of devotees throughout 2023 – 2024 till May 2024 when Pujya Gurudev's 108th Jayanti will be observed.