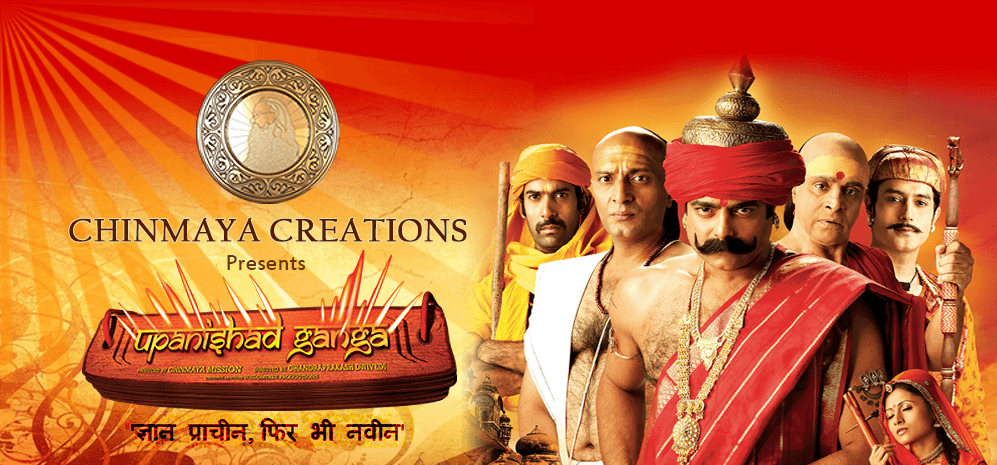 Chinmaya Creations


About Upanishad Ganga
Chinmaya Creations is the creative wing of the Central Chinmaya Mission Trust, the worldwide apex body of Chinmaya Mission. It has produced a unique 52 episode, tele-serial called 'Upanishad Ganga' which has been telecast on India's National network.
"It's old, yet new it's meant for you"
'Upanishad Ganga' – a teleserial – was conceptualised by Swami Tejomayananda – Head of Chinmaya Mission Worldwide, with a vision to take the message of the Upanishads to the masses. Written and directed by Dr. Chandraprakash Dwivedi with Executive Production by Wisdomtree Productions, Upanishad Ganga covers the entire gamut on Indian culture, heritage, philosophy and wisdom spanning more than 5000 years.
Swami Chinmayananda inspired by the flow of the Ganga from the Himalayas to the ocean, blessing and nourishing mankind on her way, strongly felt that he too, must 'take this divine Knowledge to the heart and hearths of each and every man, woman and child of India…' The Upanishads contain universal knowledge – which is relevant at all times, appeals to all people and is applicable at every stage of life. Just as Mother Ganga generously graces the plains, the perennial flow of purity, nobility and wisdom is now captured in a contemporary style to enrich the human mind and nourish the eternal values of life.
A unique and riveting feature of this dedicated and mammoth serial is that it employs three mediums – theatre, storytelling and television. Through the innovative Great Indian Theatre, the ancient Indian wisdom is shared in a style which synergizes the traditional with the modern. The invaluable insights into culture, right living, the four goals of human life, glory of human birth, ethics and much more are delivered in Hindi, in a simple yet engrossing manner, through 52 episodes. The depth and clarity of concepts, the practical applicability and powerful depiction leaves the viewer wanting to delve deeper to transform one's life.
The Reach

The Recognition

The Creative Team
Starting from March 11, 2012, the 52 episodes were aired on Doordarshan (DD-1) every Sunday at 10am and repeated on DD-1 and DD-India (Doordarshan's channel which can be viewed in various countries outside India). The last episode was aired on March 24, 2013 and since May 2013, Upanishad Ganga continues to enlighten and entertain on DD-India on Sundays at 1:30pm and Mondays at 4:30am IST.
Upanishad Ganga Essay Competition
In November 2012, Upanishad Ganga conducted an essay competition on the relevance of the Upanishads in today's world. This was initially open to the  age group of 16 to 24 years. Sponsored by Max India, the topic, 'Upanishads and its relevance in the modern society' evoked an enthusiastic response. The essays (within 1200 words), were written in English or Hindi. Four winners were selected – two each in English and Hindi. These winners shall spend a full day at Adi Sankara Nilayam, the maternal birth-home of Shri Adi Shankaracharya, in Veliyanad, Kerala, with Dr. Chandraprakash Dwivedi, Director of the serial, in December 2013.
Winners (16-24 years):
English: Pragya Agarwal, Delhi.  Sneha Kothawade, Delhi
Hindi: Soni Varshney, Aligarh. Harish Varshney, Aligarh
On announcing this competition, Upanishad Ganga received a number of requests from fans over the age of 24 years. Another competition was held for seniors and two winners were selected from this age group.
Winners (over 24 years):
English: P. N. Vijay, Noida
Hindi:  Nirmal Mittal, Chandigarh
The winners received a package of Swami Chinmayananda's commentaries on the major Upanishads.
Recent Episode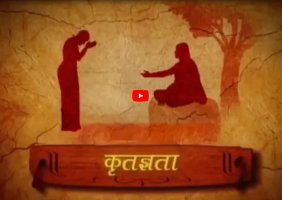 Quick Contact

+91-22-2803 4900

uganga@chinmayamission.com

www.upanishadganga.com
---
A Priceless Treasure
The perennial flow of this knowledge gushes into the comforts of our homes with the availability of Upanishad Ganga on DVD. In three volumes, it is an ideal reference material for individuals as well as research and educational institutions, spiritual organisations, corporates, management and consulting firms.
---
The first volume with Episodes 1-17 was released in December 2012. Volume 2 contains Episodes 18-36 and Volume 3, due for release later, will contain Volumes 37-52. The DVDs are available at all Shemaroo outlets (within India) as well as Chinmaya Mission centres worldwide.
---
The special features of the DVDs include a compilation of the Sanskrit verses with Roman transliteration and translations in English for each episode, a collection of resources including books and DVDs for further reflection on the concepts from each episode, easy access to watch powerful scenes, songs and chants and the option for English subtitles.
---
Upanishad Ganga is the only series that connects today's generation to our ancient teachings of Upanishads. It is not only an attempt to explain the Upanishads in simple language but also establishes the relevance of it in today's life.
– Hiren Gada, Director, Shemaroo Entertainment
---