Acharya Asha Ghate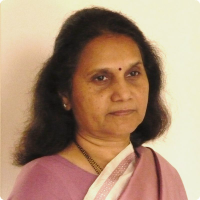 Chinmaya Mission Dallas-Fort Worth
CHINMAYA MISSION - DALLAS/FORT WORTH

CHINMAYA SAKET, 17701 DAVENPORT ROAD
DALLAS, TEXAS
DALLAS
TX 75252
Texas , USA

1-972-2354988

ashaghate@chinmayamission.org
Acharya Asha Ghate was born and raised in Hyderabad, India. After completing a master's degree in economics from Osmania University, she got married and moved to Ithaca, NY in 1964. Since 1966, she has been living in Dallas, Texas. She earned a master's degree in library science from North Texas State University and worked at the Richardson Public Library for a brief period. For more than a decade, she worked as a leisure travel consultant and traveled all around the world.
Acharya Asha began volunteering in social services with local Indian cultural organizations in the late 1960s and continued to do so for decades. She also served as president of the local Maharashtra Mandal, 1993-1994, was a founding member of the local temple, and organized several pujas and discourses over the years.
Acharya Asha's long association with Chinmaya Mission began in 1982 after hearing Pujya Gurudev Swami Chinmayananda's discourses at a CM Houston camp. She first met Pujya Guruji Swami Tejomayananda in 1989, when the local temple hosted his discourses on Navavidha Bhakti. In 1991, she attended Gurudev's marathon camp on Shrimad Bhagavad Gita in Piercy, California. Thereafter, she attended several camps and courses conducted by Guruji in India and the U.S.
When CM Dallas Fort-Worth was officially formed in 1994, Guruji appointed Acharya Asha as its vice president. She served as president from 1997 to 2005. With the enthusiastic cooperation of several devotees and generous donors, in 1998, CM Dallas Fort-Worth purchased land on Davenport Road and construction began for the 'Chinmaya Saaket' ashram. Guruji inaugurated on December 26, 1999 and presided over the idol installation on January 1, 2000.
In 2005, Acharya Asha joined the two-year, residential Vedanta Course under Guruji's tutelage, at 'Sandeepany Sadhanalaya' in Mumbai, India. Here, she studied introductory Vedanta texts, various Upanishads, Shrimad Bhagavad Gita, Shrimad Bhagavatam, Ramayana, and Sanskrit. During the course, she passed with distinction Bharatiya Vidya Bhavan's Madhyama Sanskrit examination. After the course ended in 2007, she returned to the U.S. as a Chinmaya Mission Acharya and continues to serve at CM Dallas Forth-Worth.
Upcoming Events
Sorry, no events found!