Acharya Darshana Nanavaty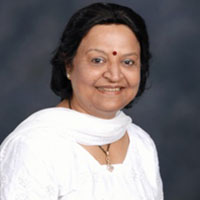 Chinmaya Mission Houston
2411 Water Rest Drive
Sugar Land
77479
Texas , USA


Dnanavaty@gmail.com
Acharya Darshana Nanavaty, acharya and founder of Chinmaya Mission Houston (CMH), was inspired to study Vedanta after attending satsangs and spiritual camps conducted by Pujya Gurudev Swami Chinmayananda. In 1979, she and her husband joined the two-and-a-half year intensive Vedanta residential course in Piercy, California, where they immersed themselves in scriptural studies.
In accordance with Pujya Gurudev's instructions, the Nanavatys embarked upon a life dedicated to spreading spiritual knowledge after completing their Vedantic studies in 1982.
Today, Acharya Darshanaben serves as Director of CMH's Bala Vihar and Yuva Kendra programs. With her calm and caring attitude, she has nurtured the Bala Vihar classes from a handful of children in 1982 to an organized program of 700 students and over 50 dedicated teachers. She has developed a distinctive, creative, and dynamic curriculum that teaches Hindu values and culture to every grade level, from KG-12.
She has been instrumental in publishing various prayer books, such as "Shlokathon" and CMH's prayer books, "Prarthana Piyusha," and "My Prayer Book," which complement the Bala Vihar curriculum. She also conducts Bala Vihar teachers' training programs in the United States and India.
Acharya Darshanaben authored the children's book, "Bon Voyage," with its simple spiritual messages. But it is her multimedia CD-ROM on Bhagavad Gita, "The Journey to the Truth," that brilliantly expresses her talent and creativity. With its mix of animation, folk art, traditional and classical styles of chants, games, and stories, "The Journey to the Truth" uniquely presents the profound messages of the Bhagavad Gita to adults, youth, and children alike.
Upcoming Events
Sorry, no events found!