Acharya G V Raghu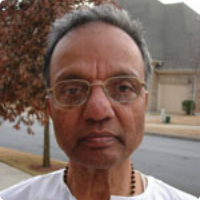 Chinmaya Mission Atlanta
3787 Sutton Place Ct.
Tucker
GA 30084
Georgia , USA

+1-678-615

atlanta@chinmayamission.org
Dr. G.V. Raghu came into the spiritual fold of Pujya Gurudev Swami Chinmayananda in 1989, when he and his family attended their first Chinmaya family camp in Orlando, Florida. Thereafter, he and his wife, Geetha (now also an acharya), attended Chinmaya family camps every year. Their spiritual pilgrimage continued, and continues, to grow under the guidance of Pujya Guruji Swami Tejomayananda.
Dr. Raghu attended his first month-long Dharma Sevak Course in Piercy, California in 1997. Since then, he has been conducting regular, weekly study groups in his home in Georgia. During his ten years of service at the Hindu Temple of Atlanta, he came in contact with, and was deeply influenced by, many Chinmaya Mission acharyas and other spiritual teachers.
In 2006, Dr. Raghu retired from his medical practice and attended the two-year, residential Vedanta course conducted by Pujya Guruji at 'Sandeepany Sadhanalaya' in Mumbai, India. During this period, he was further influenced by the idea of sannyasa (renunciation) and inspired by the other Vedanta course students. In the 18 months that he attended the course, he studied Bhagavad Gita, 10 Upanishads, Vivekachudamani, Ramacharitamanasa, and many other smaller but important spiritual works. He completed the course in 2007 and came back to his Atlanta home as Acharya Raghu.
Acharya Raghu moved to central Atlanta so he could more easily reach out and spread Vedantic knowledge to the community at large. He continues his spiritual sadhana to date and conducts Chinmaya Study Groups in the Atlanta area and its suburbs.
Upcoming Events
Sorry, no events found!