Acharya Geetha Raghu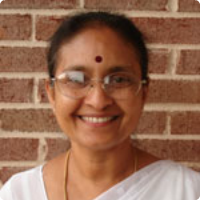 Chinmaya Mission Atlanta
Chinmaya Mission Atlanta
3787 Sutton Place Ct.
Tucker
GA 30084
Georgia , USA

+1-478-213-6103/ 678-615-7088

gita.raghu@yahoo.com
Geetha Raghu's spiritual journey began when she attended Pujya Gurudev Swami Chinmayananda's family camp in Orlando, Florida, in 1989. She has been attending family camps since then. In 1992, she had the fortune of meeting Pujya Guruji Swami Tejomayananda.
Having attended various Dharma Sevak Courses conducted by Pujya Guruji Swami Tejomayananda, Geetha eventually enrolled in the two-year, residential Vedanta Course in Mumbai, India, conducted by Pujya Guruji Swami Tejomayananda, from 2005 to 2007. Having completed the course successfully, she now resides near Atlanta, Georgia and serves as a Chinmaya Mission Acharya, spreading Vedantic teachings in the local community.
Acharya Geetha has been conducting and coordinating Chinmaya Bala Vihar classes since 1990 and actively participating in Chinmaya Study Groups since 1994. After attending her first Dharma Sevak course in 1997, in Piercy, California, she began a Chinmaya Devi Group in Warner Robins, Georgia that remains active to date. Geethaji presently teaches weekly chanting classes, as well as a weekly class for a local Devi Group, Study Group, and Bala Vihar.
Upcoming Events
Sorry, no events found!