Acharya Parameswaran Mahadev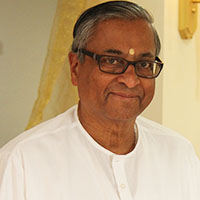 11440 eckleson circle
cerritos
90703
California , USA

562 508 649 8

mahadevparam@yahoo.com
Dr. Mahadev Parameswaran retired in 2004 from the aerospace industry with a degree in Physics. Whisked into the Chinmaya Mission fold of devotees in 1978, with the blessings of Pujya Gurudev Swami Chinmayananda, Mahadevji began Bala Vihar and Junior Yuva Kendra classes for children in 1982, in Southern California. Today, the center formally known as Chinmaya Mission Los Angeles has over 850 children.
In addition to Vedanta classes for children and teenagers, which he taught for over 25 years, Mahadevji is also a music and bhajan teacher. He established and conducted the children's Shruti Music Choir of CM Los Angeles and CM Tustin.
To date, Acharya Mahadev has been giving talks on Vedanta for youth and adults at the "Chinmaya Kashi" (CM Los Angeles), and for youth at "Chinmaya Mithila" (CM Tustin). He has also been regularly offering talks on Vedanta to universities, colleges, and schools in Southern California. Mahadevji has given talks on various texts, including Bhagavad Gita, Bhaja Govindam, Atma Bodha, Rama Gita, Upadesha Sara, and Yoga Vasishtha.
In addition to his full schedule of Vedanta classes and talks, and annual CM festivals and special events, Mahadevji is also the Secretary of Chinmaya Mission in Southern California, which encompasses both, CM Los Angeles and CM Tustin.
In the summer of 2008, he was blessed by Pujya Guruji Swami Tejomayananda to serve as an acharya for Chinmaya Mission at the Kashi ashram, where he continues to conduct regular Vedanta classes to date.
Upcoming Events
Sorry, no events found!