Acharya Prabhakar Ghate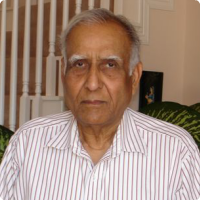 Chinmaya Mission Dallas-Fort Worth
Chinmaya Saket

17701 Davenport Road
Dallas, Texas
Dallas
TX 75252
Texas , USA

+1 (469) 236-3503

pbghate@aol.com
Shri Prabhakar B. Ghate, known to many as "PBG," hails from Dharwad, Karnataka (India). He came to the U.S. in 1958 as a Fulbright Scholar after graduating from Karnataka University with high honors. After completing his Ph.D. in 1962, he joined Cornell University, where he pursued a career in research and teaching until the summer of 1966, after which, he moved to Dallas, Texas to begin his 28-year distinguished career with Texas Instruments.
When PBG first came to Dallas, there were hardly 50-60 people of Indian origin in the area. He soon began serving on the board of the local Indian cultural organization—delivering presentations on sanatana dharma at churches, educational institutions, and interfaith gatherings—and became a founding member of the local temple.
PBG's long association with Chinmaya Mission began in 1982 after hearing Pujya Gurudev Swami Chinmayananda's discourses at a CM Houston camp. PBG met Pujya Guruji Swami Tejomayananda in 1989, when the local temple hosted his discourses on Navavidha Bhakti. In 1991, PBG attended Gurudev's marathon camp on Shrimad Bhagavad Gita in Piercy, California. From 1998-2000, he was involved with the building of CM Dallas Fort-Worth's 'Chinmaya Saaket' ashram.
Over the years, PBG attended several camps and courses conducted by Guruji Swami Tejomayananda, and in 2005, he joined the two-year, residential Vedanta Course under Guruji's tutelage, at 'Sandeepany Sadhanalaya' in Mumbai, India. During the course, he passed with distinction Bharatiya Vidya Bhavan's Kovid Sanskrit examination. After the course ended in 2007, he returned to the U.S. as a Chinmaya Mission Acharya and continues to serve at CM Dallas Forth-Worth.
Upcoming Events
Sorry, no events found!