Swami Shrikarananda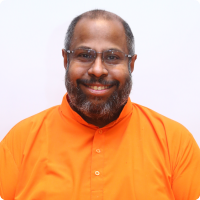 Chinmaya Mission Sydney
Chinmaya Sannidhi
38 Carrington Road
Castle Hill New South Wales
Castle Hill
NSW2154
New South Wales , Australia

+61-2-8850 7400

sshrikarananda@chinmaya.com.au
Brahmachari Gopal Chaitanya is currently serving Chinmaya Mission Australia (NSW, QLD, ACT) at Chinmaya Sannidhi ashram in Castle Hill, Sydney. Gopalji was a CPA Accountant and Studied 'Bachelor of Business (Accounting and Information Systems (IT))' at Swinburne University (Melbourne). He worked for large Government and Private Sector Companies in Melbourne after his studies.Gopalji was born in Sri Lanka, however lived most of his life overseas.
Being spiritually inclined right from a very young age and inspired by various spiritual masters, Gopalji started to study the scriptures even as a young child and came in contact with various spiritual masters. It was during his University years that he came in contact with Pujya Swami Tejomayananda (Guruji) and Swami Swaroopananda (Swamiji). After attending various talks by Swamiji in 1995, his spiritual curiosity was further aroused and he became an active member of the Chinmaya Yuva Kendra (CHYK), the youth wing of Chinmaya Mission. Here he served for seven years in various capacities – right from taking classes for little Bala Vihar children, being sevak of adult Geeta class to organizing huge public discourses, camps and workshops.
With Inspiration and guidance from Swamiji, he was led to Sandeepany Sadhanalaya (Mumbai) in 2002, where he completed a two year intensive Vedanta Course under the able tutelage of Swami Ishwarananda.
Gopalji continues to spread Gurudev's teachings and love to the different places of Australia and whenever he travels overseas.
His advice for daily sadhana is: "Spirituality is about seeing oneness, start by seeing the similarities and leaving aside the differences. Grow and Be Happy!!
Upcoming Events
Sorry, no events found!