Br Ved Chaitanya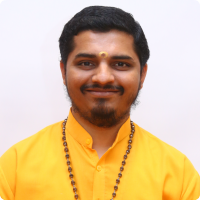 Chinmaya International Foundation (CIF)
Adi Sankara Nilayam
Adi Sankara Marg
Ernakulam Dist.
Veliyanad
682313
Kerala , India

+91-9207711513

brvedchaitanya@chinfo.org
"The best way to serve a Mahatma is to follow His teachings with utmost sincerity", says Brahmachari Ved Chaitanya, who is serving Chinmaya Mission Navi Mumbai centre. He comes from a family which has always been active in the Chinmaya Mission. Being inspired by the Swamins of Chinmaya Mission, such as Swami Purushottamananda, Swami Siddheshananda and others, a very bright student, he has been a disciplined sevak of Pujya Gurudev.
He has completed his graduation in Electronics and Telecommunication Engineering from Pune University and has also worked for a year in Tata Consultancy Services (TCS) before joining the residential Vedanta Course in Sandeepany Sadhanalaya, Powai in the year 2011.
After completion of two years of rigorous training under the guidance of Pujya Guruji Swami Tejomayananda and the tutelage of Swami Advayananda and Br. Samvid Chaitanya, he received the Brahmachari Deeksha on Ganesh Chaturthi day in the year 2013.
Being a versatile orator, he conducts regular study classes for elders, balvihars for children and workshops for youngsters in English, Hindi and Marathi.
Brahmachari Ved Chaitanya perfectly depicts young dynamism with pure wisdom. As a person, he is very cheerful and kind hearted, who is always loved by all, right from small kids to grownup elders. He is very good at tabla playing and has also got several opportunities to accompany Pujya Guruji.
Upcoming Events
25 Dec 2023 - 31 Dec 2023
---