Swamini Sampratishthananda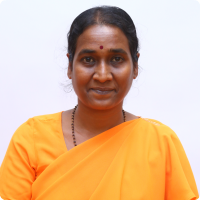 Chinmaya Gardens
Nallur Vayal Post
Siruvani Main Road
Coimbatore
641114
Tamil Nadu , India

+91-9442052288

sampratishthananda@chinmayamission.com
In her childhood days, she served Pujya Gurudev through her bhajans and Vedic chants during Jnana Yajnas and camps. As per Gurudev's guidance, she chose to graduate in Economics and excelled with natural flair as MBA gold medalist, ICWA and CA rank holder.
She underwent Vedanta training during 2005-07, under the tutelage of Pujya Guruji Swami Tejomayanandaji. She then continued as Brni Shruti Chaitanya serving Chinmaya Mission located in Pondicherry (Puducherry), where she was instrumental in establishing Chinmaya Surya. Her Seva yatra continued in the form of Acharya for Tamil Vedanta course conducted at Chinmaya gardens, Coimbatore during 2017-19. At present, she is serving Chinmaya Gardens.
Her unique forte is to render Vedantic values as practical life capsules through corporate workshops, children and youth camps. She often says 'God given abilities are to serve Him alone' which she herself epitomizes in every act. Gurudev's child, Guruji's brought up, a Chinmaya Product, a Vedanta teacher and a modern missionary with spiritual zeal which enthuses all the lives she touches.
Upcoming Events
Sorry, no events found!