Swami Abhedananda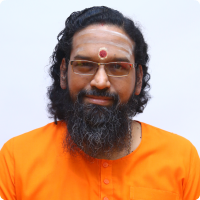 Chinmaya Mission South Africa
159 Road 703
Montford
Chatsworth
Durban
4092
KwaZulu-Natal , South Africa

+27 84 550 5526

swami.abhedananda@chinmayamission.co.za
Swami Abhedananda is currently serving Chinmaya Mission South Africa, at Durban. Earlier, he was posted at Chinmaya Seva Centre Singapore, he spearheaded the activities there for two years.
Inspired by the association with Pujya Gurudev Swami Chinmayananda from his early years, he joined the Vedanta Course in Sandeepany Sadhanalaya in 1993. After completing the course, he served under the name of Br. Abhay Chaitanya. Chinmaya Udghosh, the popular youth magazine of Chinmaya Yuva Kendra, was conceived and nurtured for ten years, till 2005, by Swami Abhedananda. He also created the colourful coffee-table book called Crescendo Peaks, which was released by Pujya Guruji during the Chinmaya Vishwa Sammelan in 2001. In the recent years, many of his thought-provoking articles have appeared in Tapovan Prasad, the spiritual monthly magazine of Chinmaya Mission.
On Mahashivaratri day, March 8, 2005, he was initiated into sannyasa by Pujya Guruji Swami Tejomayananda and given the name 'Swami Abhedananda'. Over the years, he has travelled across India, Bahrain, Nepal, Singapore, Malaysia, Indonesia, and Africa, conducting several jnana yajnas, and spiritual retreat camps for adults, youth and children, tirelessly spreading the message of Pujya Gurudev everywhere. His vibrant and dynamic personality, and oratorical skill in both English and Hindi appeal to people from all walks of life both in India and abroad. He is at home in the Vedantic texts and also devotional literature like the Ramayana and the Bhagavatam.
Upcoming Events
Sorry, no events found!