Swami Adityananda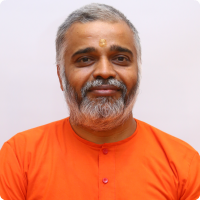 Chinmaya Mission Mandya
Chinmaya Ram Mandir
Vinoba Road
Subhash Nagar
Mandya
571401
Karnataka , India

+91-8232-221442/+91-9141414120

adityananda@chinmayamission.com
Swami Adityananda belongs to Bengaluru and was active in Chinmaya Yuva Kendra right from a young age. He got inspired into the Chinmaya Mission fold through Swami Brahmananda, Regional Head of Chinmaya Mission, Karnataka. After completion of the Vedanta Course at Sandeepany Sadhanalaya, Mumbai, under Swami Anubhavananda from 1996 to 1998, he served at Bengaluru, Hubli and Shivamogga for some time.
Presently he is posted at Chinmaya Mission Mandya Centre and is responsible for its overall development and for the Chinmaya Vidyalaya in Mandya too. He has introduced new ideas to benefit teacher-student relations and teaching techniques in the classroom as well as online.
A voracious reader, his talks are studded with thoughts from various texts. His discourses appeal to listeners of all ages as he advocates deep thinking before accepting any concept. He enjoys diving deep not only into the subject but also the Sanskrit and grammar, trying to thoroughly understand each and every word of the text. He quotes extensively from DVG's Kagga which he considers as one of the best man making compositions in Kannada. Besides Bhagavad Gita and Upanishads, his talks on several other subjects like Ramayana, Bhagavatam, etc. are popular too.
Apart from Jnana Yajnas, he has conducted several camps for children, youth and senior sadhaks as well as Vedic Mathematics sessions. He is a poet at heart and a great lover of "sugama sangeeta" with a spiritual touch, which he liberally uses in all his talks. His articles on wide ranging subjects that appear in Kannada Newspapers are popular for their content and thought-provoking subjects. He has also participated in several Adhyatmic discussions organized by Doordarshan.
Upcoming Events
05 Oct 2022 - 05 Oct 2024
---