Swami Chidatmananda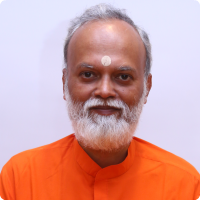 Chinmaya Mission Hyderabad
Sandeepany Kailas
214/1 Kundan Bagh
Begumpet
Hyderabad
500016
Telangana , India

+91-40-23400547/23413125/ 23400674

chidatma@yahoo.com
Swami Chidatmananda is a Law graduate from Osmania University. Inspired by Swami Chinmayananda, he joined Sandeepany Sadhanalaya in Mumbai in 1989 under the tutelage of Swami Purushottamananda.
In 1993 he was initiated into Brahmacharya Deeksha by Pujya Gurudev and posted at the mission center at Hyderabad. He was initiated into Sanyasa Deeksha by Swami Tejomayananda, in 1999. He presently serves Chinmaya Mission Hyderabad and as Regional Head of Andhra Pradesh, India.
Swami Chidatmananda is popular for his talks on India's widely viewed cable TV channels (Gemini,Teja and Doordarshan), where he covers topics such as the Bhagavad Gita & Vemana padyamulu (poems by the Yogi Vemana). He also speaks on Vedanta (Upanishads), Ramayana and Mahabharata.
He has conducted many Spiritual, Meditation, Management and Personality Development camps for Youth and Elders. Apart from these activities, Swamiji has conducted many sessions for government organizations, management schools and politicians in India with discussions on stress and mind management, self-management, ethics, and morals. Swamiji is acclaimed for his ability to unfold very complex concepts from Upanishads with ease. He is fluent in English and couple of Indian languages.
Swamiji has toured widely internationally for the past several years – USA, Canada, UK, France, Oman – and has endeared himself to a variety of audiences with his, lectures on vedanta philosophy and meditation sessions.
Upcoming Events
Sorry, no events found!