Swami Chidrupananda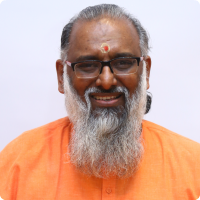 Chinmaya Mission Noida
Hanuman Moorti
P S-2, Sector 37
Next To Amar Public School
Noida
201303
Uttar Pradesh , India

swamichidrupananda@gmail.com
Swami Chidrupananda , is presently working as Director of All India Chinmaya Yuva Kendra for the entire North Zone. Chinmaya Yuva Kendra is the youth wing of Chinmaya Mission serving the youth all over India since its inception in the year 1975. Since his childhood days, he has been blessed by the grace of the Master Swami Chinmayananda.
After his graduation in Science, he worked at Hyderabad for many years as Area Business Manager for a Multi-national Pharmaceutical company.
He also worked as CHYK Secretary of Hyderabad for a couple of years and then as Andhra Pradesh Coordinator of CHYK Activities, with the direct guidance from Pujya Gurudev Swami Chinmayananda.
The inner urge for more knowledge made him join Sandeepany Sadhanalaya, Mumbai with the blessings of Gurudev. After the 2 ½ years course in Vedanta, he was initiated into monk life by Pujya Swami Tejomayananda, present head of Chinmaya Mission world wide. He served as Secretary General of the All India Chinmaya Yuva Kendra for 7 years.
He has toured all parts of the country and addressed the students of all age groups on different topics related to the youth. He has also delivered many Management talks for different sections of people such as Teachers, Doctors, and Professionals etc. He addressed many companies like BSNL, NTPC, NHPC, Bokaro Steel Plant etc apart from different universities and colleges.
Apart from the various camps & workshops organized by him for the youth at different Chinmaya Mission centres, he also undertook many projects at the National level such as organizing Art of Man Making competitions in the year 2000 and the quiz on "Awakening Indians to India" in the year 2003, in which around 3 lakh students participated from all over the country.
Prior to Noida, he served at the Vishakapatnam and Chennai centres of the mission. He has conducted many Geeta Gnana Yagnas i.e. talks on Bhagawad Geeta and also on Upanishads apart from lecutures on many other spiritual subjects.
He was initiated into sanyasa by Swami Tejomayananda on 12th February, 2010, the Mahashivratri day.
Upcoming Events
Sorry, no events found!