Swami Ishwarananda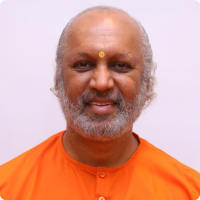 Chinmaya Mission Los Angeles
14451 Franklin Avenue
Tustin
92780
California , USA

001 714 290 1493

cmrameshwaram@gmail.com
Inspired by Pujya Swami Chinmayananda, under the guidance of Pujya Swami Brahmananda (CM Bangalore), Swami Ishwarananda left his software profession and joined 'Sandeepany Sadhanalaya' in Mumbai, India, in 1991.
Upon completing his training, he served as a Brahmachari in CM Bangalore and CM Kolkata, in India.
In 1995, he was posted at Chinmaya Mission Southern California. In 2000, he received sannyasa diksha from Pujya Swami Tejomayananda. Swami Ishwarananda resided in Mumbai, India (2002-2004), as acharya of the 12th Vedanta course for Brahmacharis (2002-2004) at 'Sandeepany Sadhanalaya'.
Swamiji is a dynamic speaker and has given talks on Vedanta, stress and mind management, management techniques, and related topics. His clarity in Vedanta is apparent in his talks as he presents with ease, humor, and wit, complex philosophical subjects. He has also authored two highly acclaimed books: 'Conscious Living' and 'Silent Search.'
Swamiji currently resides in Tustin, California, and serves CM Tustin and CM Bakersfield.
Upcoming Events
Sorry, no events found!