Swami Mitrananda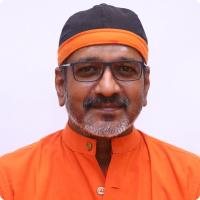 Chinmaya Mission Chennai
No 2
13th Avenue
Harrington Road
Chetpet
Chennai
600031
Tamil Nadu , India

+91-44-28365046 / 28363876

mitrananda@gmail.com
Swami Mitrananda is a dynamic disciple of Gurudev, H H Swami Chinmayananda.
He serves as:
* Spiritual Teacher of Chinmaya Chennai.
* Director National Projects, All India Chinmaya Yuva Kendra (AICHYK).
* Publisher of Chinmaya Udghosh – an international youth magazine.
Swami Mitrananda is an inspiring tutor, daring adventurer, vibrant speaker, creative writer, vigilant administrator & a mentor for many youngsters across the world.
As the Director of AICHYK, he has spear-headed many innovative, nation-wide projects such as the Youth Empowerment Programme(YEP), Awakening Indians to India, Family Quiz among others.
Swami Mitrananda uses powerful tools such as outdoor experiential learning, adventure, travel, biking, car rallies, theatre, writing and creativity to convey the profound message of Vedanta propelling individual's to tap into their hidden potential.
Through the Youth Empowerment Program he has trained more than 300 youth to serve India.
He also initiated CIM (Chinmaya Institute of Management), Chennai Chapter which is reaching out to colleges and corporate organisations with a blend of Management and Spirituality.
A highly sought-after speaker in the corporate circle, Swami Mitrananda regularly lectures on Upanishads, Geeta and many other traditional texts. He travels across the world attracting the attention of even the most uninterested person.
Upcoming Events
Sorry, no events found!