Swami Nirbhayananda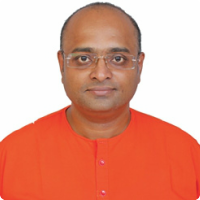 Chinmaya Mission Vasai
D - 101 Apeksha Apts
Sai Nagar
Vasai (west), Palghar Dist.
Vasai
401202
Maharashtra , India

+91-9321285154/ +91-250-2345513

sw.nirbhayananda@gmail.com
Swami Nirbhayananda hailing from South India received his formal education overseas. A Software professional in his purvashram was involved with Chinmaya Mission and it's activities from his childhood. Served the Chinmaya Mission Mumbai as it"s General Secretary for the Youth Wing in late 90's took up to learning of Vedanta as a full time student in 2002-2004 under the tutelage of Sw. Ishwaranandaji and received the name Br. Pavan Chaitanya in 2004 by Pujya Guruji Sw. Tejomayanandaji.
Ever since his posting in Chinmaya Mission Mumbai at Chinmaya Bhakti, Borivali, the Area has seen a steady grow in it's activities. He is proficient in English, Hindi and Malayalam alike and has been conducting workshops in B' Schools, Educational Institutions, Corporate Offices.
He is known for his sessions on parenting, Stress buster modules and talks on Human Values based on Bhagavat Geeta and Upanishads. He has addressed seminars on Indian approach to Management and also uses movie workshops and Outdoor-Experiential-Learning (OEL) through adventurous treks, etc. effectively. He has been an inspiration to the Chinmaya Yuva Kendra (CHYK), the youth wing of Chinmaya Mission.
Br. Pavan Chaitanya wins hearts with his simplicity and affection to one and all around him. He is a Tech Savvy and passionate about painting and loves playing Badminton. He is known for his focus and clarity in the spiritual Path.
Upcoming Events
Sorry, no events found!