Swami Paratmananda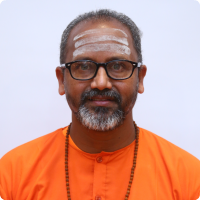 Chinmaya Mission Srikakulam
M.i.g House No. 153

A.p.h.b. Colony, Opp. Z.p. Office,
Srikakulam
532001
Andhra Pradesh , India

+91-944 0076 521

swparatmananda@gmail.com
Swami Paratmananda, a disciple of His Holiness Swami Chinmayananda, hails from Andhra Pradesh and is particularly adept in Vedic chanting and pujas.
Swami Paratmanandaji completed his Brahmachari Vedanta course in 1997, in Telugu, under the tutelage of Pujya Swamini Saradapriyananda. He served primarily in Chinmayaranyam and Chinmaya Gita Ashram near Tirupati and was posted to CM Houston in 2006.
Swami Paratmanandaji enjoys traveling, meeting different people, learning about various cultures, and most of all, Vedanta. He enjoys working with all age groups and describes himself as "fun and friendly."
Upcoming Events
Sorry, no events found!