Swami Prakarshananda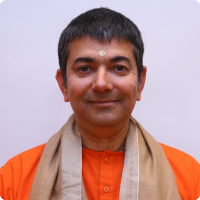 Chinmaya Mission Delhi
Delhi Chinmaya Sewa Trust

89,lodhi Estate,
Lodhi Road
New Delhi
110003
Delhi , India

+91-11-41060048/+91-9552084555(Mobile)

prakarshananda@gmail.com
Swami Prakarshananda, an alumini of Sandeepandy Sadhanalaya, Powai, Mumbai, comes to Delhi with an illustrous record of service to the Chinmaya Mission. A Veterinary Doctor by profession, he worked at the Bombay Veterinary Collage as an Assistant Professor for seven years. During this period he mastered the principles of Yoga by undergoing an Advanced course from the Mumbai University.
Exposure to the chanting of Sanskrit mantras through the Yoga training, was a transforming moment in life. As a result, Swamiji joined the Chinmaya Mission's Vedanta Course and underwent an intensive two-year monastic training through the study of the Scriptures.
There, then arose a strong commitment to devote his life to propagate Vedanta, which resulted in his being initiated as Brahmachari Prahlad Chaitanya. He served at the Chinmaya Mission Madgaon, Goa, from 2004 to 2016 and endeared himself to the members there. In 2014, on Shivaratri, he received Sanyasa Deeksha with the new name of Swami Prakarshananda.
During his inspiring tenure in Madgaon, (2004 – 2016) in addition to supervising and growing all the grassroot activities of the Mission, Swami Prakarshananda:
Conducted a unique Youth Empowerment Programme.
Conducted sessions on Advaita Vedanta for almost three years at the Christian Rachol Seminary, Rachol, South Goa for their priests.
Delivered, for two consecutive years, valuable sessions on Mind Management for army personnel, at 3TMR (Military Training Recruitment Centre) South Goa.
Pioneered, from 2007 till date, the introduction of the Bhagawad Geeta Course for one semester at the prestigious BITS Pilani, Goa Campus.
Organized, for two consecutive years, special classes on the holistic approach to education for principal and teachers of a village school at Morpilla, in South Goa, under the Chinmaya Vision Programme.
Authored numerous books in English, Hindi and Marathi.  Some titles are: Magic of Love, Secret of Success, My Promise, Yogakshema Vahamyaham, Bhakt-Bhakti-Bhagawan.
Blessed with a melodious voice recorded CDs – Gurusmaranam and Puja Vidhi.
Led an inspired group on a pilgrimage to Kailash Manasarovar, and thereafter authored a much acclaimed Travelogue on the Yatra (in Hindi).
Swami Prakarshananda conducts regular Study Classes and discourses with equal ease on the Upanishads, Bhagawad Geeta, Bhagawatam, Sri Ramcharitmanas, Das Bodh and other Scriptural texts.
A dynamic, spiritual guide with command over Hindi, English, Marathi and Sanskrit, Swami Prakarshananda has a simple style and a practical approach to life. His explanations adorned with examples from day-to-day living, make even difficult subjects interesting, appealing and easy for all ages to understand.
Upcoming Events
Sorry, no events found!