Swami Sarveshananda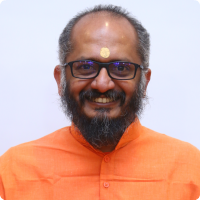 Chinmaya Mission Vijayawada
Chinmaya Seetarama Ashram

Nandamuru P.o., Unguturu Mandal
Krishna District,
Vijayawada
521 311
Andhra Pradesh , India

+1 (214) 850-2165

sw.sarveshananda@gmail.com
Brahmachari Uddhav Chaitanya hails from a cultured and orthodox Brahmin family from Andhra Pradesh, India. He was born in a town called Madanapalle, which, incidentally, is also the birthplace of J. Krishnamurti. Uddhavji grew up in different cities all over India, which has given him the advantage of being multilingual in several Indian languages, in addition to English.
Swami Sarveshananda's first meeting with Pujya Gurudev Swami Chinmayananda was by accident. "Galti se mistake ho gayaa," as he puts it. Inspired by Gurudev, he joined CHYK (Chinmaya Yuva Kendra) in 1989 and was the founder vice-president of the CHYK chapter in Serilingampally, a suburb of Hyderabad. As a CHYK, he initiated and headed many service projects, and never missed an opportunity to attend spiritual camps conducted by Pujya Gurudev. Pujya Gurudev's powerful influence and teachings inspired him to join CM's Vedanta course at 'Sandeepany Sadhanalaya' in Mumbai, in 1993. He says, "Those two years at the ashram are the most memorable years of my life. I am still chewing the cud in an effort to digest everything I learned there."
After completing the course in 1995, Swamiji (Br Uddhav Chaitanya then) was posted at CM Vijayawada, where he served until June 2002. During his tenure in CM Vijayawada, his regular schedule included conducting 6-7 yajnas per month, managing 35-40 Bala Vihars, 14 Devi groups, 7 study groups, and a large 200-300 CHYK group. Under his leadership, Vijayawada's CHYK were recognized as All-India CHYK's #1 CHYK Group for three years. In addition to all these activities, he also opened a rural CM center in Manikonda (40 km. from Vijayawada) and was active in several service projects, including relief efforts for the Orissa Cyclone victims.
Sarveshananda says one of his most memorable experiences to date is his 45-day pada yatra in South India, in 1998. "This was an eye-opening experience that helped me feel the pulse of India, to see the love offered by people in spite of their poverty. It was truly an experience that displayed the grace of the Almighty and Pujya Gurudev, and how the Lord really does take care of you, in spite of you being you!"
In June 2002, Pujya Guruji Swami Tejomayananda posted him at 'Chinmaya Saaket' in Dallas, Texas. After that he has conducted several jnana yajnas, including the entire Bhagavad Gita and various Upanishads. He regularly conducts several weekly classes, yajnas, and Bala Vihar classes at the Fort Worth satellite center. He also launched the southwest CM chapter in Dallas in March 2005. Swamiji is on the Advisory Committee of CHYK-West and has also initiated a rural development service project in Andhra Pradesh.
Swamiji's ever-flowing love, infectious laugh, and genuine interest in people have endeared him to young and old alike at Saaket. An accomplished speaker, he has a unique style of making complex subjects appear very simple.
Upcoming Events
Sorry, no events found!