Swami Sharanananda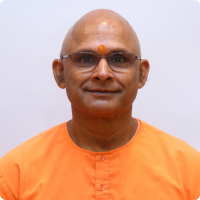 Chinmaya Mission Chicago
Badri
11s080, Kingery Hwy ( Route 83 )
Willowbrook
IL-60527-0731
Illinois , USA

+1-630-6543370

sharanananda@chinmayamission.org
Swami Sharanananda hails from Jagannath Dham (Puri) in Orissa, India. Inspired by Pujya Swami Chinmayananda, he joined the two-year brahmachari Vedanta course in 'Sandeepany Sadhanalaya,' Mumbai, in 1986, where he studied under the tutelage of Pujya Guruji Swami Tejomayananda, Head of Chinmaya Mission Worldwide.
Brahmachari Sharana Chaitanya received brahmachari diksha in 1988 and served at different CM centers in India, including Angul, Rourkela, Berhampur, and Kolkata. He has been serving at CM Chicago's 'Badri' since March 1993. On July 9, 1995, he was initiated into sannyasa by Pujya Swami Tejomayananda as 'Swami Sharanananda.'
Swamiji conducts discourses on Bhagavad Gita and the Upanishads, youth classes and adult study groups, guided meditation classes, and yoga classes for all age groups. He also teaches various spiritual classes at CM family camps throughout North America. Swamiji enjoys teaching and spending time with children, and places great importance on alertness and value-based living.
Upcoming Events
Sorry, no events found!