Swami Siddhananda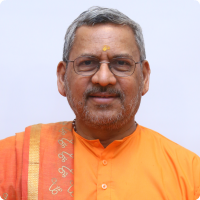 Chinmaya Mission Philadelphia
560 Bridgetown Pike
Langhorne
19053
Pennsylvania , USA

+1-215-396-0390

siddhaji@gmail.com
Swami Siddhananda joined Chinmaya Mission in 1972, studying Vedanta at 'Sandeepany Sadhanalaya,' Mumbai, under Pujya Swami Chinmayananda. He served at the Chinmaya Mission Chennai for many years and at the Chinmaya International Foundation (Cochin) for a few years. Swamiji has inspired generations of youngsters through his love and dynamic active association with the Chinmaya Yuva Kendra and has worked with them in many spiritual and social projects in Chennai.
Swamiji is presently serves 'Kedar' at Chinmaya Mission Philadelphia, and is the in-charge of Chinmaya Publications. Swamiji regularly conducts adult and Bala Vihar classes, satsangs, and camps, in the Tri-state area (NY, NJ, PA). He also visits other CMW centers.
Swamiji is an artist and a singer, and has composed many bhajans and brought out a number of albums (available on CD through Chinmaya Publications).
Upcoming Events
Sorry, no events found!