Swami Swaroopananda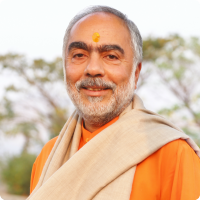 Central Chinmaya Mission Trust
Sandeepany Sadhanalaya
Saki Vihar Road
Powai
Mumbai
400072
Maharashtra , India

+91-22-28572367

ccmt@chinmayamission.com
Few men are called to serve humanity the way Swami Swaroopananda does. Fewer actually achieve the unique impact and response that Swamiji has. In little over a decade, Swamiji has traversed the globe several times touching the lives of thousands of eager listeners in cities as diverse as London, New York, Sydney, New Delhi, Singapore, Dubai, and Lagos. A disciple of the world-renowned Master of Vedanta, and champion of India's spiritual wisdom, Swami Chinmayananda,
Swami Swaroopananda left his family's thriving business in Hong Kong at an early age to seek what he now calls, "Real answers to real problems". He was convinced that beyond our everyday, superficial joys and sorrows, there was something more – something higher. After undergoing intensive monastic training and an exhaustive study of the Scriptures at the Chinmaya Mission headquarters in Bombay, Swamiji returned to Hong Kong in 1986 to spread the timeless message of Vedanta. His name then was Brahmachari Susheel. Under the guidance and inspiration of Swami Chinmayananda and Swami Tejomayananda he would later become the acharya-in-charge of the Far East and other centres throughout the world. Throughout his speaking career Swami Swaroopananda has held his audiences – adults, youth, and children alike – spellbound by his amazingly practical and extremely user friendly approach to Spirituality. He reminds us that there is a greater and more compelling Truth that provides the solutions to all our problems, enabling us to live a truly happy and positive life.
Since 1995, Swami Swaroopananda was based at the Chinmaya Dham in Melbourne, where he continues to reach out to spiritual seekers by translating Vedanta into a most effective and relevant way of life for the modern man and woman. He is the Regional Head of Chinmaya Mission UK, Australia and the Far East. He is the Director of Chinmaya International Residential School in Coimbatore, India and
presently based there.
Upcoming Events
17 Dec 2023 - 25 Dec 2023
---
26 Dec 2023 - 01 Jan 2024
---
Acharya's Itinerary
Date
Place
Text/Purpose
Address/Phone
Additional Contact
19-09-2023 to 30-09-2023
Mumbai
For Official Work
Sandeepany Sadhanalaya,
Saki Vihar Road,
Powai, Mumbai - 400 072,
Maharashtra, India


Ph: (91-22) 2857 2367
01-10-2023 to 05-10-2023
Chinmaya Vibhooti, Kolwan
Chinmaya Prabandhan Conference
Chinmaya Vibhooti,
Post Kolwan, Taluka Mulshi,
Pune 412108, Maharashtra, India


Ph: (91) 96898 91959
07-10-2023 to 12-10-2023
Chinmaya Vishwa Vidyapeeth, Kerala
08 Oct - Convocation

10 Oct to 11 Oct - Professors' Retreat
Chinmaya International Foundation, Adi Sankara Nilayam, Adi Shankara Marg,
Veliyanadu 682313,
Kerala, India


Ph: (91-484) 274 7307 / 274 9290
13-10-2023 to 13-10-2023
Chinmaya International Foundation, Kerala
Puja Vidhanam Course Graduation
Chinmaya International Foundation, Adi Sankara Nilayam, Adi Shankara Marg,
Veliyanadu 682313,
Kerala, India


Ph: (91-484) 274 7307 / 274 9290
14-10-2023 to 20-10-2023
Mumbai
For Official Work
Sandeepany Sadhanalaya,
Saki Vihar Road,
Powai, Mumbai - 400 072,
Maharashtra, India


Ph: (91-22) 2857 2367
21-10-2023 to 24-10-2023
Gurugram
Temple Prana Pratishtha at Chinmaya Gurudham
Chinmaya Gurudham
Plot No-01, W Block, Woodstock, Nirvana Country,
Opp St Xavier's High School,
Sec 50, Gurugram,
Haryana - 122018


Ph: (91) 98180 99110
25-10-2023 to 29-10-2023
Indore
Talks on Sankat Mochan Hanuman
Chinmaya Sharnam Ashram,
Sector B, Slice 2, Scheme # 78,
Vijay Nagar, Indore 452010,
Madhya Pradesh, India


Ph: (91) 81033 17878
30-10-2023 to 31-10-2023
Mumbai
For Official Work
Sandeepany Sadhanalaya,
Saki Vihar Road,
Powai, Mumbai - 400 072,
Maharashtra, India


Ph: (91-22) 2857 2367
01-11-2023 to 05-11-2023
Hong Kong
02 Nov - Kirtan Under the Stars

Satsang
Chinmaya Seva Ashram,
11-F Ocean View Court,
43 Mody Road, Kowloon City,
Hong Kong


Ph: (852) 2367 3390
07-11-2023 to 10-11-2023
Mumbai
For Official Work
Sandeepany Sadhanalaya,
Saki Vihar Road,
Powai, Mumbai - 400 072,
Maharashtra, India


Ph: (91-22) 2857 2367
12-11-2023 to 13-11-2023
Kothapatnam
For Official Work
Chinmaya Sarada Tapovan,
Opp. Nalluri Gardens,
Kothapatnam, 523286,
Andhra Pradesh, India


Ph: (91) 98489 73129, (91) 81858 07612
14-11-2023 to 20-11-2023
Kothapatnam
Upadesha Sara Camp
Chinmaya Sarada Tapovan,
Opp. Nalluri Gardens,
Kothapatnam, 523286,
Andhra Pradesh, India


Ph: (91) 98489 73129, (91) 81858 07612
21-11-2023 to 22-11-2023
Mumbai
For Official Work
Sandeepany Sadhanalaya,
Saki Vihar Road,
Powai, Mumbai - 400 072,
Maharashtra, India


Ph: (91-22) 2857 2367
23-11-2023 to 26-11-2023
Tarapur
Talks on Vibhishana Gita
Dr Anilkumar B., 7B Lakshmi Nivas, Sushil Nagar, Boisar 401501, Maharashtra, India


Ph: (91) 98235 17700
27-11-2023 to 30-11-2023
Mumbai
For Official Work
Sandeepany Sadhanalaya,
Saki Vihar Road,
Powai, Mumbai - 400 072,
Maharashtra, India


Ph: (91-22) 2857 2367
01-12-2023 to 09-12-2023
CIRS, Coimbatore
For Official Work
Chinmaya International Residential School, Nallur Vayal Post,
Siruvani Road, Coimbatore,
Tamil Nadu 641114, India


Ph: (91-422) 2613 415
10-12-2023 to 14-12-2023
Coimbatore
Talks on Hanuman Chalisa
Chinmaya International Residential School, Nallur Vayal Post,
Siruvani Road, Coimbatore,
Tamil Nadu 641114, India


Ph: (91-422) 2613 415
17-12-2023 to 25-12-2023
CIRS, Coimbatore
Ramayana - The Tale Continues
Global Youth Camp
Chinmaya International Residential School, Nallur Vayal Post,
Siruvani Road, Coimbatore,
Tamil Nadu 641114, India


Ph: (91-422) 2613 415
26-12-2023 to 01-01-2024
Chinmaya Vibhooti, Kolwan
Camp for All Ages "Kabir" for elders "Saints of India" for kids & teens
Chinmaya Vibhooti,
Post Kolwan, Taluka Mulshi,
Pune 412108,
Maharashtra, India

Ph: (91) 96898 91959
03-01-2024 to 09-01-2024
Chinmaya Vibhooti, Kolwan
Make It Happen™ 2 (MIH2)

(For those who have attended MIH1)


Chinmaya Vibhooti,
Post Kolwan, Taluka Mulshi,
Pune 412108,
Maharashtra, India

Ph: (91) 96898 91959
10-01-2024 to 14-01-2024
Chinmaya Vibhooti, Kolwan
For Official Work
Chinmaya Vibhooti,
Post Kolwan, Taluka Mulshi,
Pune 412108,
Maharashtra, India

Ph: (91) 96898 91959
15-01-2024 to 21-01-2024
Mumbai
15 Jan - Vedanta Course Inauguration (19th Batch)
Sandeepany Sadhanalaya,
Saki Vihar Road,
Powai, Mumbai - 400 072,
Maharashtra, India


Ph: (91-22) 2857 2367