Swami Viviktananda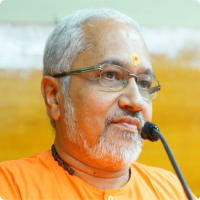 Chinmaya MIssion Kasargod
Post Box No. 4

Vidyanagar
Kasargod
671123
Kerala , India

+91-9447155637/9995375637

viviktaksd@gmail.com
Swami Viviktananda completed the Vedanta course in Sandeepany Sadhanalaya, Mumbai in 1975. Thereafter he was posted to serve as a Brahmachari at Kasaragod, Kerala in 1975. Two years later he was transferred to Port Blair, Andaman & Nicobar Islands where he did pioneering work to set up a strong Chinmaya Mission centre. Thereafter he served at the centre for seven years (1977 to 1984).
In 1984, under instructions of Pujya Gurudev, he shifted to Orissa to look after a Vidyalaya and served for three years there. In 1987, he shifted to Visakhapatnam (Andhra Pradesh). In 1988, he was retransferred to Kerala, where he served a few months at Palakkad and another few months at Trivandrum.
In March, 1989 under Pujya Gurudev's instructions, he took over the Vidyalaya administration at Kasaragod. In the year 1994, Swamiji received Sannyasa Diksha from Swami Tejomayananda. Presently he is the Regional Head of Chinmaya Mission Kerala State. He conducts discourses both in English and Malayalam.
Upcoming Events
Sorry, no events found!