Swamini Akhilananda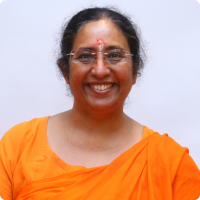 Chinmaya Mission Miami
12011 Sw 97th Ter
Miami
33186
Florida , USA


akhilananda@chinmayamission.org
Swamini Akhilananda first met Pujya Gurudev, His Holiness Swami Chinmayananda, at a Chinmaya Mission spiritual camp in Canada in 1987. Inspired by his life and teachings, she continued to seek his presence whenever chance permitted. With his blessings, she joined Chinmaya Mission's intensive two-year Vedanta Course at the Sandeepany Sadhanalaya ashram in Mumbai, India in 1993. She was initiated into the Mission's monastic order as Brahmacharini Aparna Chaitanya in August 1995. On Mahashivaratri Day in 2013, she received sannyasa diksha from Pujya Guruji, His Holiness Swami Tejomayananda, and was initiated as Swamini Akhilananda.
She has lived and studied in the U.S. most of her life, and has conducted Vedanta classes for various age groups over the years. She has also formerly served as the Executive Secretary of Chinmaya Mission West (CMW, the guiding body for CM centers in North America) and the Editor of CMW News, CMW's former bimonthly newsletter.
Upcoming Events
Sorry, no events found!