Swamini Gangananda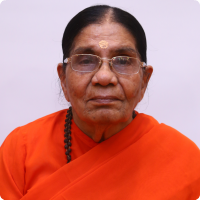 Central Chinmaya Mission Trust
Sandeepany Sadhanalaya
Saki Vihar Road, Powai
Mumbai
400072
Maharashtra , India

+91-9167302483

sgangananda@gmail.com
Swamini Gangananda is a direct disciple of H.H.Swami Chinmayananda, founder President of Global Chinmaya Mission. She Belongs to the first batch of Vedanta Course in Sandeepany Sadhanalaya inaugurated in the year 1963.
She has traveled throughout India conducting Yagnas in English mainly on Bhagawad Geeta and the Upanishads. She is a frequent visitor to South Africa and has given discourses to the Hindu communities of Durban, Johnnasburg, Cape Town, Port Elizabeth, Pretoria and Kimberley. In USA, she has given discourses at New York, New Jersey, Philadelphia, Pittsburgh, Boston, Houston, Orlando, Miami Virginia, Ann Arbor, Buffalo, Anchorage(Alaska) and Maryland (Washington). She has also given discourses at Vancouver, Sydney, Canberra, Mauritius and HongKong.
She has got a Post Graduate and a Doctorate Degree from Bombay University in Philosophy. The theses submitted for Post Graduation and Doctrate Degrees were "Hindusim as World Religion" and "Is Bhagawad Geeta Theistic or Absolutistic" respectively. Her Commentary on First Four Sutras of Brahma Sutras were published in Tapovan Prasad magazine during 1990-91. She has also learnt Classical Music and she can play Musical instruments like Violin, Sitar, Flute, etc.
Upcoming Events
Sorry, no events found!