Swamini Radhikananda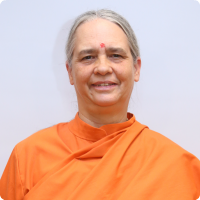 Chinmaya Mission St. Augustine
Chinmaya Govardhan
6175 Solano Creek Road
Elkton
FL32033
Florida , USA

+1-904-692-4121

radhikananda@chinmayamission.org
Swamini Radhikananda first met and heard Pujya Gurudev Swami Chinmayananda in 1978 in Washington, DC, and the course of her life was fulfilled. After completing her college degrees, she underwent the intensive two year Vedanta Course of study at Sandeepany Sadhananalaya (Mumbai) from 1987-88 and was extremely blessed to be taught by Pujya Guruji Swami Tejomayananda, Spiritual Head of Chinmaya Mission worldwide.
Given the name "Brahmacharini Arpita", she served at several Chinmaya Mission centers in the United States since 1989 teaching Bhagavad Gita, Srimad Bhagavatam, other Vedantic texts and general spiritual topics for adults, as well as spiritual classes for children at Chinmaya Family Camps.
Since 2003 she has been living and teaching at "Chinmaya Govardhan", Chinmaya Mission St. Augustine's beautiful 18 acre property and center just outside St. Augustine, Florida. On February 17th, 2015 she was blessed with initiation into Sannyas by Pujya Guruji and given the name Swamini Radhikananda. Swamini especially enjoys devotional singing/composition and has made several CD recordings for children including "Come to Me, My Krsna", "His Eternal Smile", and "Listen to the Wind", as well as "Songs for the Light" (eastern/western kirtan) for all ages. She considers it an indescribable blessing to have the privilege of serving in the Mission with the Grace of Pujya Gurudev and Pujya Guruji.
Upcoming Events
Sorry, no events found!