Swamini Supriyananda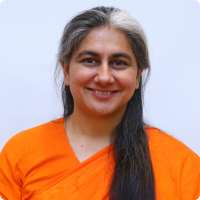 Chinmaya Mission Hong Kong
Chinmaya Seva Ashram
11-f Ocean View Court
43 Mody Road, Tshim Sha Tsui
Kowloon
Hong Kong , Hong Kong

+852-2367-3390

om.tadvanam@gmail.com
A psychologist by profession turned Sanyasini (Hindu Monk), storyteller, author and teacher, she left the world of the inner workings of the mind for that beyond the mind. Of Indian origin, born in South Africa and raised in Australia she currently resides in Hong Kong and is a globe trotter of the Chinmaya Mission, spreading the vision and sharing the knowledge of Vedanta.
Inspired by Swami Chinmayananda's teachings she understood this ancient wisdom's adaptablilty to solve modern problems. She adopted a life of monastic living and service to the vision of her Guru and scriptures. True to the Mission's motto she aims to reach people of all walks of life. Embracing modern technology she has a bite size podcast called 'Thinking about it' and an instagram account full of quotes. You can listen to her podcasts on https://itunes.apple.com/gb/podcast/thinking-about-it/id849145968?mt=2
Her ability to break down the Highest Truth in a language that we can understand and relate to without sacrificing its profoundness is what draws people. She nurtures the mind by providing food for thought to contemplate on. Her chosen medium may be words but it is the wisdom, warmth and gentle nature behind them that leave you in awe and wanting more.
Upcoming Events
Sorry, no events found!