Swamini Umananda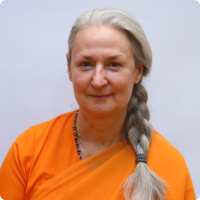 Chinmaya Mission France
7 Square Desaix

Paris
75015
Paris , France

Mob: (33) 6 7773 2470

chinmayamissionfrance@orange.fr
In 1983, Brahmacharini Bhakti Chaitanya, then a professor of yoga, met the spiritual Master whose presence and teaching were to transform her life so deeply, Swami Chinmayananda. At their meeting, Swami Chinmayananda encouraged her to come to India to study philosophy seriously.
After 5 years of reflection, the decision was made. Bhakti spent almost 3 years in the centre of Chinmaya Mission, in Bombay, being devoted entirely to the study of the Sanskrit, the texts of Vedânta, the crowned Writings, the song vedic (Geeta), following the intense vedantic and monastic life style of the brahmacharis.
Following these studies, she undertook a personal commitment – to devote her life to this spiritual research, by way of renunciation. Thus on October 8, 1991, she received from her Master Swami Chinmayananda this name of "Brahmacharini Bhakti". On her return to France in 1992, with a small group of pupils of Swami Chinmayananda, was formed Chinmaya Mission France. Since then, Brni Bhakti is serving Chinmaya Mission France. Since 1993, six works were published (translated by Bhaktiji from English to French), including in 1998, the Holy Gita (commentary by Swami Chinmayananda), and lately, the work "Meditation and Life".
On the auspicious Mahashivaratri day (6th March 2008), Brni Bhakti Chaitanya was initiated into sannyasa diksha by Swami Tejomayananda and given the name Swamini Umananda. She continues the to serve Chinmaya Mission France inspired by the subtle presence of her Master and teachings of Vedanta.
Upcoming Events
Sorry, no events found!