Swamini Vimalananda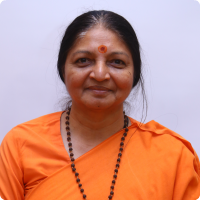 Chinmaya Gardens
Nallur Vayal Post
Siruvani Main Road
Coimbatore
641114
Tamil Nadu , India

+91-422-2615637/2613493.

sw.vimalananda@gmail.com
Swamini Vimalananda is a senior disciple of Gurudev Swami Chinmayananda.
After acquiring an Honours degree in Architecture, her travels made her reflect on life and move from designing of the world of outer space to the seeking of the sacred inner space. The Chinmaya Mission Vedanta Course deepened her spiritual knowledge.
Her passion for education found fulfilment in concretising her Guru's vision into the Chinmaya Vision Programme (CVP) which now largely reflects in the National Education Policy (NEP) recently introduced in India by the Central Government (July 2020). Her multifarious contribution in the field of education as she headed the Chinmaya Mission Educational Cell for 25 years touched the lives of millions.
A dynamic leader, a serious seeker, a spiritual practitioner, a prodigious learner, a visionary educator, a nature lover, a prolific writer and a popular speaker, she travels around the world guiding seekers of all age groups. Her simple style of talking has captivated the intellectual and faithful alike. Her sense of aesthetics and depth of knowledge reflects in all her activities, including her writing.
She has authored books on a variety of subjects –Vedantic commentaries, Indian Culture series, answering youth queries, child-centred activities and Education theories. Her books are very popular as are her YouTube talks.
Upcoming Events
15 Nov 2023 - 21 Nov 2023
---
23 Nov 2023 - 29 Nov 2023
---