Central Chinmaya Mission Trust


If every limb demands what can the heart do – except miss-beat now and then – or jump into convulsion – STROKE? But we will give (or rehabilitate) the heart – CCMT and reach full vigour to all our centres so long as we can; all in His will and grace only
-Swami Chinmayananda
Who we are?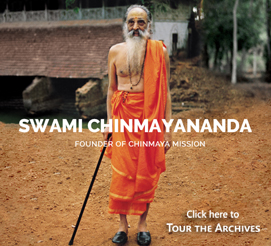 Chinmaya Archives, which began in 1994, is dedicated unto the life, work and vision of our beloved Gurudev, Swami Chinmayananda. Through this project we aim to tie together important events and information, related to our Acharyas and Chinmaya Mission history, scattered on loose pages of time. Thereby, we keep the light of inspiration lit by Gurudev ever glowing by preserving him in our hearts through his letters, writings, photos and other memorabilia, guiding the coming generations of His ever expanding family – Chinmaya Mission.
What we do?
Our scope of work involves preserving and digitising records available in various media like letters, photos, interviews of devotees, books, souvenirs, magazines, memorabilia and documents of organisational importance (reports, publicity material and others). With regard to the above we –
Pro-actively collect material of archival importance
Provide a safe and well-equipped storage space for archival material
Customise digitisation to make it search friendly
Assist in all research related to Chinmaya Mission
Chinmaya Archives has been and still is –
The primary source for authentic information related to Chinmaya Mission history.
The main source for providing Swami Chinmayananda's letters, photographs and articles for various projects of Chinmaya Mission.
Providing reliable references for the Mananam Series – Chinmaya Birth Centenary Celebrations Series.
Providing valuable articles to Tapovan Prasad on experiences of long-time devotees of Swami Chinmayananda, gathered from their interviews.
Resources
24-temparature and humidity regulated rooms for storing archived material
Compactors for effective space utilisation
Fire safety essentials – smoke detectors, fire extinguishers, fire retardant paint
Use of good quality archival material – German acid-free paper, Japanese tissue lamination
High-end scanner to digitise content effectively and efficiently
Using the latest metadata software for tagging information to content
Support Us
For Support Kindly contact with us.
Contact
Central Chinmaya Mission Trust Saki Vihar RoadPowai, Mumbai 400 072 Maharashtra, India Ph: +91- 2803 4900 email: ccmt@chinmayamission.com
Click to Contact us
Video