Swami Sharadananda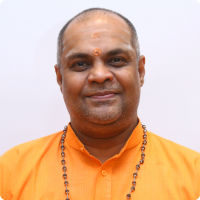 Chinmaya International Foundation (CIF)
Adi Shankara Nilayam
Adi Shankara Marg
Ernakulam Dist.
Veliyanad
682313
Kerala , India

+91-7560997323

sw.sharadananda@gmail.com
Swami Sharadananda joined the 2002 batch of the Vedanta Course under Swami Iswarananda at Sandeepany Sadhanalaya, Mumbai.
Prior to joining the Chinmaya Mission, Swamiji studied various Indian spiritual disciplines including Vedanta & Yoga from different ashrams and institutions like Sivananda Ashram, Rishikesh; Bihar School of Yoga, Munger, etc.
A post graduate in Advaita Vedanta, he ranked first at an All India level and was awarded a gold medal from the prestigious Sanskrit University, Rashtriya Sanskrit Sansthan, New Delhi..
Swamiji assisted Pujya Guruji Swami Tejomayananda as the Sanskrit Acharya in the 13th Vedanta Course Batch at Sandeepany Sadhanalaya. A year after this batch, Swamiji was the Acharya for the Purohit Course (batch of 2010) at Chinmaya Gardens, Coimbatore. This eloquent, erudite and versatile Acharya was again appointed Upacharya for the 15th Sandeepany Vedanta Course (Batch of 2013), where he mesmerized his students with his evening classes on the Srimad Bhagvatam and also gave them excellent grounding in Sanskrit.
Formerly known as Br. Samvid Chaitanya, Swamiji received Sannyasa-diksha from Pujya Guruji on Sivaratri, 2014. Swami Sharadananda joined Chinmaya International Foundation in March 2014.
Upcoming Events
Sorry, no events found!