News


To understand anything is to find in it something which is our own.
-Swami Chinmayananda
Archival News/Other News
CVV Guru Vidushi Manjusha Patil Awarded Gaan-Saraswati Puraskar
Dated : 2022/03/06

---

Guru at Chinmaya Vishwavidyapeeth's Chinmaya Naada Bindu Gurukula, Vidushi Manjusha Patil (Professor, School of Kalayoga) has been bestowed the Gaan-Saraswati Puraskar for the year 2020. The Puraskar was instituted by Dr. Arun Dravid in memory of his Guru, Padma Vibhushan Gaan-Saraswati Kishori Amonkar, in 2017.
Vidushi Manjusha Patil is a disciple of Pt. Chintubua Mhaiskar, Sangeetacharya Pt. D. V. Kanebua, and Pt. Vikas Kashalkar and Padma Shri Pt. Ulhas Kashalkar. She has performed in most prestigious music conferences in India and abroad, and is a recipient of numerous awards and honours. An accomplished Hindustani classical vocalist in the Agra and Gwalior Gharana, she is equally accomplished in light music genres such as Thumri, Dadra, Abhang and Natyasangeet. She is much loved by her students, who are delighted that she has been recognized in this way!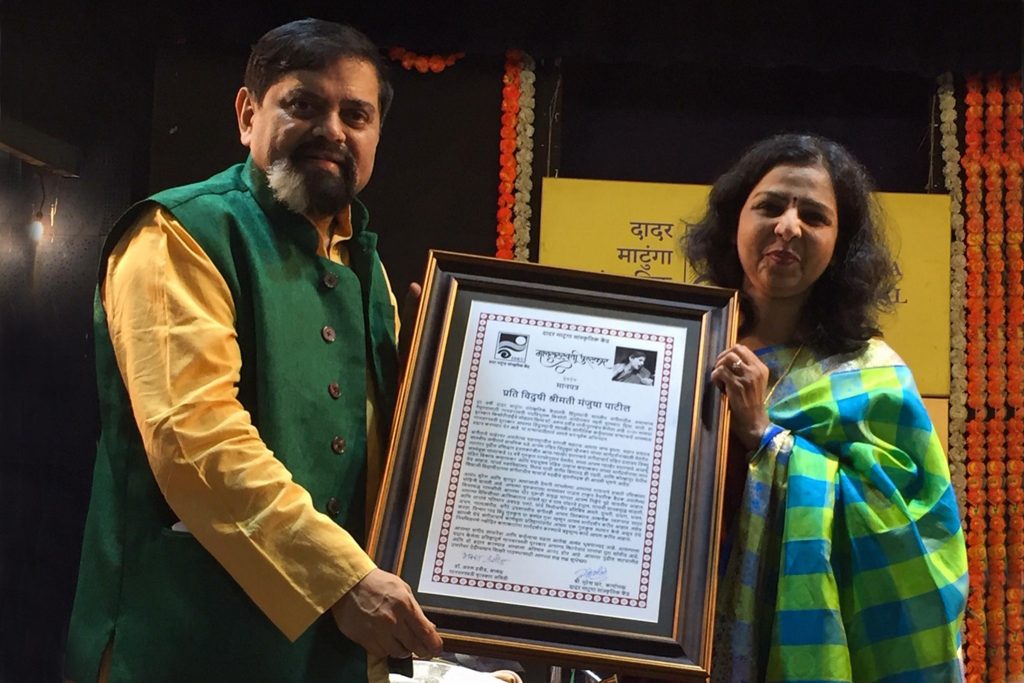 ---
Women's Day Celebrations in Madurai
Dated : 2022/03/08

---

Chinmaya Devi Group, Madurai, in relation to Women's Day Celebrations, organized a two-day value camp "Maa Shakti" for women, on 7 March and 8 March 2022 at VVM Mahal, Madurai. More than 250 members participated in this mega event, which was conducted on the concept of 'Women's Empowerment and the Glory of Womanhood'.
'Maa Shakti' began with a grand inauguration by Dr. G. Natchiar, Director Emeritus, Aravind Eye Hospitals, Madurai. Swami Sivayogananda in his address explained the importance of the various roles, responsibilities and sacrifices by women as daughter, mother and wife.
Shri Varalotti Rengasamy (Shri Sridhar), an auditor by profession and a famous writer, spoke on "Love is Shakti". The talk was well received by the audience. This session was followed by a lively and thought provoking talk by Pattimandram Shri. Raja, who is a professional speaker in Tamil Nadu. Afternoon sessions were fun filled with essay and poetry writing competitions, a quiz, group activities and games.
Day 2 (International Women's Day – 8 March) began with a divine talk by Swami Sivayogananda on "The Great Women from the Mahabharatha". The audience were engrossed in listening to Savitri Charitram and each and every woman was moved to tears. Dr.Girija, a famous speaker in Madurai, spoke from Lalitha Sahasranamam and gave useful tips for women to live happily. A rangoli competition was conducted, which exhibited the individual talent of every participant. The group activity was meticulously planned to bring out the concept of Maa Shakti.
The second day concluded with a valedictory function followed by prize distribution. Special Guests were invited for this function. Smt. Rathna, news presenter and anchor from Chennai lit the lamp and spoke on "Decision Making Skills of Women." Dr. Sujatha, Principal, Subbulakshmi Lakshmipathy College of Science, delivered the chief guest address. Smt. Jayasri Sreeram, District President, TAMBRAS, felicitated and distributed the prizes to the winners of various competitions. Ms. Guhakumari, Devi Group Coordinator of Chinmaya Mission Madurai, offered the vote of thanks.
Camp kits, lunch and refreshments were provided to all the attendees on both days and consolation prizes were distributed for the various competitions. Excellent feedback was received from the participants.This event was covered by News Dailies Dinamalar, Dinamani and The Hindu. Kirtilals, Bhima Jewellers, Raj Mahal Silks, Pothys Textiles, VVM Mahal and Gowri Krishna Hotels were the major sponsors of this very successful event.
Under the guidance of Swami Sivayogananda, Chinmaya Devi Group in Madurai executed this event with great dedication and devotion.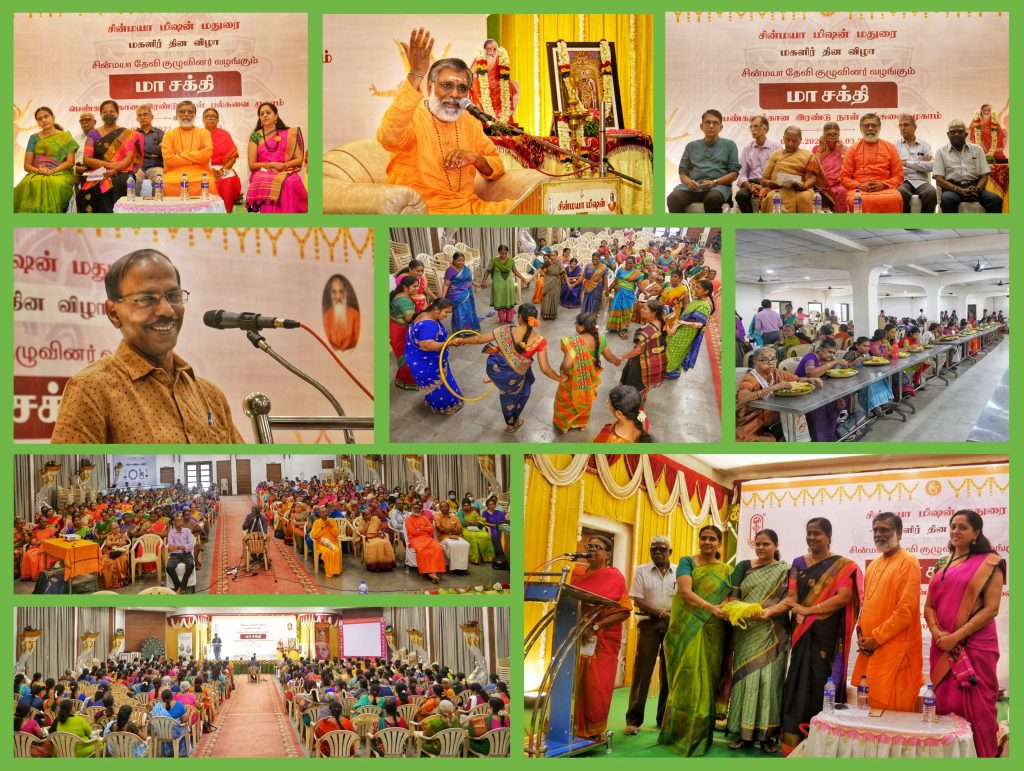 ---
Leadership Event for College Students in Madurai
Dated : 2022/04/03

---

Chinmaya Yuva Kendra, Madurai, organized a one-day leadership event for college students on 3 April 2022 (Sunday) at Chinmaya Mission Madurai. More than 120 students from 11 colleges enthusiastically participated in the programme. The theme was "Make me Strong" (Vallamai Thaarayo in Tamil).
The inauguration was by Shri. Pazhanivelrajan, President, Rotary Club of Madurai Northwest. He stressed the importance of leadership qualities to be developed by students and their contribution to the nation by participating in such value-based events.
Brahmachari Anand Chaitanya, Chinmaya Mission Chennai, conducted an interactive session on "Give me Strength", which motivated the campers.
Dr. C.Muthuraja, Assistant Professor, American College, conducted a session on "Self-Confidence". Leadership activities and team games were led by members of Chinmaya Yuva Kendra. Feedback from the students was positive and encouraging.
Shri. Kumarappan (Rotary-Central) delivered the valedictory address and distributed certificates to the students. A kit, refreshments and lunch were provided to all participants.
Under the guidance of Swami Sivayogananda, the event was well organized by Chinmaya Yuva Kendra members and appreciated by attendees.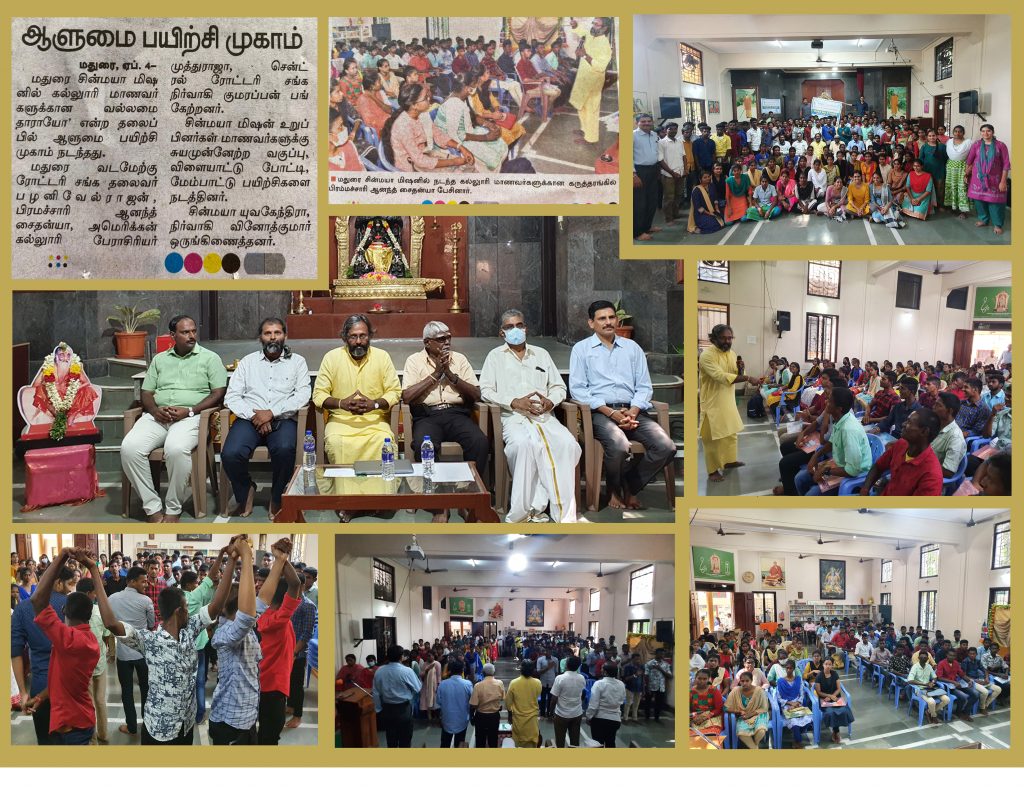 ---
Bala Vihar Programme at Jagannath Niketan Orphanage
Dated : 2022/03/20

---

Chinmaya Mission Parlakhemundi is situated in the Gajapati district of Odisha. Jagannath Niketan Orphanage is located at a distance of 7 kms from Parlakhemundi town.
Chinmaya Mission generally conducts Narayana Seva there by offering free food, provisions and clothes for the resident students. On 20 March 2022, a special Bala Vihar programme was organized, where Swami Nigamananda took classes for the residents of the orphanage, based on the book "Gita for Children". Gita books and Hanuman Chalisa were distributed to the students, Bhajans were sung and a quiz was conducted.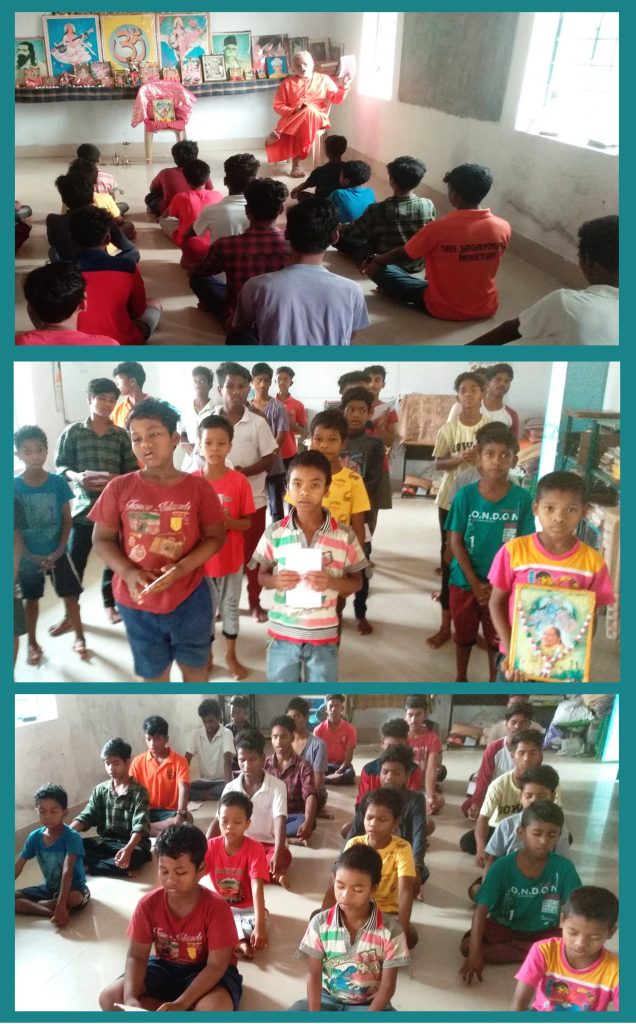 ---
The Role of Bhakti in Advaita Vedanta
Dated : 2022/03/12

---

Chinmaya Mission Mumbai's Mahima Zone hosted a virtual Zoom discourse on 12 March 2022 titled "The Role of Bhakti in Advaita Vedanta" and Brahmachari Ved Chaitanya (CIF) conducted the event, followed by an interactive Q&A session.
Jaishree performed the invocation and Sunitha moderated the session. Over 100 attendees were able to benefit from the detailed exposition from Br Ved, who shared insights about the path of Bhakti and the path of Vedanta and guided seekers on the unison of both paths.
He shared insights about ways to inculcate Bhakti and how it is an important stepping stone in achieving Jnana and Self Realization. He went on to use various examples to clear all doubts in this regard.
Addressing this particular topic encouraged seekers to use Upasana / Puja / Tapas / Japa / Sadhana as tools to inculcate Bhakti.
The event, which was met with a wonderful response, concluded with prayers.
---
Values to Victory – Retreat for Teenagers
Dated : 2022/02/20

---

On 19 and 20 February 2022, Chinmaya Yuva Kendra (CHYK) in San Jose organized its first ever Junior CHYK retreat in-person at the Chinmaya Mission San Jose ashram, for students in grades 9-12. The retreat was very successful with 41 attendees, and over 15 CHYK volunteers present each day. There were 28 CHYK volunteers in the entire team.
The retreat theme was 'Values to Victory', reflecting on values taught by Lord Rama to Vibhishana in Vibhishana Gita, and how these values can lead one to success in life. The youth had studied Vibhishana Gita during the Fall 2021 semester, guided by Brahmachari Soham Chaitanya. The retreat workshops were created by CHYKs to engage high schoolers and focus on topics that would be relevant to them.
COVID safety measures were undertaken, with all attendees and volunteers remaining masked indoors, and abiding by distancing policies. The joyous energy in the ashram with CHYKs and J-CHYKs was wonderful to see. There was positive feedback from attendees and parents on the engaging workshops and seamless event organization. All attendees left with new perspectives, inspiring points to reflect on, and a toolkit of values that will greatly help them as they navigate new situations in high school and college.
CHYK = Chinmaya Yuva Kendra = the youth wing of Chinmaya Mission for those aged 18 to 28
J-CHYK = Junior Chinmaya Yuva Kendra = the teenage wing of Chinmaya Mission for those aged 13-17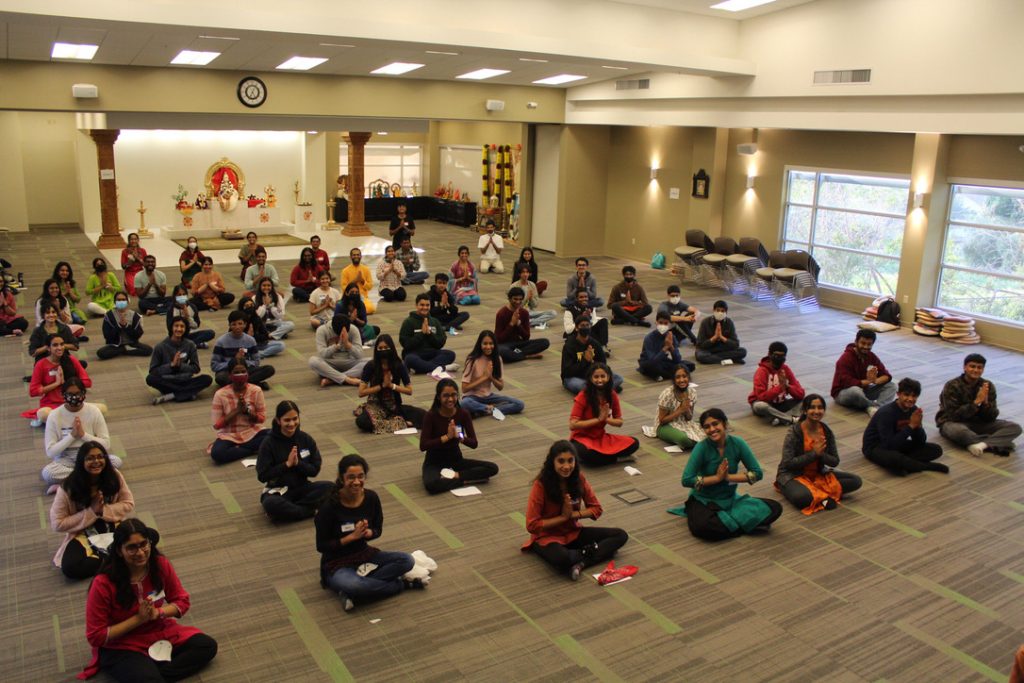 ---
Looking Ahead – Bala Vihar (USA) in Indian Languages
Dated : 2022/03/16

---

For several years now, there has been a demand to create a common and consistent curriculum for all languages within the Bala Vihar programme in Chinmaya Mission Centres in USA. There are numerous benefits for students, teachers, parents and Centres to have a nation-wide syllabus that is uniformly followed across all Chinmaya Mission West Centres. Many sevaks (volunteers) from across different Bala Vihar Centres recently came together to create a curriculum proposal for some of the Indian languages.
At this time, the curriculum proposal will be presented for the following languages:
● Gujarati
● Hindi
● Kannada
● Malayalam
● Sanskrit
● Tamil
Know how you can help!
If you are a teacher or volunteer with Bala Vihar anywhere in USA, you can:
● Volunteer to create teacher & student learning materials
● Support formalizing a process for assessments, evaluation and certification
● Discuss plans to roll out these language curricula in your respective Centres starting 2022-23
● Help find external sources for books and other resources from established institutions
● Consider using the proposed curricula to seek county/state accreditation for foreign languages
.
If you need any further information, or if there is interest in creating a similar curriculum for other languages not listed above, please email languages@chinmayamissionwest.org.
---
National Science Day at Chinmaya Degree College Haridwar
Dated : 2022/02/28

---

On the occasion of National Science Day, MSc students of Chinmaya Degree College, Haridwar, put up an exhibition of various science models which were reviewed by the chief guest Praveen Chandra Jha, Executive Director, BHEL Haridwar.
The programme, convened by Dr. Manisha Solanki, started with Saraswati Vandana by students. The officiating Principal of the College, Dr. Alok Aggarwal, welcomed the guests presenting them bouquets. The inaugural lamp was lit by BHEL's first lady Sulekha Jha, accompanied by Neeta Dave, Sadhna Sachdeva and Kshama Agarwal. Floral offerings were made before the idols of Swami Chinmayananda and scientist C. V. Raman.
Praveen Chandra Jha showed keen interest in the models made by the students. He encouraged the students, saying, "One of you will emerge as a scientist like Raman". In his presidential address, he said that technology marvels like generators are being made in BHEL using supercritical technology aiming to reduce carbon footprint in the atmosphere. BHEL has an important contribution in the global efforts to reduce carbon footprint. He encouraged the students to make more and more innovations.
Neeraj Dave, BHEL's Human Resources Department General Manager, appreciated the Chinmaya Degree College saying that the college is constantly trying to make new experiments in modern science while imbibing the ideals of Swami Chinmayananda, the founder. He said spirituality was in the DNA of students of Chinmaya Degree College.
Commander Amod Chaudhary, Managing Committee Member, said that our sages were the first scientists who spoke of the theory of evolution through the 10 divine incarnations several thousand years before Darwin, listing Matsya Avatar to Rama and Krishna. He stressed on the need of creating an ecosystem wherein such mind honing activities are held round the year. He said after material progress, the scientists were trying to figure out the biochemistry of the human mind through which they could understand the working of the mind, aiming to discover a state of happiness at all levels and in all circumstances.
Colonel Rakesh Sachdeva, Chairman, Chinmaya Management Committee, introduced the guests to various activities of the College and lauded the efforts of the team in organizing Science Day in a grand way. He encouraged the students to adopt a scientific approach in life. A student, Sarthak, deliberated on the importance of the role of a scientific mindset in nation building.
Professor Ajay Kumar of Chinmaya Degree College made his statement on the theme of this year's Science Day, in which he said that development of any country is possible only through science and technology. Quoting a scientist he said that refusal of accepting anything without testing it was science. He said that controlling the Covid-19 epidemic by making a vaccine in the field of medicine is also a living example of science and technology. Dr. Swati Shukla, HOD Biotech department presented scientific policy and its changing form in the Indian Constitution.
The students of MSc presented seven science models in which the Department of Chemistry, Physics and Microbiology were selected in the first three divisions. The Li-fi project of Physics was highly appreciated, through which students Kajal and Mayank created the electronic smart stick project for blind people. This special stick detects the intensity of light, water and fire and provides signals to move the blind from there. Cdr Amod Chaudhary shared that the same project will be presented to the National Institute of Visually Handicapped in Dehradun.
The project to make biodiesel from vegetable oil was selected first. The plastoscope made by student Surbhi, made with two empty bottles and a wooden box fitted with a lens which can be used to enlarge an image up to 450 times, won the appreciation of the chief guest. It can be made use of at home since it is cost effective.
The programme concluded with certificates being distributed to participating students by Praveen Chandra Jha, followed by group recitation of the Chinmaya Mission Pledge and National Anthem, and then high tea for all. The distinguished guests signed the visitors' book as they left.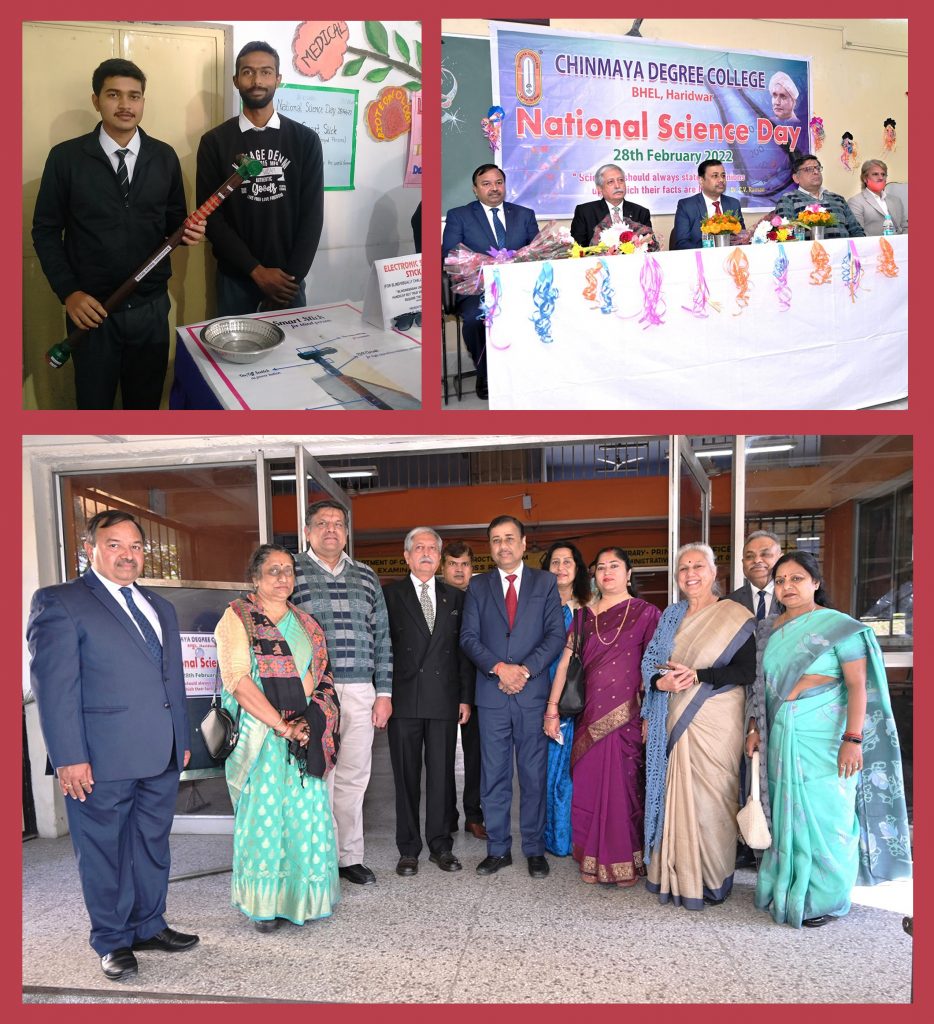 ---
Australia Youth Camp – Future Proof Your Life
Dated : 2022/02/27

---

Youth from all over Australia participated in "Future Proof Your Life" from 25-27 February 2022, a camp led by Swami Swaroopananda (Global Head of Chinmaya Mission). The youngsters were led on a journey to discover the eternal secrets to future proof their lives, gain clarity on the goal of life and learn how to centre themselves in an ever-changing world by strengthening their inner equipment.
Camp activities included meditation, Vedic chanting, discourses and interactive sessions like obstacle courses, riddles, mirror charades, garba and dandiya.
The attendees left at the end of the camp inspired to take charge of creating a life irrespective of circumstances and remain steady and strong to live a life of purpose, success and everlasting joy.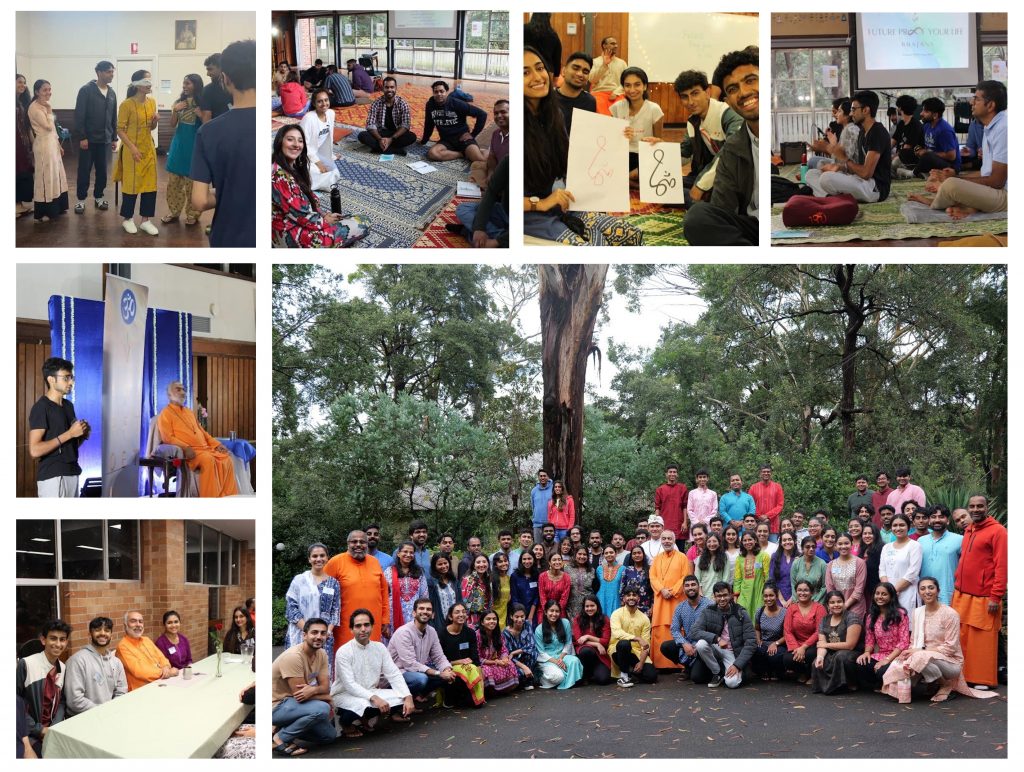 ---
Mahashivaratri at Jagadeeshwara Mandir, Powai
Dated : 2022/03/01

---

Mahashivaratri was celebrated in a grand day-long function at Sandeepany Sadhanalaya, Powai, Mumbai on 1 March 2022. The celebrations took place with great fervour, despite there being no non-residents present. The temple and Ashram were all decked up to celebrate the glorious day. The Ashram residents and students of the 18th Batch of the Vedanta Course had a wonderful celebration in the divine presence of Swami Tejomayananda. The various programmes were streamed LIVE on Chinmaya Channel on YouTube, so that devotees from around the world could view them and be part of it all.
Lord Jagadeeshwara, clad in His new orange attire and adorned with flowers, was smiling and shining from His pedestal from 5 AM. From 9 AM, Rudram chanting began (Laghunyasa, Namakam and Chamakam) and the Pujari conducted the Puja, which included Ekadasa Kalasa Sthapanam and Rudra Aavahanam. This was followed by Maharudrabhishekam at 11 AM. A unique offering to Bhagavan Jagadeeshwara by way of rendition of various devotional Shiva Stotrams and Kirtan, was conceptualised by Swami Tejomayananda and presented by him along with the students at 4.30 PM. This was truly a treat for the ears and eyes. The most awaited Deeparadhana of Lord Jagadeeshwara was witnessed by everyone present and those watching online at 6.30 PM. This was followed by the first Prahara Puja and second Prahara Puja at 7 PM and 10 PM respectively along with devotional chants, including Ganapati Atharvashirsha, Rudram, Purushasuktam, Durga Suktam and 'Om Namah Shivaya' Japa.
The programme concluded with divine and blissful Maha Arati, which was offered to the Lord at midnight, followed by Mahaprasad.
Though this was a somewhat different celebration, without the non-stop flow of devotees throughout Mahashivaratri day which Jagadeeshwara Mandir at Sandeepany is known for, it was still a wonderfully heartfelt, memorable and devotional day filled with love and joy for all present.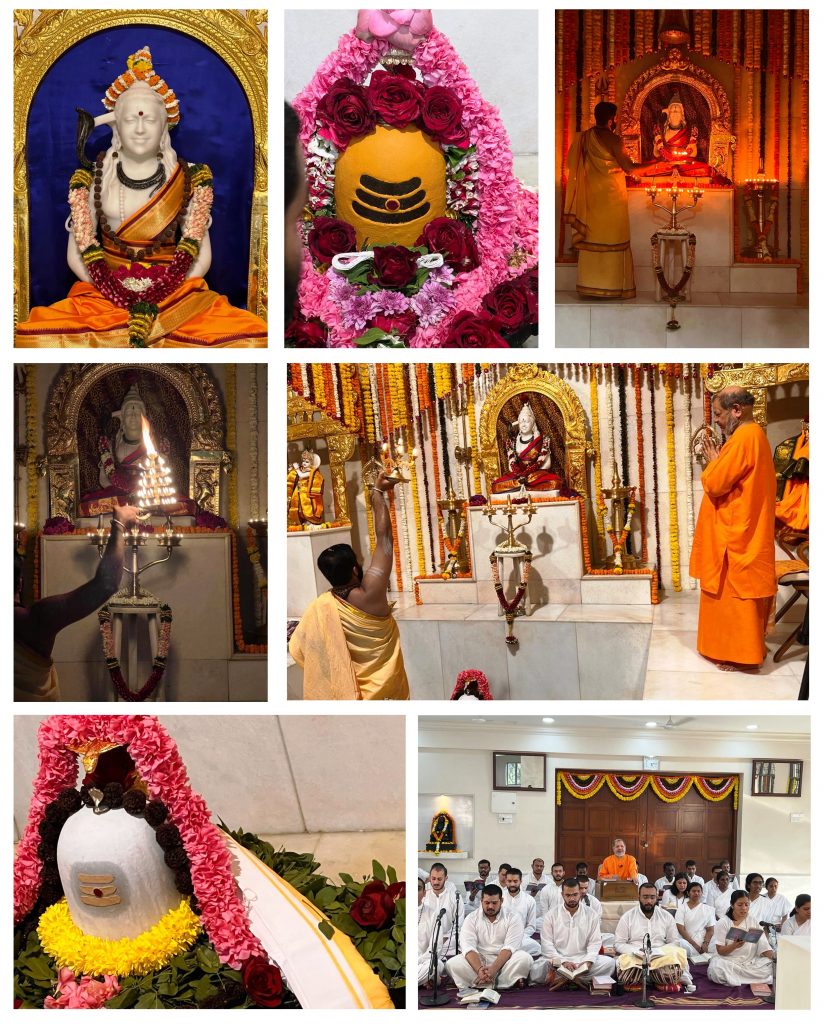 ---