News


To understand anything is to find in it something which is our own.
-Swami Chinmayananda
Archival News/Other News
15 Years of Shri Abhaya Anjaneya Swami Temple, Vizag
Dated : 2021/10/15

---

The Prati-sthapana of Sri Abhaya Anjaneya Swami at Chinmaya Mission Visakhapatnam (Vizag) was done in 2006, on Dussehra day. Every year the Pratishtha day is celebrated on a grand scale, and every five years, Maha Kumbhabhishekam or Purna Kalashabhishekam is done to the Kalasha atop the Gopuram (sanctum).
Dussehra day of 2021 marked 15 years of the pratishtha of the vigraha of Sri Abhaya Anjaneya. Abhishekam to the Moola Murthy with Panchamrta and 11 other Dravyas began at 4:00am, followed by Alankara.
Then a special Puja was done to all the Sahasra (1000) Kalashas, starting with lighting of Diyas and offering of flowers. After Arati, nearly 70 devotees carried the Kalashas to the top of the temple Gopuram and Abhishekam was done to the Purna Kalasha, amid Vedic chants.
Following this, 1000 Boorelu/Poornalu sweets were offered as Naivedyam, poured from atop the Gopuram, with the devotees standing below to catch the Prasad! It was a wonderful site!
This was followed by Manyu Sukta Homam, considered very dear to Hanumanji.
After the Homam, a sumptuous lunch was hosted by the Mission for all the devotees present. The Mission also hosted breakfast and distributed Prasad to all.
It was indeed a grand celebration of Dussehra as well as the Pratishtha day of beloved Sri Abhaya Anjaneya Swami.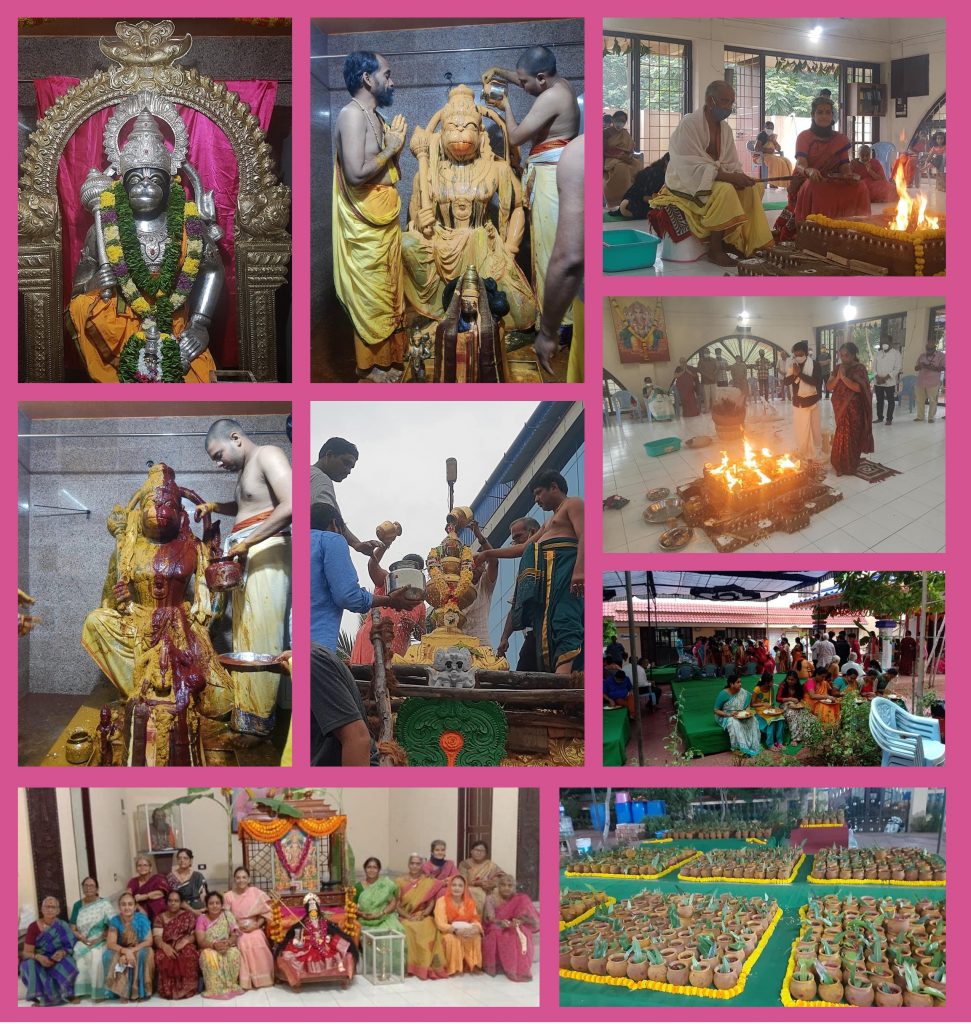 ---
Recognition of SEVA@CVV Volunteers
Dated : 2021/10/02

---

During Gandhi Jayanti celebrations, the Edakaatuvayal Grama Panchayat felicitated SEVA@CVV volunteers for their service in skill enhancement of students from the schools in the Panchayat jurisdiction. The event, held at the Farmers' Hall of the Panchayat on 2 October 2021, was inaugurated by Adv. Anoop Jacob, Member of Legislative Assembly, Piravom Constituency.
The following students were honoured:

1. Aswin Rajeev (Second-year, BSc Applied Psychology)
2. Meenakshi Nair (Second-year, BSc Applied Psychology)
3. Devangana Maneesh (Second-year, BSc Applied Psychology)
4. S. Sarada (Second-year, BSc Applied Psychology)
These students were volunteers for the project 'Social Room for Study Group' (SRSG) that provided support to develop life skills as well as basic skills for comprehending Maths and English. The project was led by Faculty Coordinator Dr. Bindu M. P., Assistant Professor, School of Ethics, Governance, Culture & Social Systems.
The felicitation was attended by the parents of the volunteers, along with Dr. Bindu.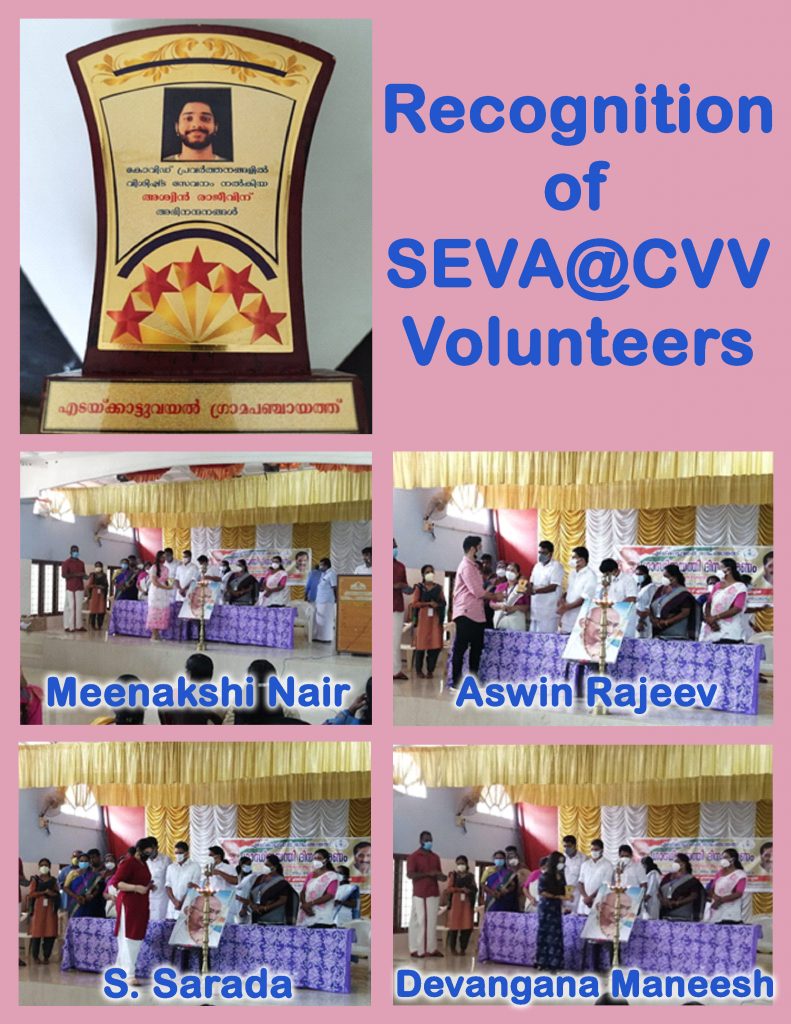 ---
Chinmaya Mission Bengaluru Janmashtami Celebrations
Dated : 2021/08/29

---

Shri Krishna Janmashtami was celebrated on a low key this year on 29 August 2021. The actual celebration commenced on 23 August through daily morning and evening abhisheka and tulsi archana, followed by devotional programmes in the evenings. The programme on 29 August commenced with morning abhisheka, Gita chanting and Vishnu homa. The Utsav Murty was taken to Chinmaya Mission Hospital where He was given a grand reception followed by bhajans. The evening programme consisted of bhajans followed by evening abhisheka, alankara and arati.
The temple wore a festive look and several devotees visited the temple seeking the Lord's grace.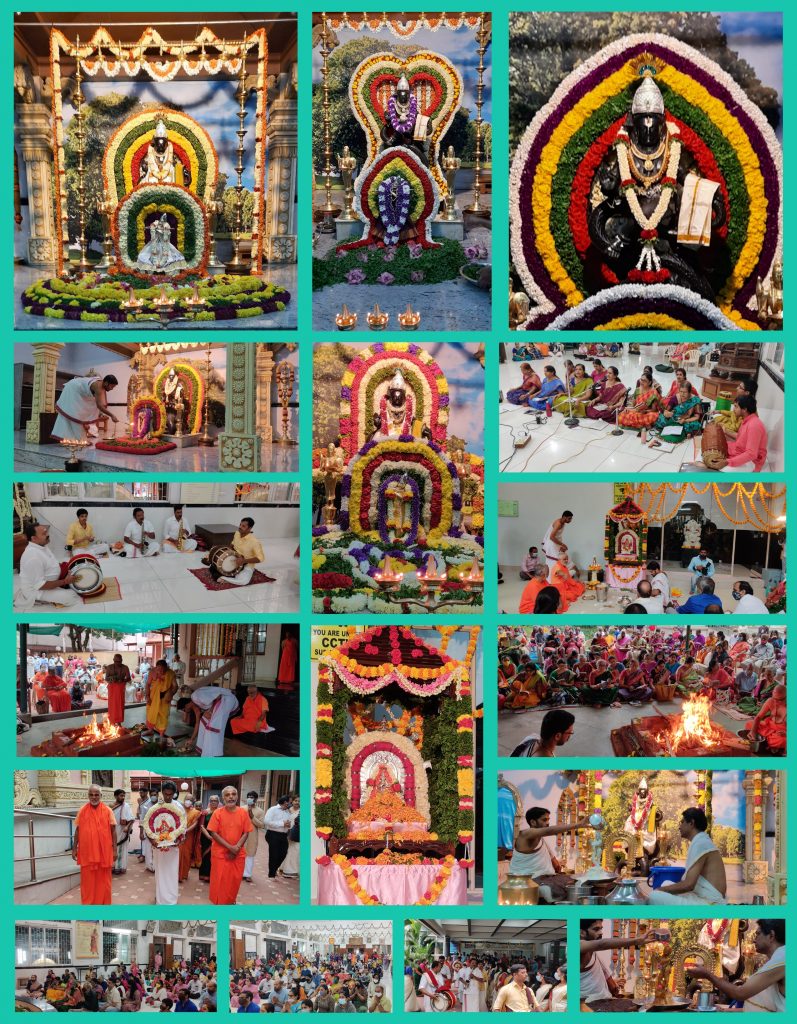 ---
2 Steps Closer – A Workshop
Dated : 2021/09/04

---

Chinmaya Yuva Kendra Mumbai organized a workshop titled '2 Steps Closer – Explore Your Inner Calling' with Swami Swatmananda. The workshop took place on 4 September 2021, via Zoom, and was attended by over 40 youth between the ages of 17-28 years.
The session began with a short activity where participants had to describe themselves using a few cues. From thereon, Swami Swatmananda introduced and spoke about the concept of 'Swadharma' in detail. He described and explained five steps to discovering one's Swadharma – namely understanding one's temperament, exploring talents, discovering one's passion, considering the practical needs and serving society. At each step, practical tips and real life examples were shared, as well as points and questions for participants to reflect upon.
Videos that were relevant to the point of discussion were also shared, such as a clip of Swami Chinmayananda speaking about the three gunas – sattva, rajas and tamas – which in different combinations affect one's temperament. Throughout the workshop, Swami Swatmananda posed questions to the participants and actively interacted with them. The workshop concluded with a lively QnA session.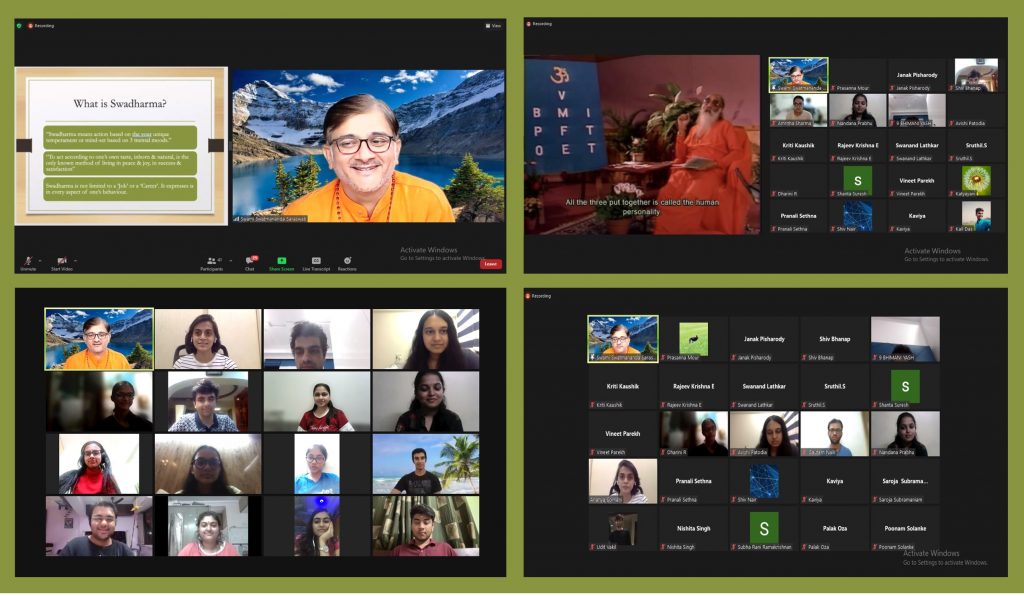 ---
'Vision For Transformation'
Dated : 2021/09/03

---

Don't miss these takeaways from a series of four inspiring talks by Swami Tejomayananda on Chinmaya Channel, YouTube.
Takeaway 1
Our actions, reactions and responses depend upon our vision of life. To bring about a paradigm shift, to transform this vision, we need to know its foundation, criteria, vision. What is our value system? Transformation comes only when we change our whole vision of life! Vedanta says, "Look at your life as a whole; not fragmented, not in parts." In the Bhagavad Gita, which is the essence of the Upanishads, the Lord changed Arjuna's faulty thinking and without any external change, transformed his vision.
Takeaway 2
Vision influences every aspect of life and is of three types – sattvika, rajasika, tamasika. A sattvika vision expresses as boundless joy in the experience of Oneness, as love for all beings, ever readiness to serve. A rajasika vision sees differences between cultures, countries, religions. The notions – I, my, you, yours, right, wrong, good, bad, like, dislike, superiority, inferiority – create barriers and loot away our peace of mind. Foolish and illogical, a tamasika vision gets unreasonably attached, taking a part to be the whole.
Takeaway 3
The vision dictates understanding or buddhi. It is the faculty of knowing, understanding, discretion, separation, analysis. We use this faculty, to decide what to do and what not to; to know our duties and responsibilities; to differentiate between bondage and liberation and to become fearless. Sattvika buddhi knows the mind alone causes bondage and also liberates. Rajasika buddhi, bound by personal preferences, leads to vagueness, doubt, confusion and problems. Tamasika buddhi manages to understand just the opposite of everything.
Takeaway 4
To achieve any goal we require fortitude, patience and the ability to hold on or to sustain. How we use this ability – dhriti – and to what purpose, in which field, determines whether it is sattvika, rajasika or tamasika. Each one knowingly or unknowingly works for happiness; they pursue goals according to their vision. The tamasika consider unreal happiness, as happiness. The rajasika think, what they enjoy is happiness. Only the sattvika know what real happiness is! Happiness puts an end to sorrow without dependence on anything!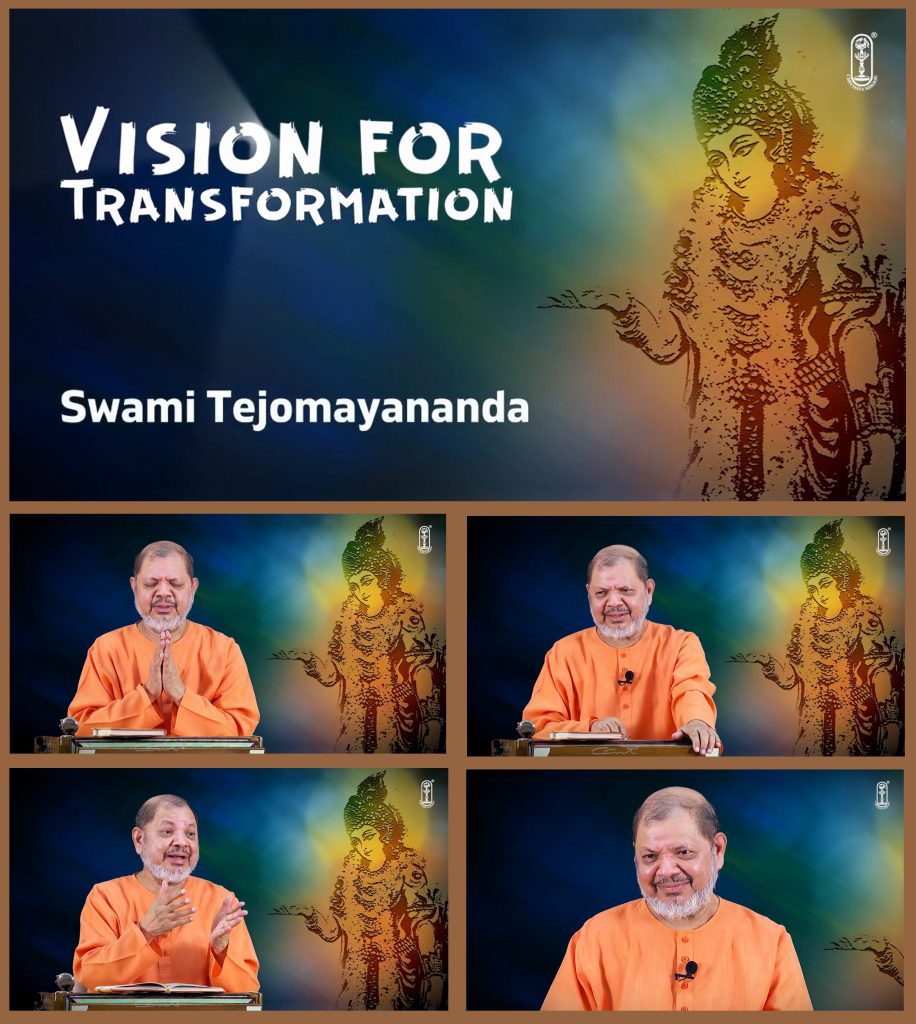 ---
Krishna Janmashtami 10-Hour Celebration in Durban
Dated : 2021/08/30

---

A spectacular event filled with divine music, festive dances, insightful presentations and Swami Abhedananda's soul-stirring talks on Krishna Leela. The result? Everyone was immersed in spiritual ecstasy!
The event was inaugurated with blessings and benediction of Swami Tejomayananda, Swami Swaroopananda. Musical and dance performances by eminent artists soaked everybody in Krishna Rasa. Swami Abhedananda's talks and live QnA session took the devotees deeper into the leelas of Shri Krishna. Short and engaging documentaries on all five Centres of Chinmaya Mission South Africa were shown. Continuous Vishnu Sahasranama Archana was performed by Swami Abhedananda and the Brahmacharins; this culminated as a total of 100,000 sacred names chanted of Lord Vishnu. At midnight, Swami Abhedananda called out to the Lord intensely and invited Him wholeheartedly into the bosom of each devotee. Everyone was drenched in Shri Krishna's love through this online 10-hour celebration.
Nanda ghar ananda bhayo, Jai Kanhaiya laal ki!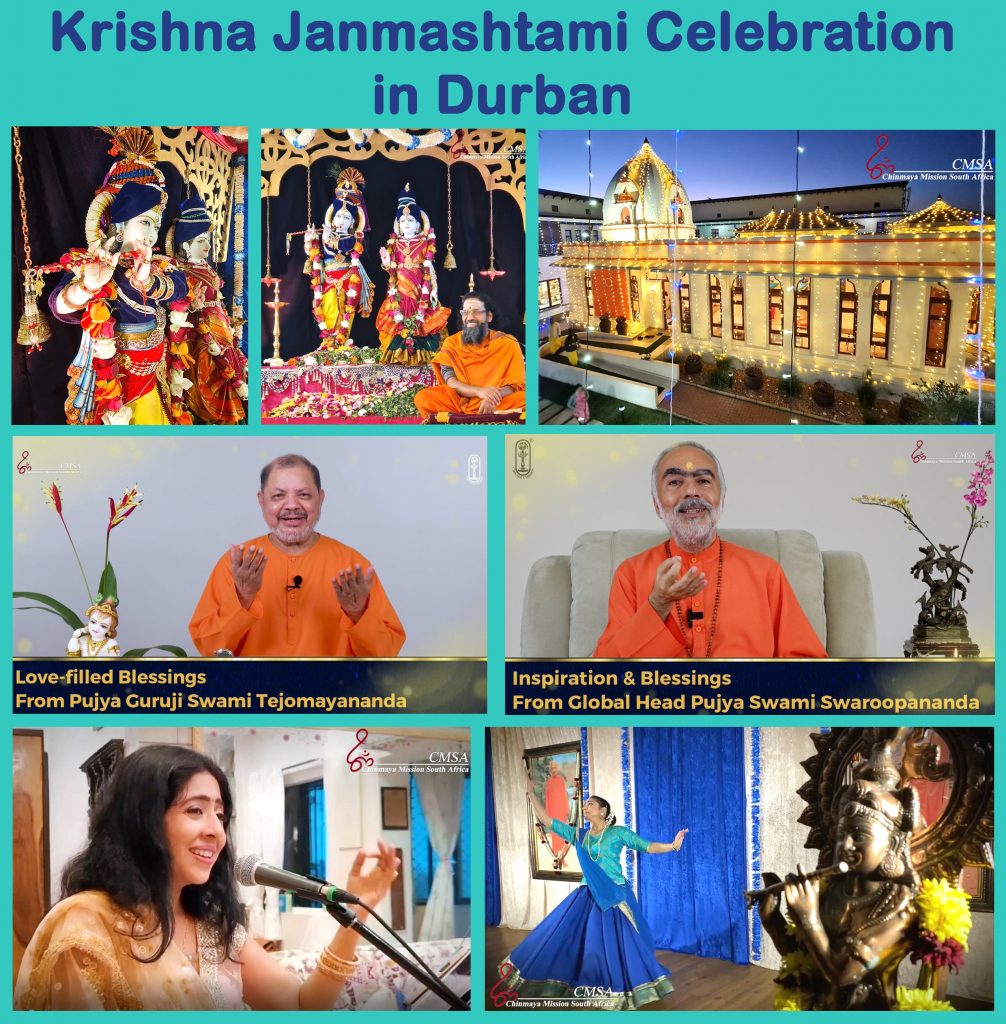 ---
Krishna Janmashtami Celebrations of CM Gurugram
Dated : 2021/08/30

---

With the inspiration, blessings and guidance of Swami Durgeshananda, Chinmaya Mission Gurugram organized a week-long yajna – 'Jagat Guru Bhagavan Shri Krishan Katha' from 23 August 2021 to 29 August 2021. The yajna concluded on the auspicious day of Shri Krishna Janmashtami – on 30 August 2021 – with splendid performances by Bala Vihar children, chanting by Chinmaya Yuva Kendra members and Pooja by Swami Durgeshananda.
Everyday, devotees from world-over got the opportunity to listen to the discourses of various Swamins of different Chinmaya Mission Centres. The discourses were live streamed on the YouTube channel of Chinmaya Mission Gurugram. The speakers included Swami Prakarshananda from Delhi, Swami Chidrupananda from Noida, Swami Advaitananda from Nashik, Swamini Nishkalananda from Kalyan, Swami Mitrananda from Chennai, and Swami Abhedananda from South Africa. Some talks were in Hindi and some in English.
The yajna had a two-fold impact – firstly, it provided a great opportunity for devotees to revel in Bhakti Rasa and secondly, to understand the teachings from Shri Krishna's life and progress on one's spiritual journey. The organizers conducted the yajna in a very good spirit of oneness.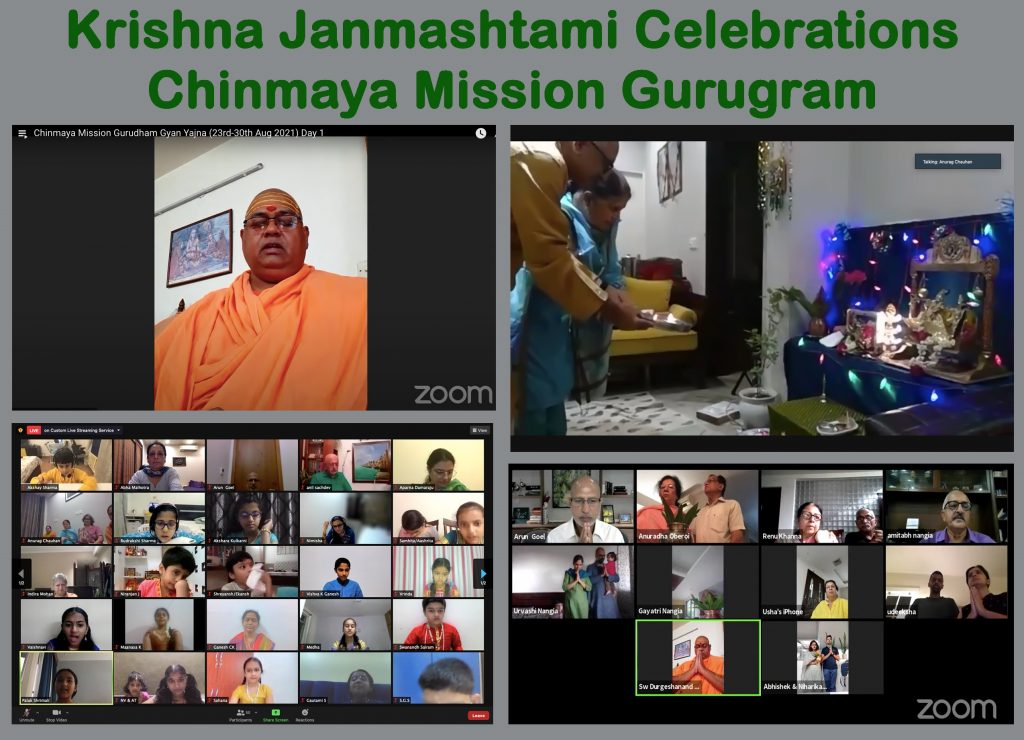 ---
'Heart To Heart' With Swami Chinmayananda
Dated : 2021/08/03

---

From Guru Poornima (24 July 2021) to Swami Chinmayananda's 18th Aradhana Day (3 August 2021), every evening YouTube Chinmaya Channel viewers had a heart-to-heart date with memories of the Master. An initiative of Chinmaya Mission Delhi, conceptualised by Swami Prakarshananda, 'Heart to Heart – Inspiring Conversations with Devotees', touched the hearts that viewed them.
'Heart to Heart' was flagged off to a glorious start with Swami Tejomayananda's blessings. He offered his reverential salutations and briefly shared what Swami Chinmayananda meant to him.
Next Swami Swaroopananda walked down memory lane with Swami Prakarshananda who, as the anchor of the show, kept up a steady flow of questions. Swami Swaroopananda described Swami Chinmayananda as a Yuga Purusha and Bharata Gaurava; one of those rare, few Masters that can foresee the future and are endowed with the missionary zeal to spread the spiritual knowledge of the Indian scriptures to all quarters – far and wide.
From the next day, Swami Prakarshananda interviewed other devotees and dedicated sevaks from Delhi. In sequence – Prarthana Saran, Anil Sachdev, Durga Singh, A.T. Reghunath, Jujhar Singh, Ravi Chaudhry, Sharda Chawla, Indu Shrikent, Som Oberoi, Anjali Singh and Swamini Gurupriyananda. Each of them shared their experiences and the impact that their Gurudev had in shaping their lives.
Behind the success of any event is a team that works selflessly to make it all come together and a team leader that carries the complete vision. Swami Prakarshananda played his part to perfection, uncovering great depths of wisdom in the interviews. Jujhar Singh's professional skills as a TV anchor helped greatly in producing an aesthetically designed backdrop and light effects.
Each conversation had its own special flavour. The impact of Swami Chinmayananda's touch for each devotee left a distinctive impression on both the speaker and the listener, resulting in a very memorable series of dialogues.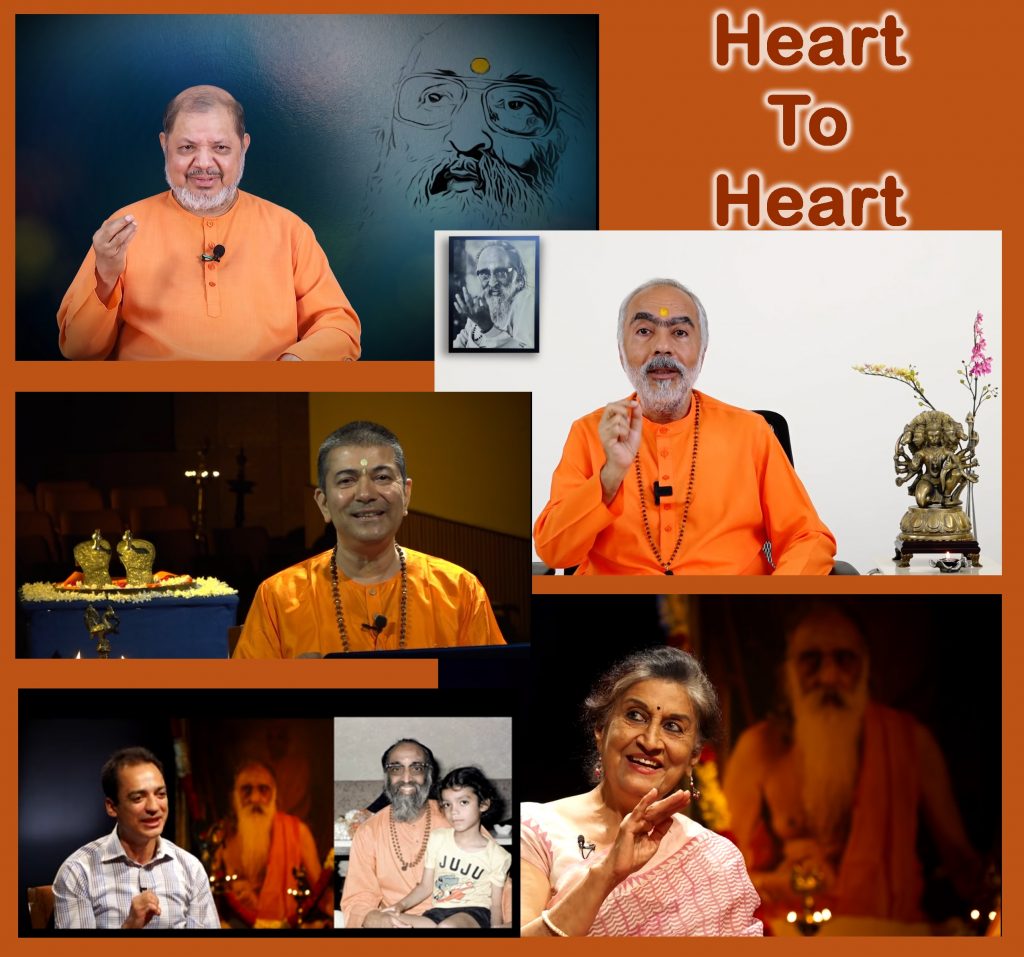 ---
Vedic Vision For Youth
Dated : 2021/08/29

---

Chinmaya Yuva Kendra (CHYK) Navi Mumbai organized a one-hour session for the youth titled Vedic Vision – Ancient Wisdom for the Modern World, on 29 August 2021. Swami Mitrananda from Chinmaya Mission Chennai addressed over 120+ youth on Zoom. The session was also streamed live on Chyk Navi Mumbai's YouTube page. Swami Mitrananda, with his ability to deliver complex concepts crisply, spoke of the vision of Vedanta for every individual (Dharma-Artha-Kaama-Moksha) as well as for the entire universe (Vasudhaiva Kutumbakam). Despite the topic being vast, he conveyed the points masterfully. The talk was followed by a short QnA session where the participants asked a lot of interesting and inquisitive questions about Vedic culture. One such question was:
"What is the test for interpretations or commentaries on scriptures to verify that it is consistent with the original texts, considering that newer generations haven't read original texts?"
Swami Mitrananda's answer: "Just like 'Science' is not a single text authored by one writer but a collectively accepted compilation of works by many scientists, Vedas too are a compilation of the works of many Rishis and are a collectively accepted thought process. One must research, read commentaries by personalities of different eras and draw a conclusion of their own through comparative study."
The event also included the unveiling of the cover of a new book. CHYK members of Navi Mumbai, under the guidance of Swami Swatmananda and Brahmachari Anand Chaitanya have been working on a storybook, based on Sthithaprajna Lakshana from Chapter 2 of the Bhagavad Gita, titled "Dear Sarathi". It will be used as one of the reference guides for the various competitions to be held in the Chinmaya Geeta Fest 2021 in Mumbai.
The session concluded with a vote of thanks by Shri Amol Khair, President of Chinmaya Prerana, followed by the national anthem.
All participants were gifted a digital booklet via email containing the learnings from the talk and the QnA session.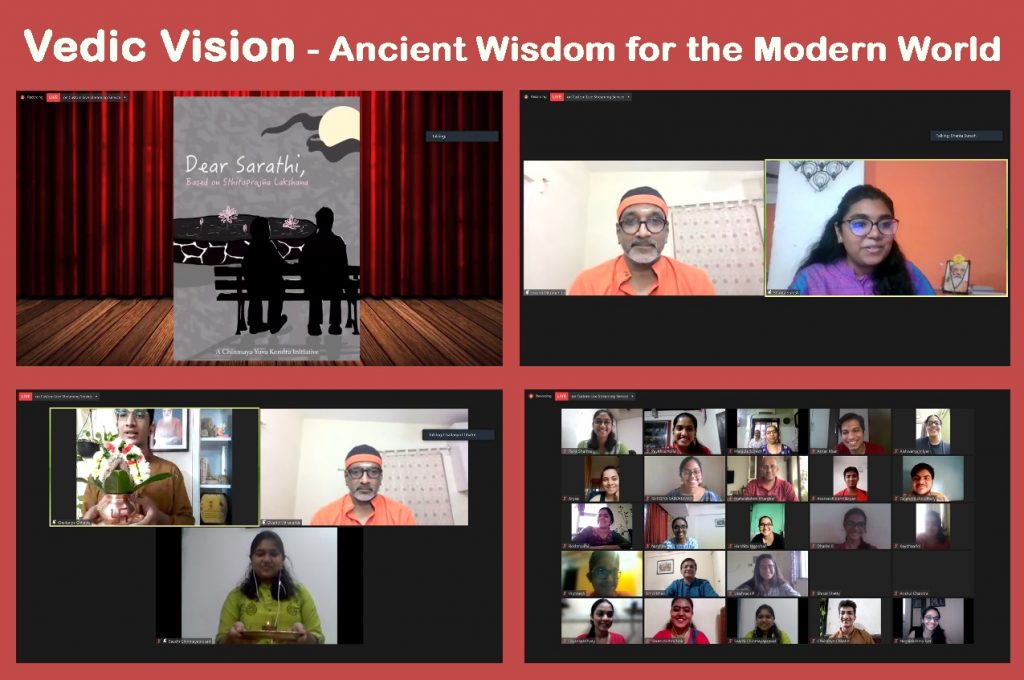 ---
Break The Shell, Spread Your Wings And Fly High
Dated : 2021/08/29

---

Chinmaya Yuva Kendra Ponda had a wonderful, inspiring talk and QnA with Swami Anukoolananda (of Chinmaya International Residential School, Coimbatore) on the topic – 'Break the Shell, Spread your Wings and Fly High'. 43 youth from all over Goa and other parts of the country attended the session.
Here are a few takeaway points:
1. 'Break the Shell' means to
– come out of your comfort zone and explore life.
– Come out of your external and internal constraints.
2. When the shell breaks from within, adventure is born.
3. We are not born with self-confidence; we need to develop it through self-evaluation.
4. To build knowledge we need to understand ourselves; only then will we come to know what we want to do in our lives.
5. To build knowledge we need to
– Explore: discover various fields, observe things
– Enhance: gain knowledge about the particular field in which you are interested
– Engage: develop skills in that field
– Enjoy: get immersed and absorbed by your work in that field
6. Building fearlessness:
– Don't do things that create guilt/regret
– Be yourself; don't compromise
– Never fear hard work
– Learn to bear pain
7. Building generosity:
– Seek to help others
– Learn to give
– Develop humility and gratitude
– Richness does not depend on how much money we have; it depends on our thinking.
8. Building enthusiasm:
– Keep your goals high
– Meet and be with people who keep you enthusiastic
– Gain knowledge that keeps you inspired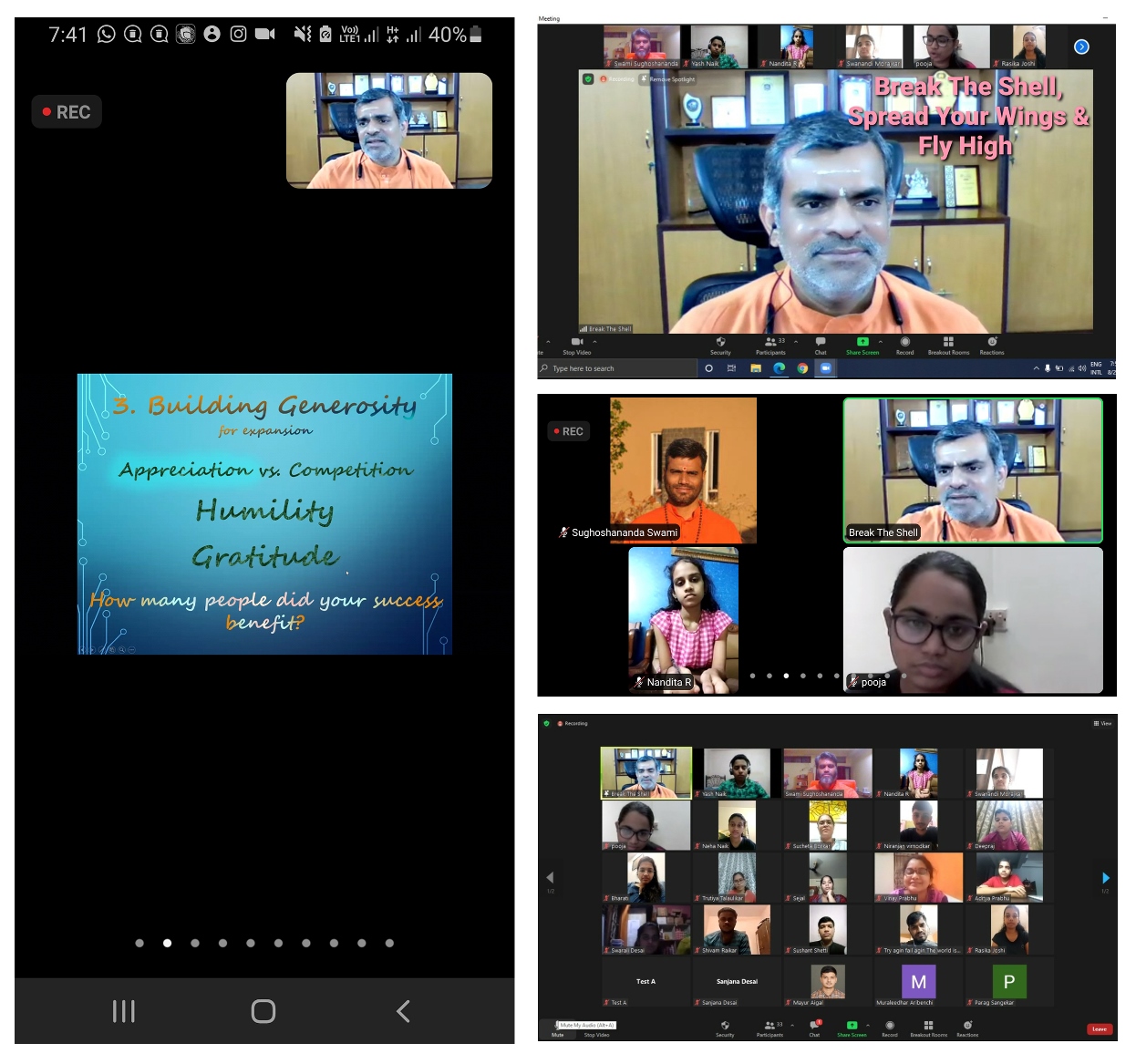 ---