News


To understand anything is to find in it something which is our own.
-Swami Chinmayananda
Archival News/Other News
Sadhana Day at Bengaluru
Dated : 2023/02/05

---

Sadhana Day was observed on 5 February 2023 at Chinmaya Mission Bengaluru in the presence of Swami Brahmananda. About 250 study group members from all over Bengaluru city participated in the lively discussion on Bhagavad Gita Chapter 9. The members were divided into 10 groups and each were allotted a few shlokas to discuss for one hour. At the end of discussion, the group moderators presented the gist of their discussions that clearly depicted the depth of study and reflection done by each study group member.
Swami Brahmananda was extremely pleased with the quality of discussion as well as presentation. In his Ashirvachana, he described Chapter 9 as a mirror giving a crystal-clear analysis on all questions and doubts regarding Jiva, Jagat and Ishwara that in reality explain our real nature. He explained that doubts come to only an agitated mind while a calm mind rooted in the Self will have no questions. He stressed that all our sadhana should aim at quieting the mind, focusing attention on the changeless substratum. We should analyse our dream state that throws light on how the world is projected and how the single entity becomes both the upadana and nimmitta karana of creation.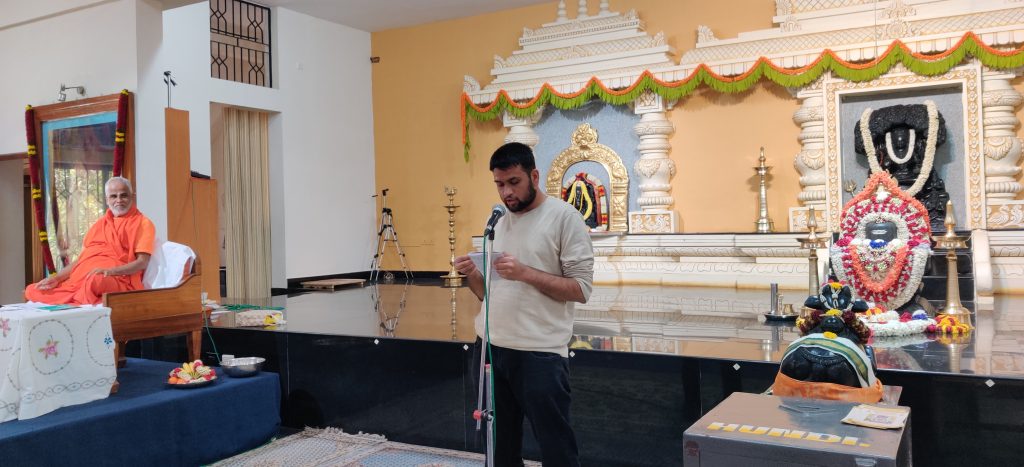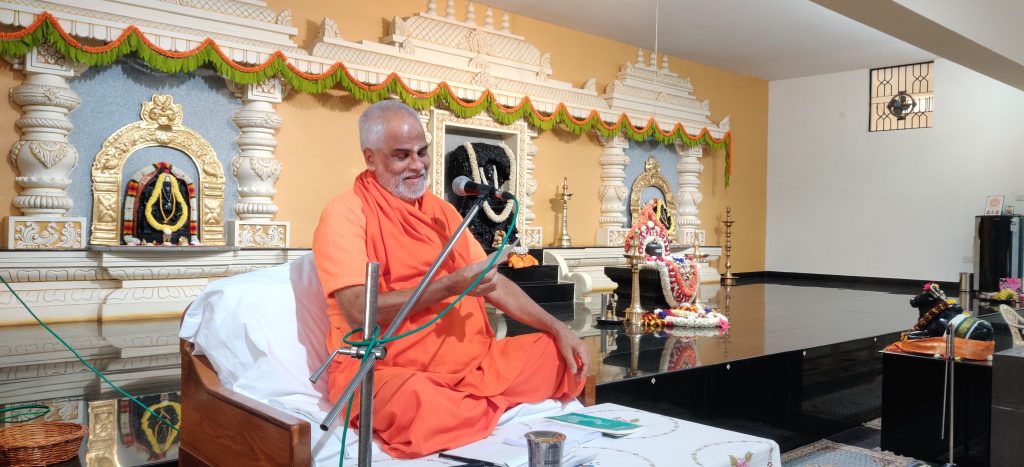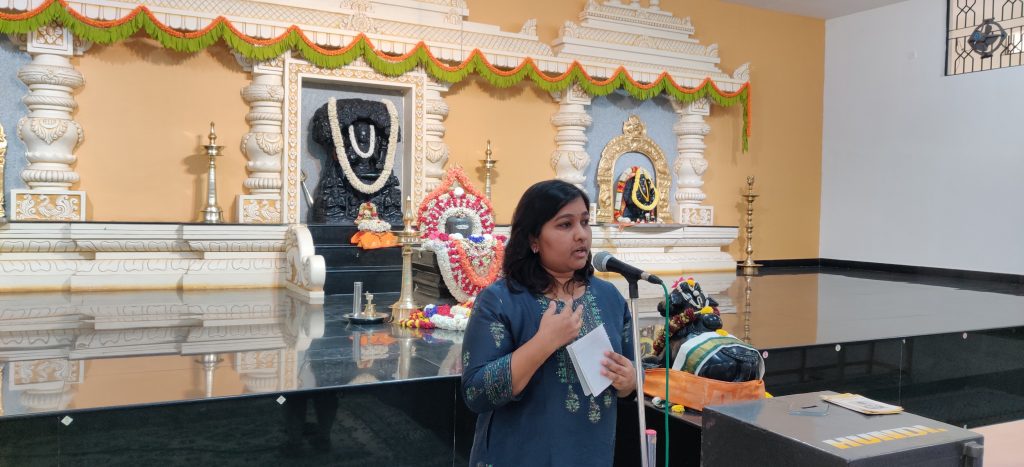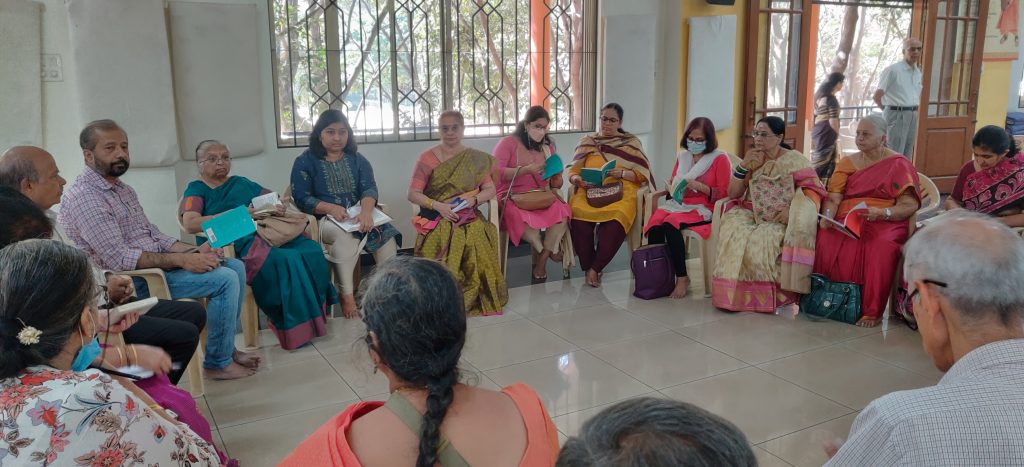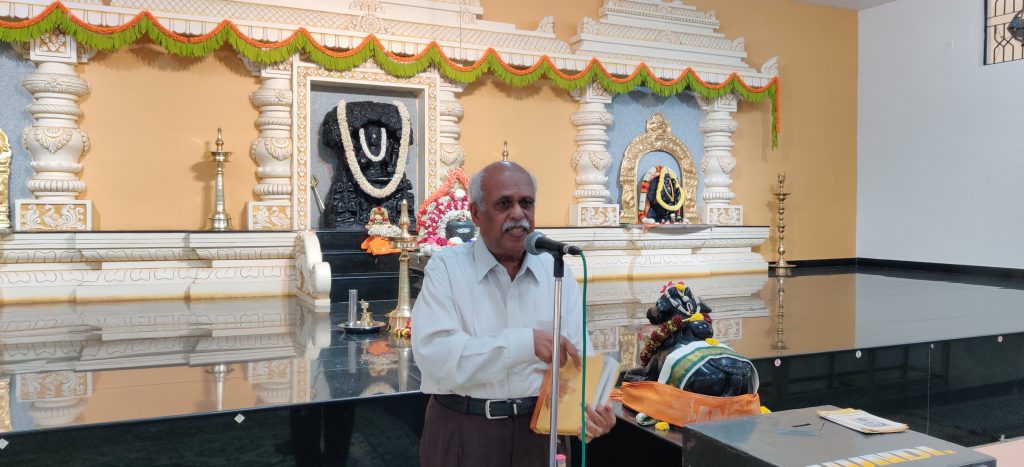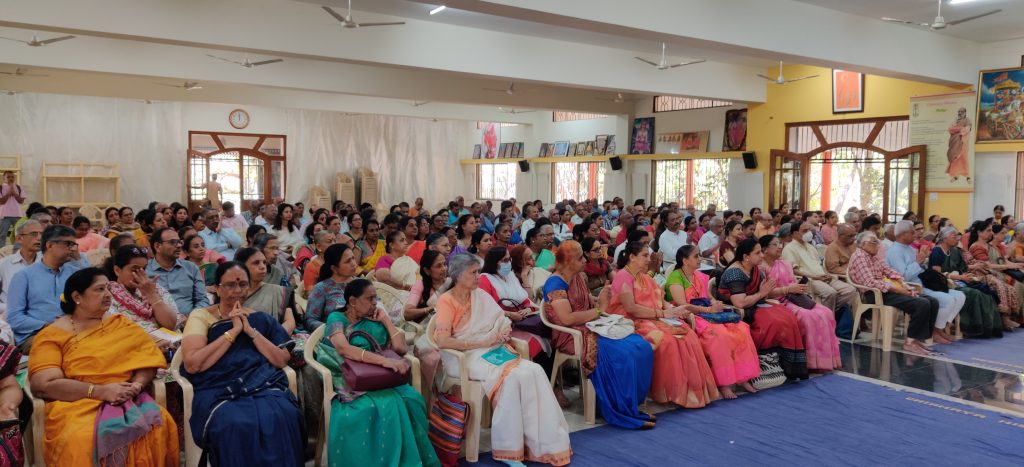 ---
Special Awards for CM Sydney
Dated : 2022/11/28

---

Chinmaya Mission Sydney, Australia, was presented an award for Special Religious Education at Government schools in New South Wales (Sydney) and also an award for promoting COVID friendly practices and for inspiring the Hindu community and others to be COVID safe.
These awards were give at the Parliament House on 28 November by the Minister of Education and the Minister of Multiculturalism.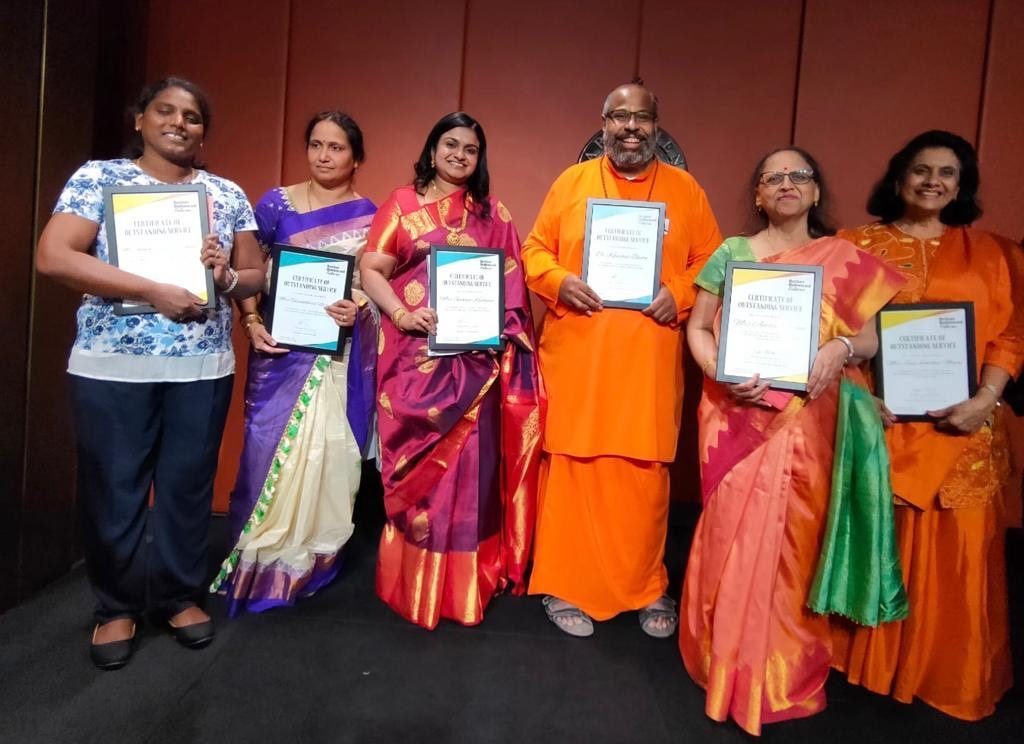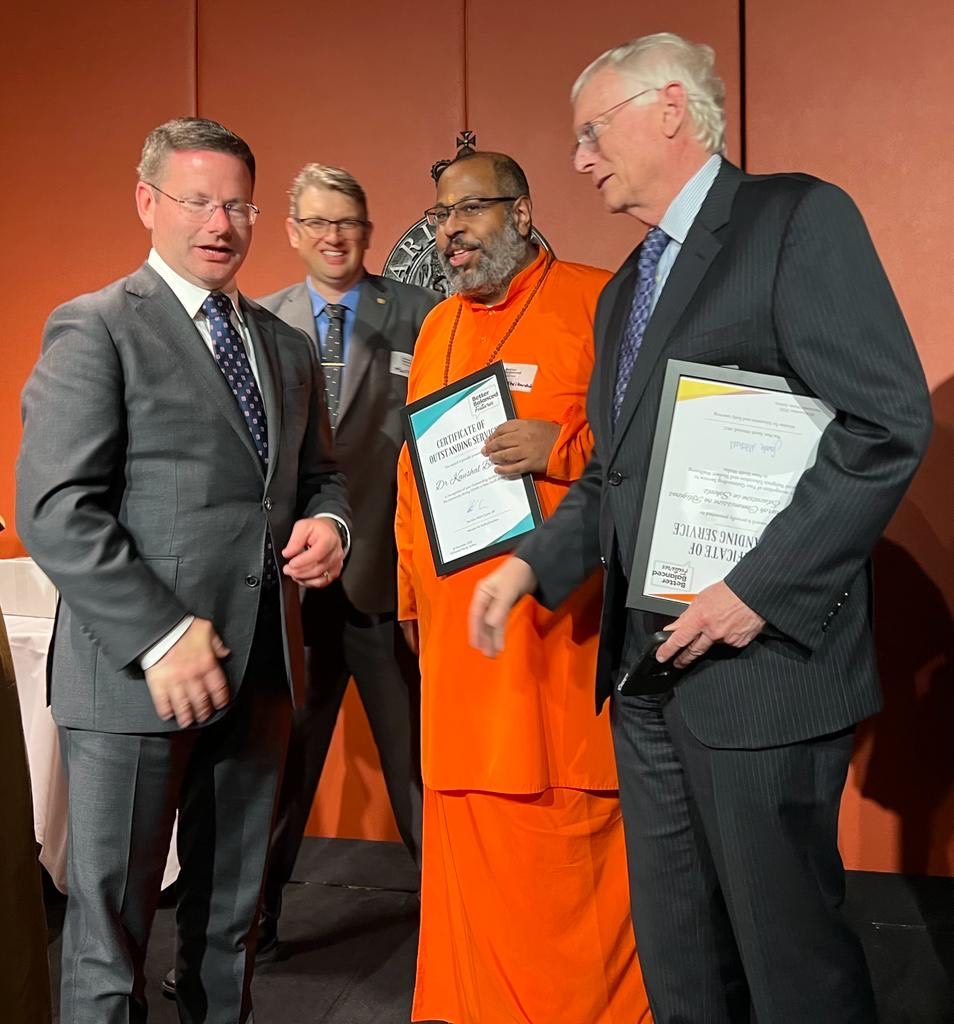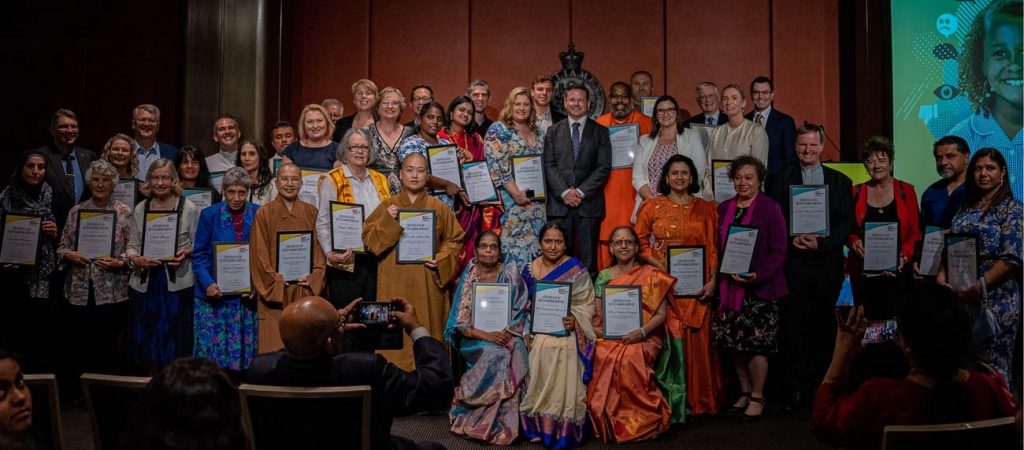 ---
Inauguration of the 2nd Kannada Vedanta Course
Dated : 2022/10/13

---

On 13 October 2022, Pujya Swami Swaroopananda inaugurated the 2nd Vedanta Course in Kannada at Sripadakshetra, Bengaluru. The Course will be conducted by Swami Adityananda.
In this Course run in the Gurukula mode, students withdraw fully from worldly life and follow a disciplined schedule of classes and activities in an Ashram setting to promote learning, reflection and contemplation. Thereafter, they are encouraged to work in the field as missionaries, although this is not a stipulation for joining the Course.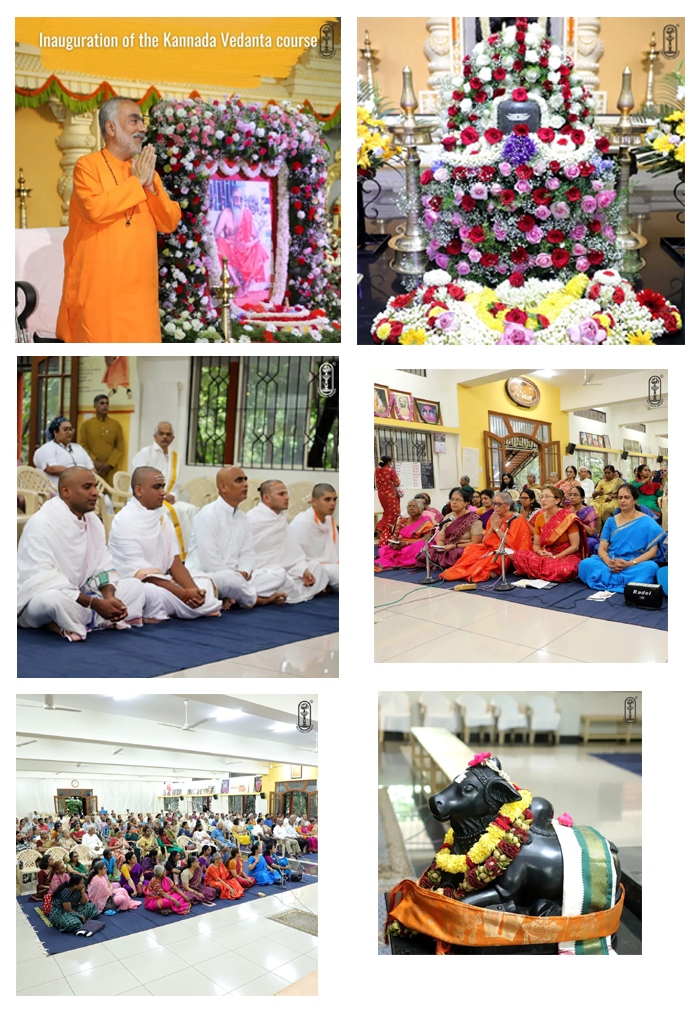 ---
New Centre at Gurugram
Dated : 2022/10/12

---

The team at Chinmaya Mission Gurugram were busy building their new Centre, from the time that the foundation stone was laid on 5 May 2019, even through the entire period of Covid. Swami Swaroopananda (Global Head, Chinmaya Mission) inaugurated the new Centre, named Chinmaya Gurudham, where Jagatguru Shri Krishna will later be installed as the deity of the Centre.
Shri Sudhir Rajpal, IAS, CEO GMDA, was the guest of honour at the inauguration and several other dignitaries and Swamins of Chinmaya Mission were also present to grace and bless the occasion, including Swami Gangeshananda, Swami Chidrupananda, Swami Prakarshananda and Swamini Gurupriyananda.
Swami Swaroopananda spoke of Bhagavan Shri Krishna's teachings on remaining an instrument in His hands (nimitta-mātraṁ bhava savya-sāchin) so that the Divine will flow through us to the world around us, and then even impossible tasks transform into glory. He wished everyone the best with an abundance of blessings of Guru and God.
Chinmaya Gurudham has activities for all ages right from pre-natal to Shishu Vihar for toddlers, to Bala Vihar for children, teenage groups, youth, study groups, discourse, and much more.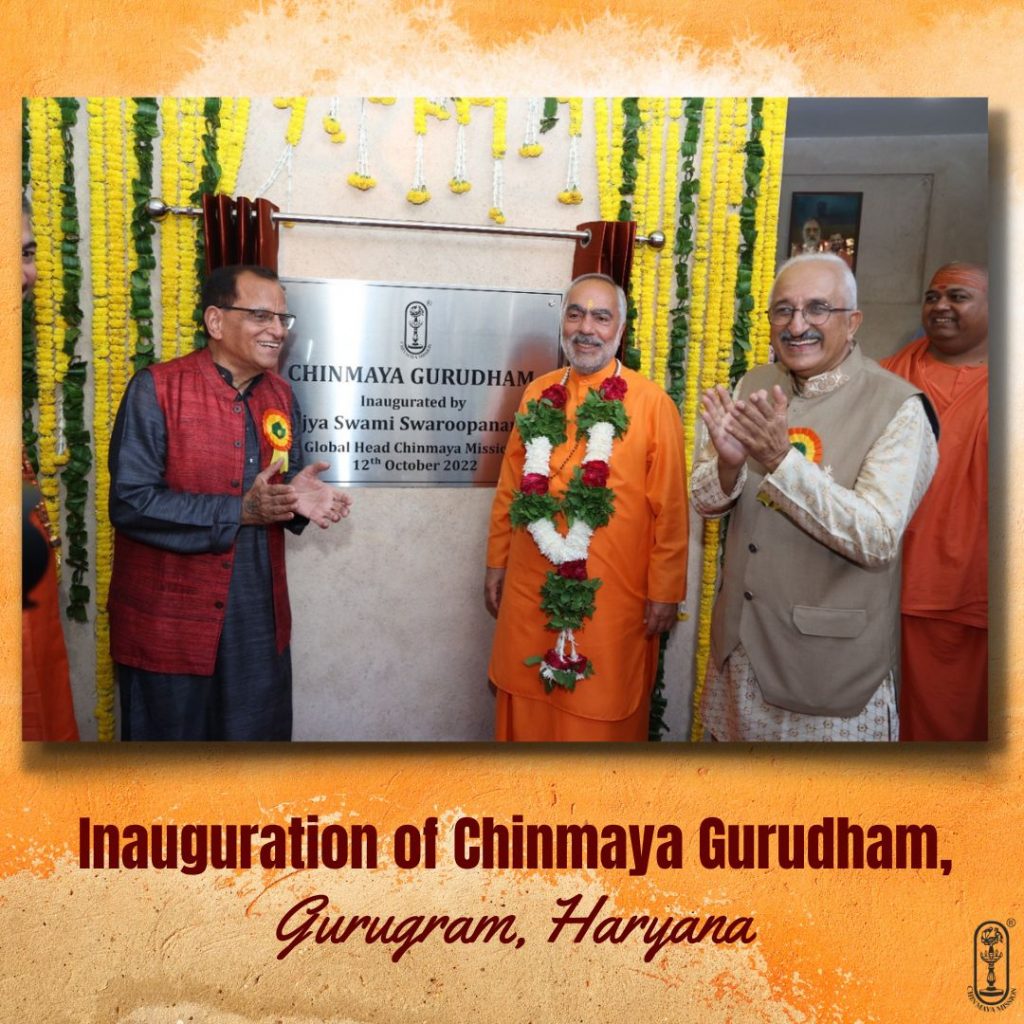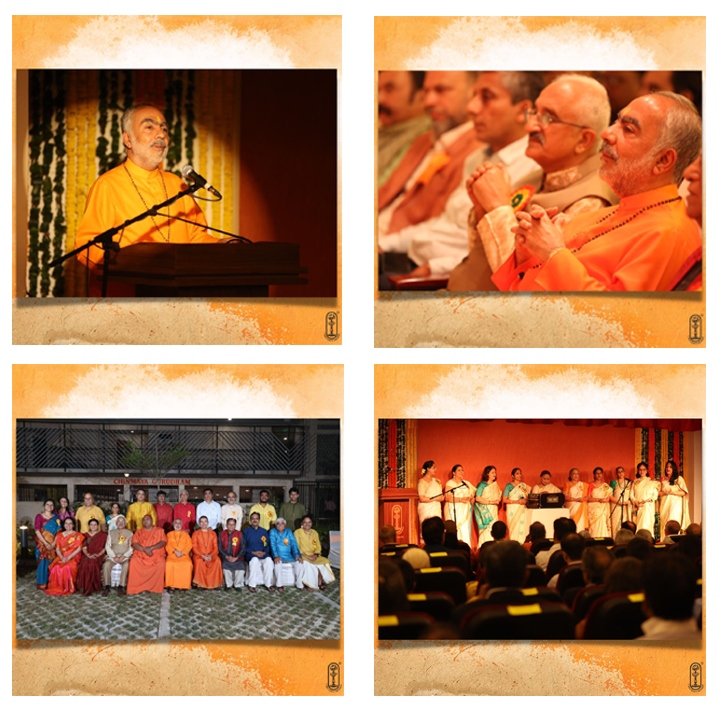 ---
10% Off on Commemorative Coin Set
Dated : 2022/10/10

---

Swami Chinmayananda's legacy has left an indelible mark on thousands and continues to do so even today. The ultimate recognition was the release of commemorative coins by the Government of India on 8 May 2015. This was a proud and special occasion for the entire Chinmaya Mission family.
This coin set can be yours, not only as a keepsake to cherish and draw inspiration from but also as a form of worship.
Especially for Diwali 2022, there is a special discount of 10% off, from 10 October to 24 October 2022.
Get your set at eshop.chinmayamission.com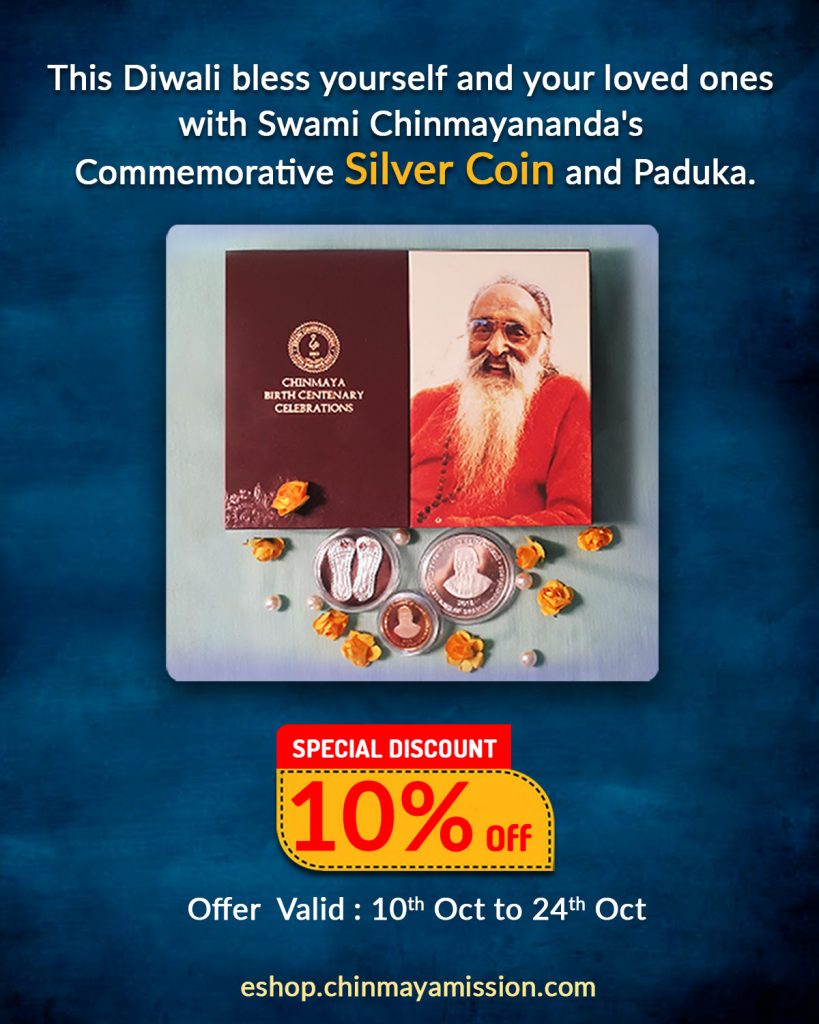 ---
Chinmaya Vishwa Vidyapeeth 2022 Graduation Ceremony
Dated : 2022/09/28

---

The Class of 2022 graduation ceremony at Chinmaya Vishwa Vidyapeeth began with lighting of the inaugural lamp by the Honourable Chancellor Swami Swaroopananda, followed by Vice Chancellor Prof. Ajay Kapoor, Managing Trustee Dr. Apparao Mukkamala and other honourable dignitaries addressing the outgoing students. We congratulate our gold medallist for the batch, Sugandhi Agnihotri, a student of the postgraduate diploma in Advaita Vedanta. This was an event filled with dance, music, hope, joy and memories.
We are proud of the Class of 2022, and cannot wait to see their future accomplishments.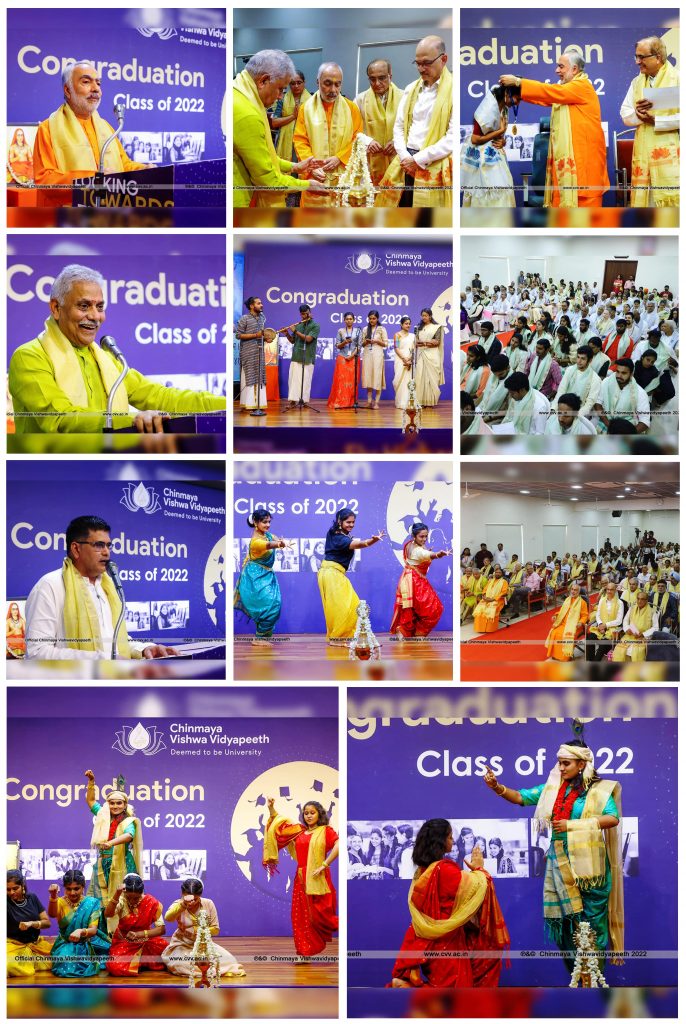 ---
Navaratri Celebrations at Madurai
Dated : 2022/10/05

---

Under the guidance of Swami Sivayogananda, Chinmaya Mission Madurai celebrated Navaratri in a grand manner from 26 September to 5 October 2022 (10 days).
Chinmaya Devi Group, Madurai, arranged a divine and a colourful Golu that displayed all the deities which added to the festive spirit. Members of the Devi Group invoked the Divine Mother by performing Lalitha Sahasranama Puja in the early hours every day, during the festival. The evening hours were filled with concerts by renowned artists and spiritual discourses by famous speakers from Madurai and Chennai.
The festive evenings began with Mridangam and vocal concerts followed by Bharatanatyam recitals, which was enjoyed by the audience. The spiritual discourse on "Dum Durgaya Namaha", by Isaikkavi Shri.Ramanan from Chennai, took the devotees to a higher plane of Bhakti for Goddess Durga. The talk on Meenakshi Amman Kalivenba (Tamil text), by Dr. S. Girija, added value to the festival.
Many children participated gracefully in the Bharatanatyam recitals by three dance schools and parents thronged the venue to enjoy the expressive dance concerts. The musical evenings ended with a fitting vocal finale offered to Devi Maa by members of Chinmaya Yuva Kendra. Devi group members participated in the Narayaneeyam Parayana and Thirupugazh recital during Navaratri festival at Chinmaya Meenakshi. The dedicated Chinmaya Yuva Kendra were instrumental in the live YouTube streaming of all the programmes.
On Saraswati Puja day, Swami Sivayogananda performed special Puja followed by Arati and Bhajans. Aksharabhyasam (Vidyarambam) on Vijayadashami Day was initiated by Swami Sivayogananda to the tiny tots who gathered with their parents.
The Navaratri festival was covered by the famous news daily, Dinamalar. The artists were honoured by Chinmaya Mission Madurai, and certificates and gifts were also distributed to the children who participated in the Navaratri festival. Prasad was distributed on all the ten days during the festival.
Under the guidance of Swami Sivayogananda, Chinmaya Devi Group organized and coordinated the festival with great devotion and dedication.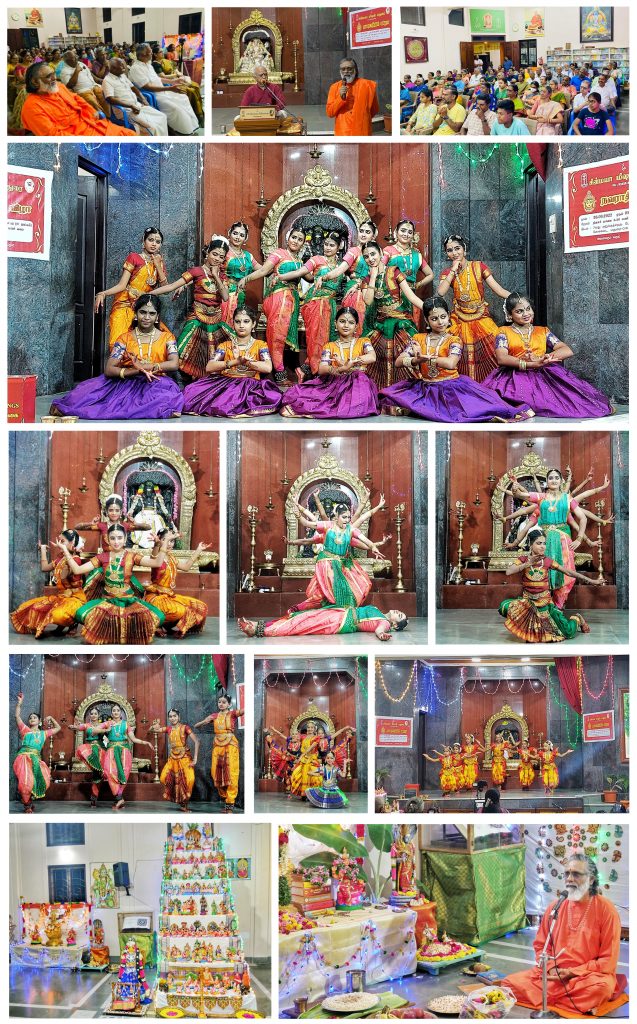 ---
'Vedanta Daily' App
Dated : 2022/09/01

---

To spread the message of the scriptures is the foundation on which Swami Chinmayananda built Chinmaya Mission. In this context and to serve that very vision,after the global success of the first two Apps – 'Gita 365' and 'Upanisad Daily' – Chinmaya Mission Houston has now created a new App called 'Vedanta Daily'. It is a systematic unveiling of the message of Vedanta, sequentially sourced from talks by Swami Chinmayananda on different texts.
The purpose of this is to help seekers to embark on a divine journey as one charts out one's own spiritual path.
The App was released on 3 August 2022 and is available as a free App on both App Store and Google Play Store.
---
Indonesian Padma Shri Awardee Visits Chinmaya Mission Sikkim
Dated : 2022/09/10

---

Agus Indra Udayana from Indonesia visited Chinmaya Mission Sikkim on 10 September 2022 as part of the Indo-Indonesian Sangam Vedic Cultural Exchange and Tourism promotion. The visit was covered in Sikkim Express.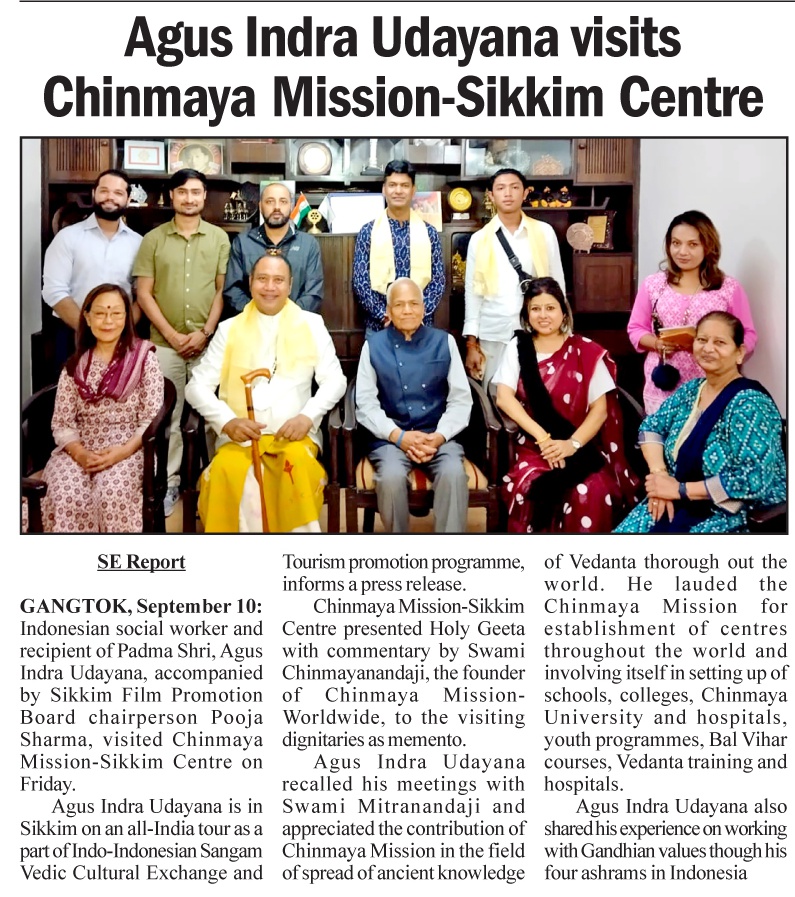 ---
'Coming to Unity' at Boston
Dated : 2022/08/14

---

Chinmaya Yuva Kendra (CHYK) and Chinmaya Setukari (CSK) members gathered from 12 August to 14 August 2022, for a retreat hosted by Chinmaya Mission Boston. Over 30 participants came together, traveling from the local region and out of town, to spend the weekend at Chinmaya Maruti located in Andover, MA. With loving guidance from Shri Vivek Gupta, Shri Shankar and Smt Shashikala – greater Boston's resident teacher – the retreat consisted of daily discourses and opportunities to integrate learnings through activities ranging from quiet reflection, gardening, skits, a cooking challenge and outdoor sports.
The retreat's theme "Coming to Unity" lived up to its name in all ways! Participants spanned a wide range of ages – late teens to 40s – bringing a unique mix of perspectives and a familial feeling to the retreat. Our retreat guides delivered inspiring discourses on developing a higher vision of love. Participants further reflected on the teachings through discussion groups, which were uniquely set up based on an entry prompt of "What would you like to 'drop' and 'keep' to support your self-development?".
Participants served at a local community garden, helping with weeding and harvesting produce that is donated to food pantries in the New England region. In an effort to support the environment, all meals were served on reusable dishware, often prepared by retreat participants, and the whole group practiced composting food scraps. Taking turns serving meals and cleaning up reinforced the spirit of community and caring for one another.
Sapna Rao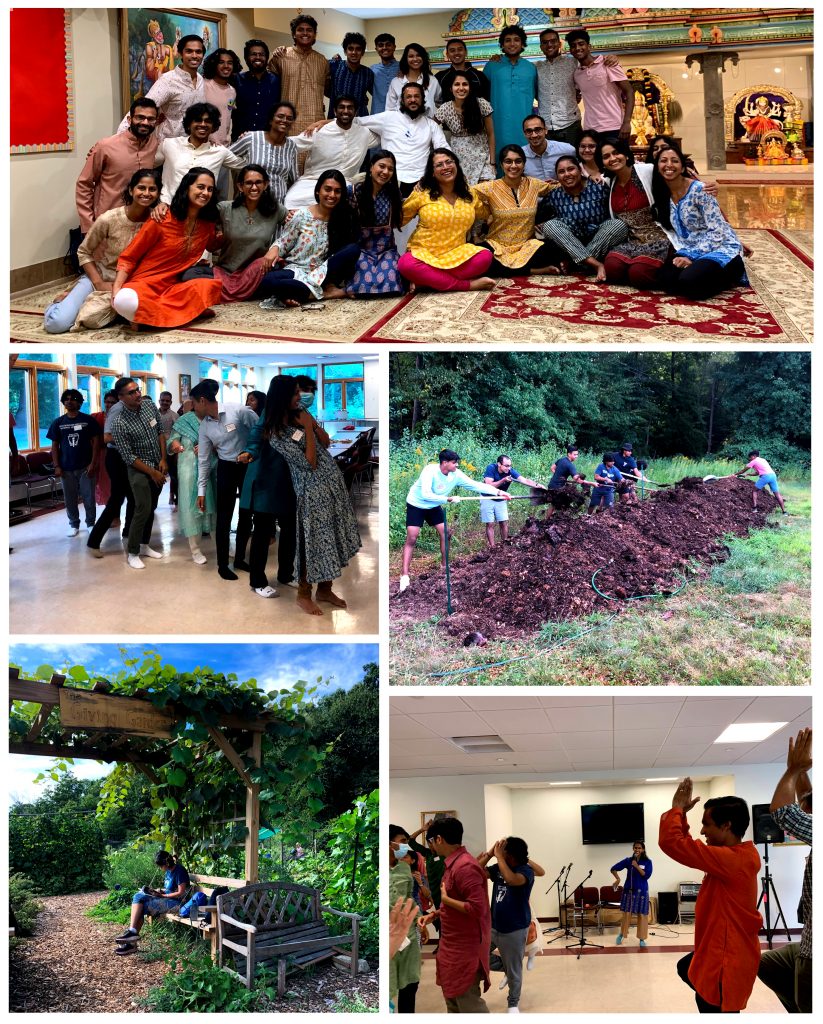 ---