Jnana Yajna by Pujya Swami Adityananda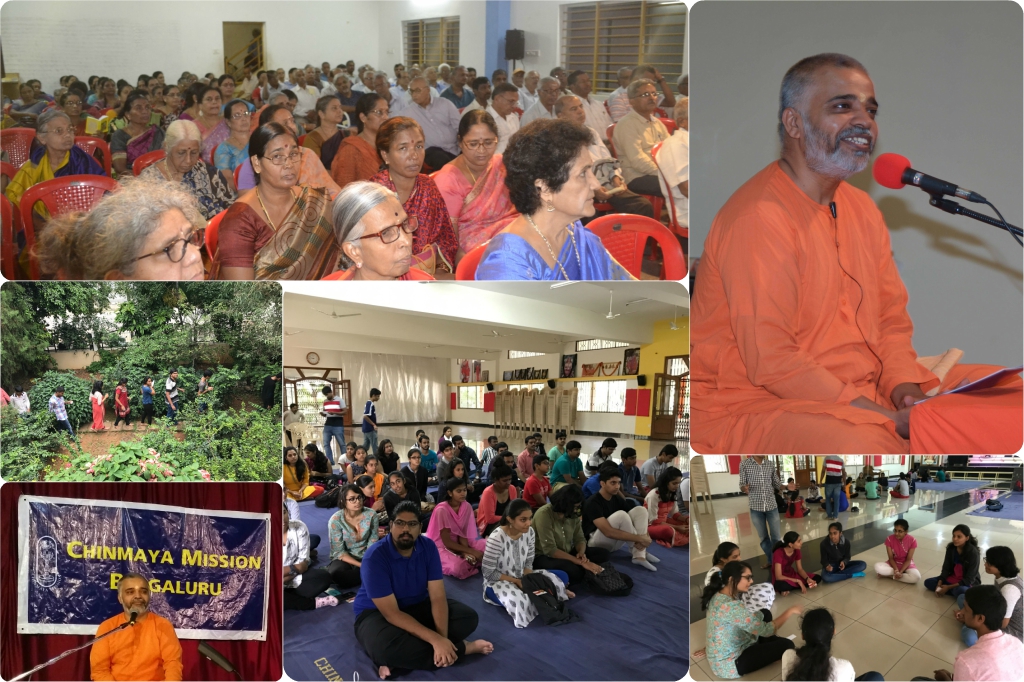 Pujya Swami Adityananda of Mandya centre conducted a Jnana Yajna in Kannada at Sharada Mandir, Chinmaya Vidyalaya, Koramangala, from 4th June 2017 to 11th June, 2017 taking Gita Sara (selected shlokas from the Bhagavad Gita by Bhagawan Ramana Maharshi). The Yajna was inaugurated by Sri K S Bhat, C E of Chinmaya Vidyalaya.
Pujya Swamiji stressed the fact that all misery in life is created because of our accepting what 'I' am really not as my real 'ME' and restricting the all pervading imperishable 'Atman' to the impermanent perishable body. The external world is nothing but a projection of our own mind and once we are able to calm the ever turbulent mind through continuous sadhana 'Sat Chit Ananda' that is our true nature becomes our very core of living without dependence on outer world of plurality.
The Yajna was well attended.
Gita Jnana Yajna by Pujya Swami Adityananda
Pujya Swami Adityananda of Mandya centre conducted a Gita Jnana Yajna in Kannada at Snea Bhavan, Sahakaranagar from 19th June, 2017 to 25th June, 2016 taking Bhagavad Gita Chapter 12. The Yajna was inaugurated by Sri Sudheendra, senior member of the Mission.
Pujya Swamiji explained the concept of the unmanifest and manifest aspects of the Lord with emphasis that sadhaks in the beginning need the form to control the mind and as they progress in their sadhana the knowledge of the Self will make them realise that all duality is just a misunderstanding. Attachment associated with delusion due to ignorance slowly drops with the realisation that 'I' am not the body but the flame of light enlivening the entire universe.
The Yajna was well attended.
Youth Meet in J P Nagar
The CHYKs of Sripadakshetra, J P Nagar, Bengaluru organised a youth workshop entitled Derivative of failure = Success on 25th June, 2017.
The workshop consisting of three rounds of action packed activities was based on Yajna Spirit laying emphasis that there can never be a single winner and the journey matters more than the end result with all the participants agreeing that "Failures are the lessons for greater success". Sri Chandrashekar Padubidri and Smt Sangita Shivakumar senior members of the Mission summarized the proceedings inspiring the young minds with a firm message that Derivative of failure leads to higher Suceess if one puts right efforts to enhance capabilities.
The workshop was very well attended and paved way for formation of new Youth Classes.
 For More Pictures Click Here