Brni Bhamati Chaitanya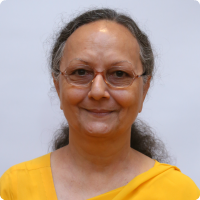 Chinmaya Narayana Zone
302 Mystic Nav-chaya Society

R.b. Mehta Road, Near Vikrant Circle,
Ghatkopar (east),
Mumbai
400077
Maharashtra , India


brni_bhamati@yahoo.com
Brahmacharini Bhamati Chaitanya is currently serving Chinmaya Mission Boston at 'Chinmaya Maruti'. Bhamatiji completed the Vedanta course in May 2004 at 'Sandeepany Sadhanalaya,' Mumbai under the tutelage of Swami Ishwarananda, and received brahmachari diksha from Pujya Swami Tejomayananda.
Bhamatiji conducts Vedanta classes for adults, CHYK, and Devi groups, as well as classes on yoga, meditation, and Gita chanting. Her summer camps for children are enjoyed by all attendees.
Upcoming Events
Sorry, no events found!