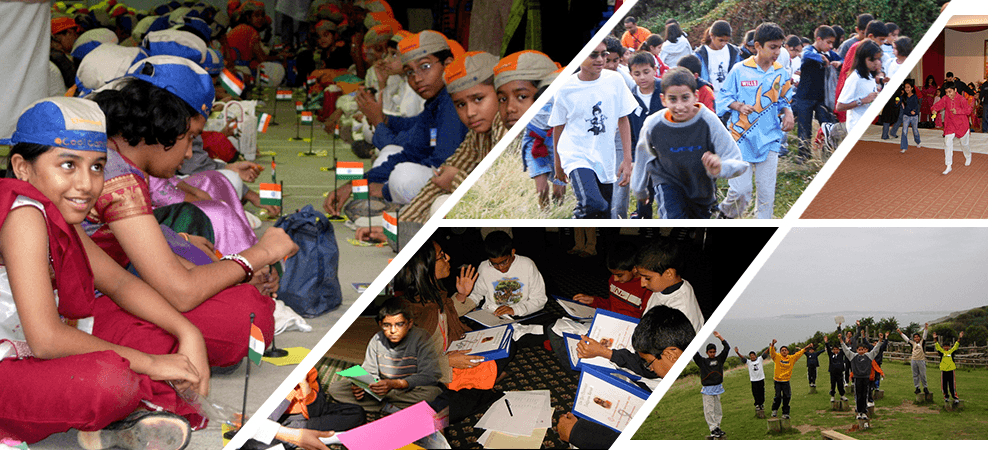 Bala Vihar


"Children are not vessels to be filled, but lamps to be LIT. The seed of spiritual values should be sown in young hearts, and the conditions made favourable for sprouting and steady growth through proper control and discipline. It must be cared for with the warmth of love and affection, and such a tree shall blossom forth flowers of brotherhood, universal love, peace, bliss, beauty, and Perfection"
Swami Chinmayananda.
Introduction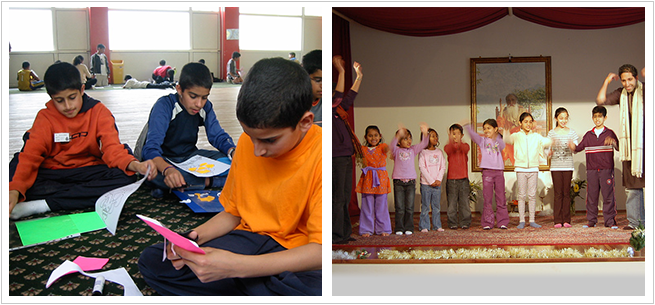 Bala Vihar is a weekly gathering of children, between the ages of five to fifteen years that takes place in Chinmaya Mission Centres or in private homes, under the supervision of trained teachers. The aim of Bala Vihar is to help children bloom, grow, and inculcate values through fun-filled activities. Bala Vihar enhances the overall development of the personality of a child at all levels — physical, emotional, intellectual and spiritual.
Mission Statement
"To help children learn values with fun, to delight like the moon and shine like the sun"
For Online Subscription of Balvihar Magazine Please Click Below links:
Indian Subscription Click Here.
Overseas Subscription Click Here.
G.C.C

Resources and Publications

Curriculum

Magazines

Camps

About
A unique program that began as a Bala Vihar activity, but expanded to include the participation of all age groups, is the Chinmaya Gita Chanting Competition. The Gita was Swami Chinmayananda's life breath. He wanted the Lord's Song to echo among people of all ages and across all continents. He envisioned the chanting competitions as an introduction to a life-long friendship with the Gita with the progressive strategy to chant-study-know-live the Gita. Children, parents, and grandparents have thus been encouraging each other to participate in this healthy competition, of which the underlying goal is spiritual evolution.
In India, annual Gita Chanting Competitions are held in every state, spanning villages, towns and cities. Bala Vihar sevaks work with devotion to involve children from schools in their areas. Teachers from the Chinmaya Vidyalayas are also committed to annually increase its scope. In many U.S. centres the annual competition is conducted around Swami Chinmayananda's birthday on May 8. Participation in it is their way of acknowledging his grace and saying, "Gurudev, this is our gift to you!"
In 2003, Chennai celebrated fifty years of the Centre's existence on Marina Beach with the Indian Ocean as witness. And what a celebration it was!
"It was a grand vision… more than 35,000 young voices singing the eternal song of the Lord, the twelfth chapter of the Bhagavad-gita. The intonation flowed flawlessly, up and down, wave upon wave, verse-by-verse, teaching the rhythm to the waves that vied to reach the children and hug them in glee. It was glorious to be alive then and to witness the grand vision of Gurudev unfolding in the vast arena!"
– Parvathy Raman, Editor, Tapovan Prasad
From inception in the early 1980s to date, the Chinmaya Gita Chanting Competition, has seen over six million participants.
To participate in a Chinmaya Gita Chanting Competition, contact your nearest Chinmaya Mission centre.
"The main objective of Bala Vihar is to connect children to Bhagavan. Children should blossom in such a way that they turn to Him not just in need or during difficulties; they should be connected to the Lord at every point in time!"
– Swami Tejomayananda