News


To understand anything is to find in it something which is our own.
-Swami Chinmayananda
Archival News/Other News
Vaikunda Ekadasi Chinmaya Mission, Hosur
Dated : 2017/12/29

---

Vaikunta  ekadasi, a very Special festival for  Chinmaya Mission, Hosur, was celebrated on 29th December 2017. The auspicious day started in wonderful way with special Abishegam and Alangaram done to lord Omkara Vishnu followed by urchavar pallakku urvalam ,religious ecstasy dominated the celebrations with  the chanting of Vedic mantras by devotees.
The entire building of Chinmaya Upasana and the deity Shri. Omkara Mahavishnu, Shri. Maha Ganapathi & Shri Hanumanji were colorfully decorated with flowers.  Further from morning 6 am to till evening 7 pm Shri Vishun Sahasranama  parayanam organised and 63 devotees from various parts of Hosur gathered as group and chanted the Shri Vishnu Sahasranama 453 times. More than 900 devotees visited Chinmaya Upasana and got blessings from Lord Shri.Omkara Mahavishnu. Prasadam distributed to all the devotees.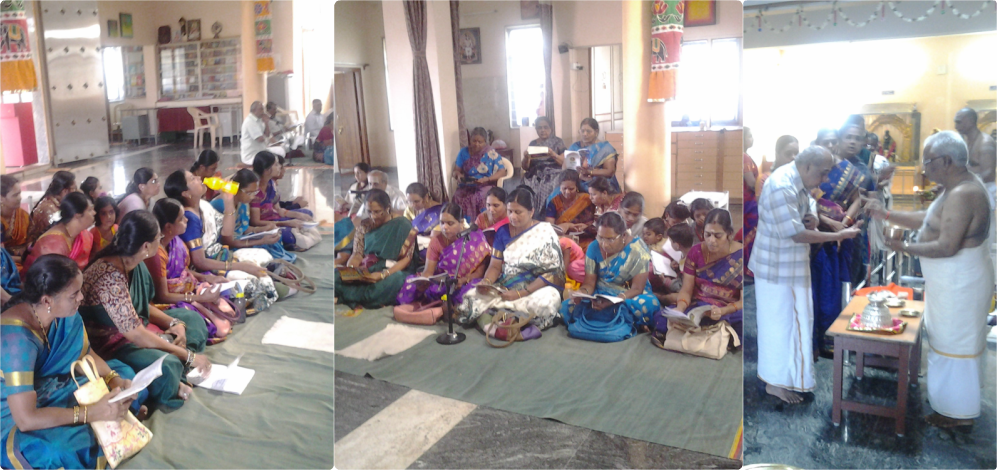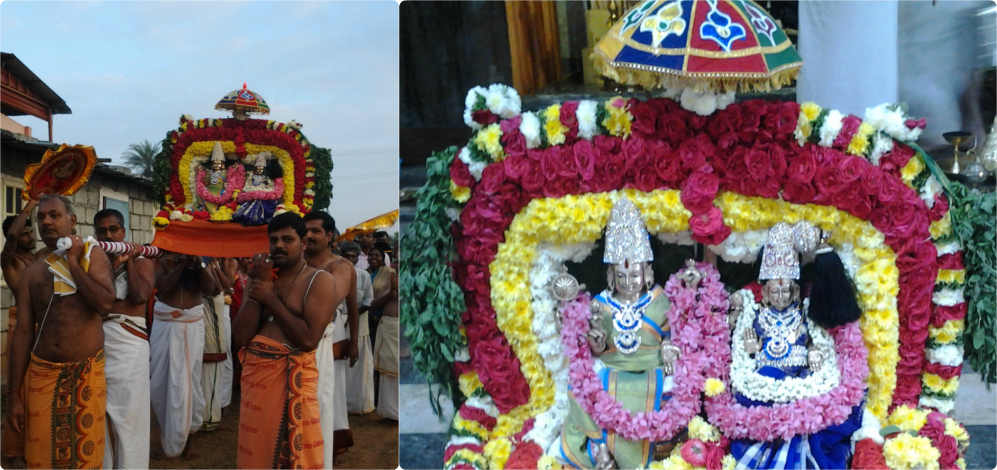 ---
Activities in Bengaluru during December 2017
Dated : 2017/12/31

---

Activities in Bengaluru during December 2017
Gita Jnana Yajna by Pujya Swami Brahmananda
Pujya Swami Brahmananda conducted a Gita Jnana Yajna in Kannada from 4th to 10th   December, 2017 at Sri Kailas Ashram, Rajarajeshwarinagar taking Bhagavad Gita Chapter 4. The Yajna was inaugurated by Parama Pujya Acharya Mahamandaleshwara Jagadguru Sri Jayendra Puri Swamiji of Sri Kailas Ashram who paid rich tribute to the greatness of Bhagavad Geeta which clearly explains the significance of Dharma as the root of life bestowing happiness removing all sorrows. He paid glowing tributes to Pujya Gurudev Swami Chinmayananda and commended the work being done by Chinmaya Mission in propagating the message of our scriptures.
Pujya Swami Brahmananda gave a vivid explanation of the Advaita concept and importance of gaining the true knowledge that there is nothing that exists other than the pure Brahman. The entire world of plurality is just an illusory projection which cannot be understood unless one transcends the realm of body, mind and intellect. We should realise that the infinite source of peace and happiness is our true nature and stop searching for it in the outer world.
The Yajna was a grand success with more than 1000 sadhaks attending every day.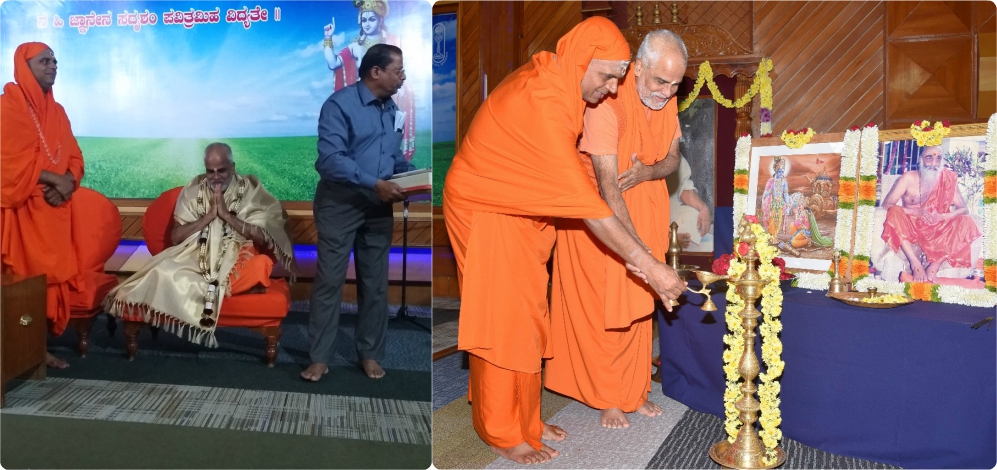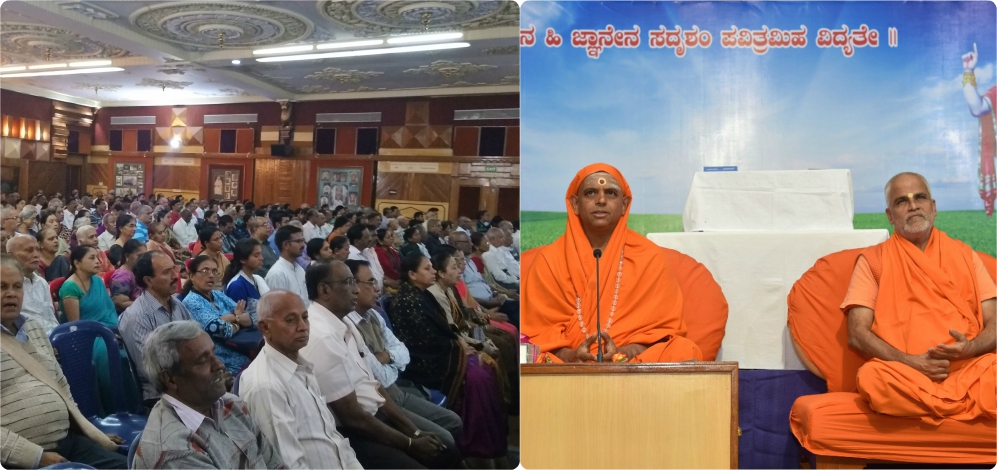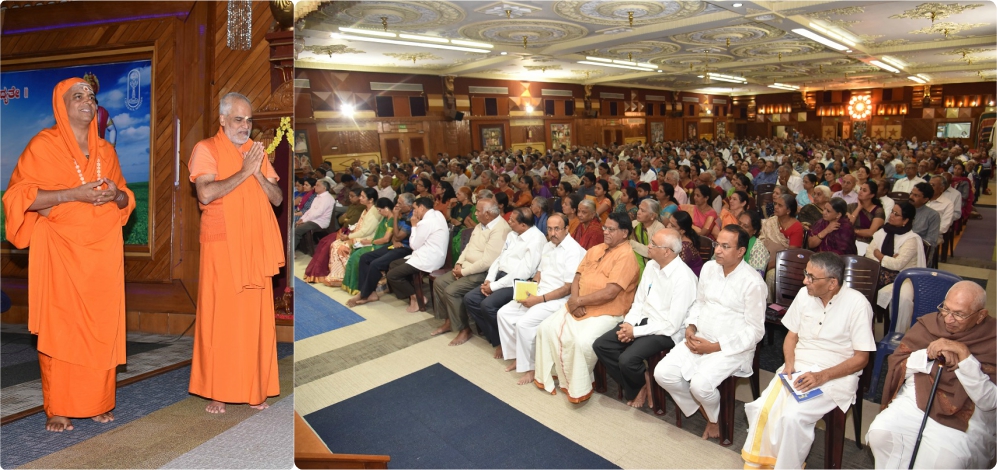 All Bengaluru Balavihar Meet
Balavihar children from all the Balavihar classes of Bengaluru assembled on Sunday, 10th December, 2017 in the divine presence of Parama Pujya Jagadguru Sri Jayendra Puri Swamiji and Pujya Swami Brahmananda and showcased the essence of our puranas, scriptural teachings and Pujya Gurudev's vision through skits, dance dramas, chantings and innovative displays of values, forms of Devi & Acharya Shankara episodes. More than 500 children participated in the wonderful event which drew tremendous appreciation and applause from Pujya Jagadguru Himself and the residents of Rajarajeshwarinagar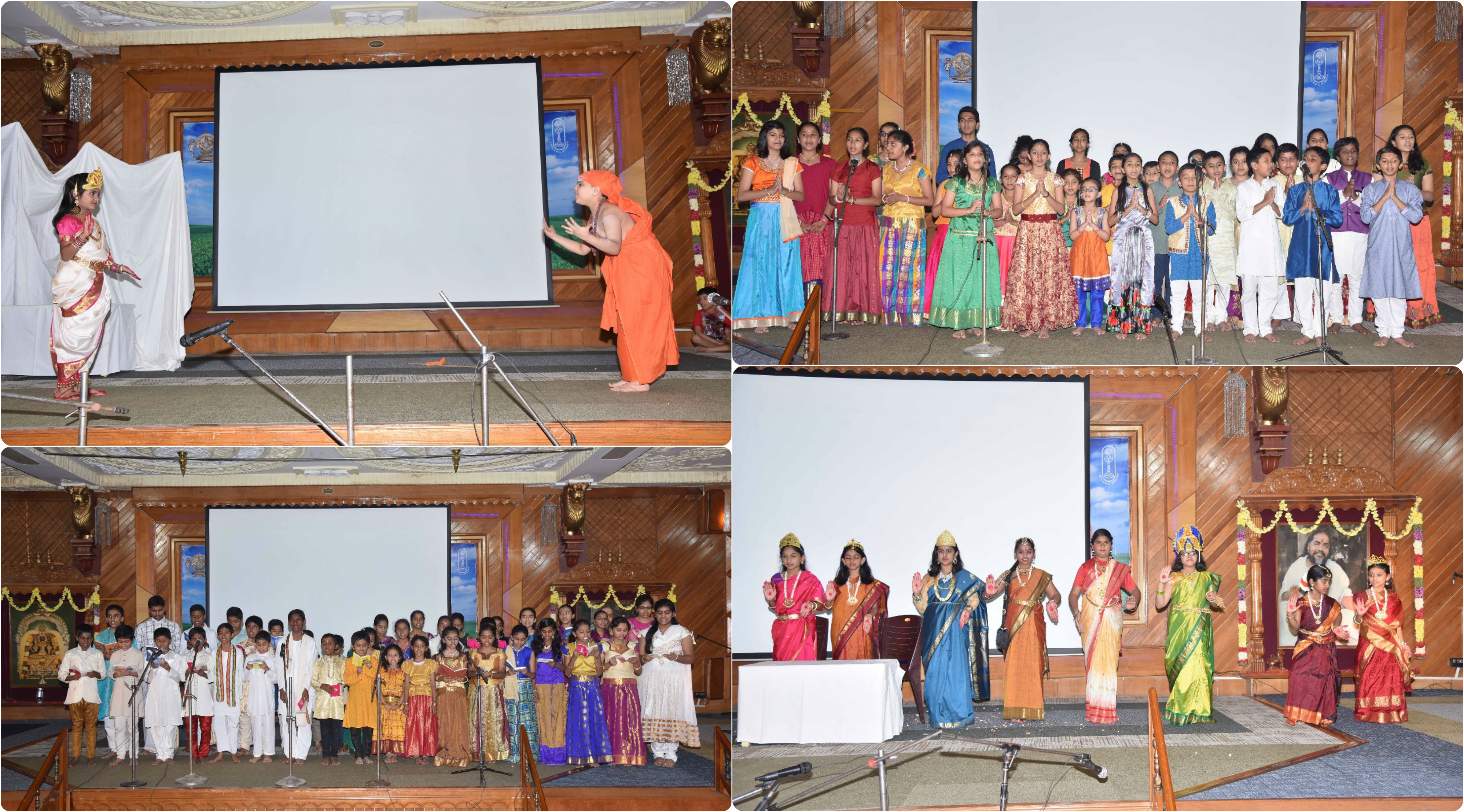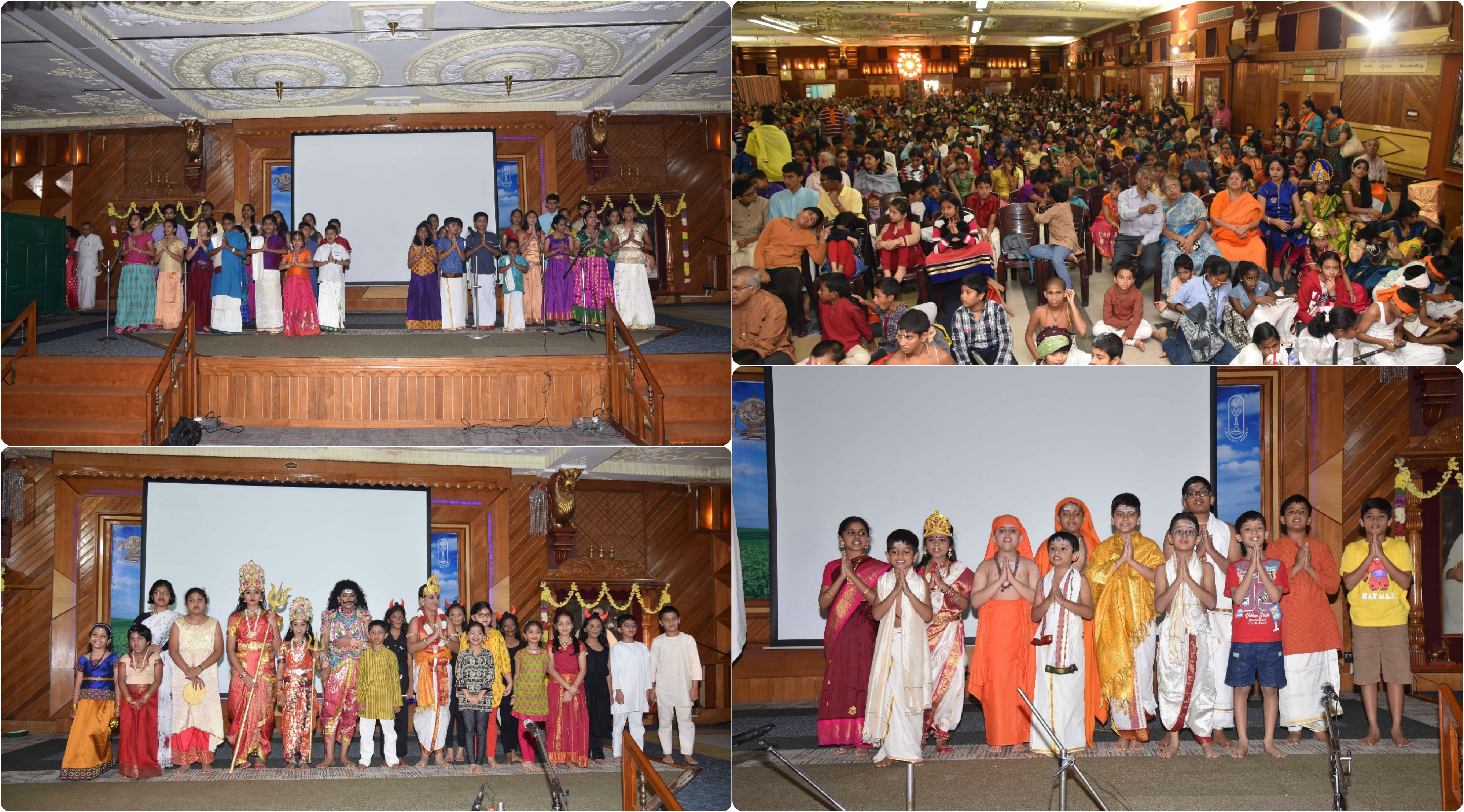 Gita Jnana Yajna by Pujya Br. Sujay Chaitanya
Pujya Br. Sujay Cahitanya of Mangalore centre conducted a Gita Jnana Yajna in English from 18th  to 24th December, 2017 at Vinayaka Temple, R T Nagar on Bhagavad Gita Chapter 17. The Yajna was inaugurated by Smt Jyoti, senior member of the Mission.
Pujya Sujayji explained the need to develop right type of Faith if one has to progress in Sadhana. He covered how the three Gunas play a very important role in worship, food habits, yajna, austerity and charity stressing on the need to transcend all the Gunas. All actions need to be performed invoking the name of the Lord who has provided all resources for our existence in the world. Ultimately nothing other than existence (God) alone remains with all other visible world being only illusory. Actions performed without faith, interest and commitment will fail to yield result and will not benefit anyone.
The Yajna was very well attended.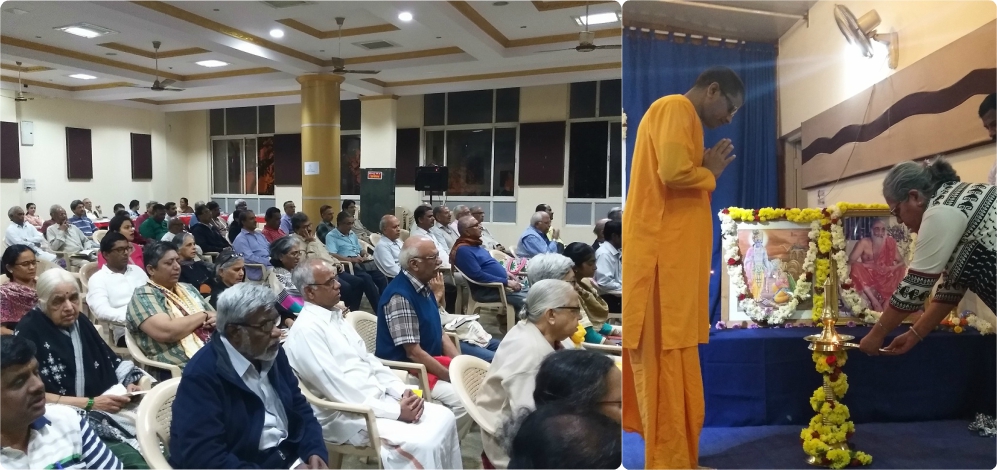 ---
Ekatma Yatra – Adi Sankara Sandesh Vahini flag off ceremony
Dated : 2017/12/29

---

The Madhya Pradesh government recently announced plans to install a 108-foot murti of the renowned philosopher and saint Sri Adi Sankaracharya in Omkareshwar on the banks of the Narmada river. Born in Kerala, this great saint travelled at the tender age of eight to Omkareshwar where he met his Guru, Sri Acharya Govindabhagavatpada.
The Adi Shankara Sandesh Vahini, an initiative of Chinmaya Mission and the Govt. of Madhya Pradesh is a life-story of Sri Adi Sankaracharya on wheels, and was specially designed to be a part of the Government's initiative called 'Ekatm Yatra'. The idea of the bus is to travel from Adi Sankara Nilayam, Veliyanad, Kerala, the birth-place of Sri Adi Sankaracharya and home to Chinmaya International Foundation, to Omkareshwara, Madhya Pradesh.The intricately designed bus carries panels depicting significant incidents from Sri Sankara's life. This bus, aptly called the Adi Shankara Sandesh Vahini was flagged off from Adi Sankara Nilayam on Dec 29, 2017 by Hon'ble CM of Madhya Pradesh, Sri Shivraj Singh Chouhan.
On the morning of Dec 29, 2017, the CM visited the Adi Shankara Sandesh Vahini along with his family. They were accompanied by Swami Mitrananda, Trustee Chinmaya Vishwavidyapeeth (CVV), and Swami Advayananda, from CIF. After that, the CM offered puja in the birth room of Sri Sankara. He also visited the Chinmaya Swayambhu Ayyappa Temple in the precincts of Adi Sankara Nilayam. The CM offered the first kalasha containing mud of the illam to be used in the foundation laying ceremony of the construction of the 108-ft high statue of Sri Adi Sankara in Omkareshwar.
In a public meeting organised to mark the occasion, Prof. B. Mahadevan, Vice Chancellor CVV, welcomed the gathering and introduced the chief guest, Sri Shivraj Singh Chouhan. In just a few minutes, the Vice Chancellor connected the life and work of Adi Shankaracharya with the vision of the University.
In his speech, Sri Shivraj Singh Chouhan spoke about how Adi Sankaracharya was a gifted child and how the various instances of his life depicted in the Vahini have deep philosophical significances. He also mentioned how his government was working on not just building infrastructure, but on providing means to a better life.
A synopsis of the CM's speech:
" In this country, especially in North India, we have a tradition of universal prayer at the end of every ritual. They say " Victory to goodness (dharma)! May evil (adharma) be destroyed! May all creatures experience goodwill! May the world be happy!" This Universal prayer is a wish for the welfare of all – not people of a particular religion, not just humans or Indian but for everyone in this world, whether
humans or animals or other species. This is the culture where the Upanishads declare that "This is mine, that is yours is the sign of petty minds; for the wise, this entire Universe is one family!"
It is this tradition of Oneness and Universality known as the Advaita philosophy that Adi
Sankaracharya propounded and it is this philosophy that will unite this country. Adi Sankaracharya was born in Kerala and travelled to Omkareshwar, on the banks of the Narmada river, in present day Madhya Pradesh. He took the philosophy of Advaita to all four corners of the country by establishing mathas in East, West, North and South thereby uniting the country. His proposal to have Namboordiri priests in Badrinath was his unique idea.
This Ekatm Yatra or Journey of Unity celebrates Adi Sankaracharya's life. We are doing the bhoomi puja for a 108-foot murti of Adi Sankaracharya in Omkareshwara where the saint met his Guru, Govindapada. In this journey, we are collecting earth in copper pots from Veliyanad, Kalady and several other pilgrimage places along the way to demonstrate that Adi Sankaracharya belongs to the whole country."
Swami Paramatmananda, noted spiritual teacher, explained the genesis of the Ekatm Yatra and how it was being led by saints and people in society rather than politicians or bureaucrats. In his benediction address, Swami Advayananda mentioned how the sun shines at its zenith and how Sri Sankara shone brightest when he reached the centre of the nation, Madhya Pradesh, where he met his Guru. The public programme ended with a Vote of Thanks by the Chief Sevak of CIF, Sri K K Rajan.
The CM then flagged off the Adi Shankara Sandesh Vahini and the bus is on its way to Omkareshwar where it will culminate its journey on the 22nd of January, 2018. On the same day, the Prime Minister, Shri Narendra Modi will preside over the bhoomi puja of the location where the 108-foot murti of Adi Sankaracharya will be installed.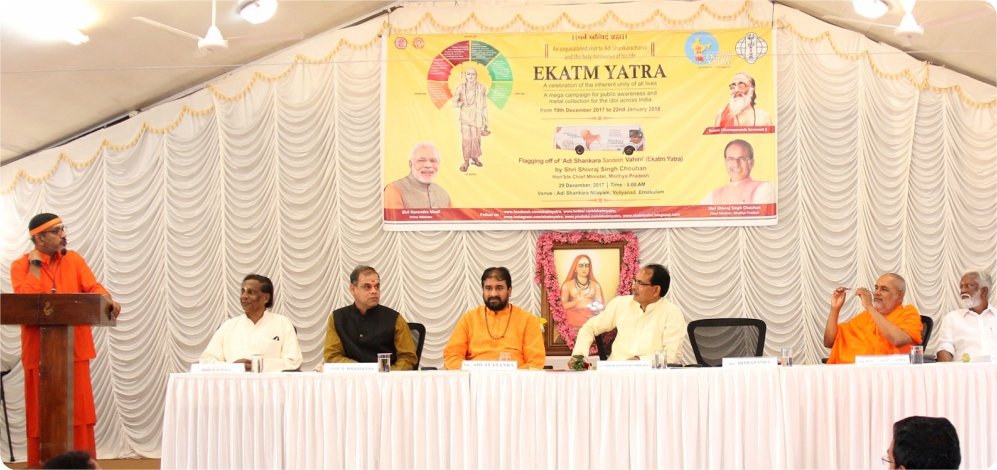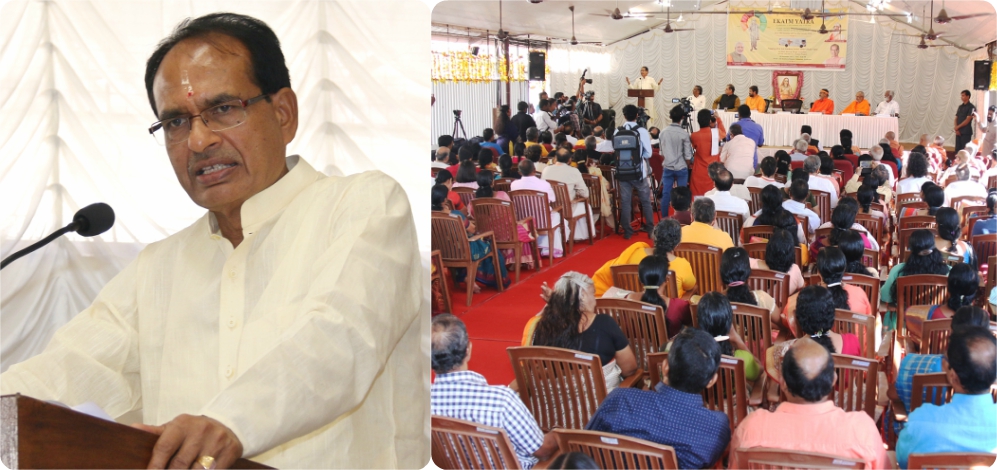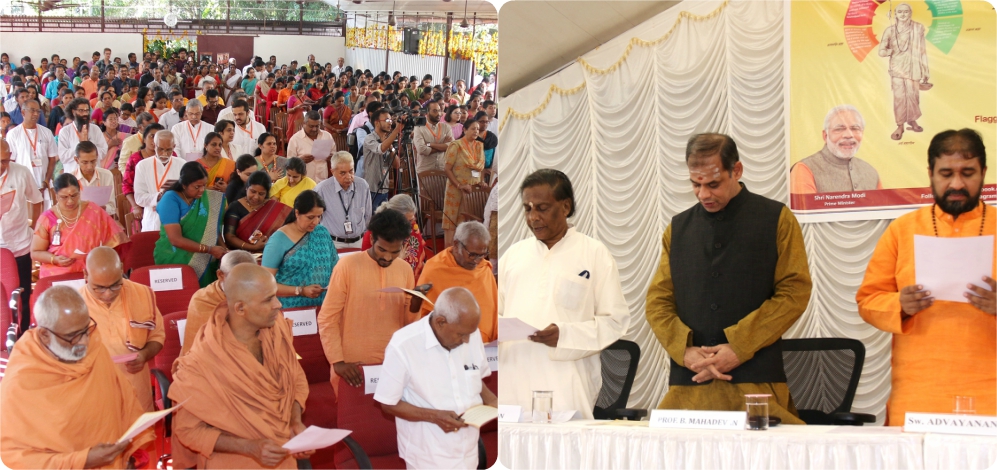 ---
Balavihar & Shishuvihar Graduation Ceremony 2017 at CM Ahmedabad
Dated : 2017/12/18

---

Chinmaya Mission Ahmedabad celebrated Chinmaya Balavihar and Shishuvihar Graduation day for the batch of 2017 on 18 th December 2017 at ParamDham temple. The Graduation ceremony started with prayers. Br. Atharvana Chaitanya shared the purpose of Balavihar and significance of graduation ceremony with all. This was followed by short presentations by all groups including the little shishus. All kids received the 10 Rupees coin released by the Government of India on the occasion of Pujya Gurudev Swami Chinmayanandaji's Birth Centenary, as Prasad. Students graduating to the next class received a certificate and beautiful Chinmaya Balavihar badge. Singing the Graduation song written and composed by Pujya Guruji, blessings were invoked upon all the children for their bright future.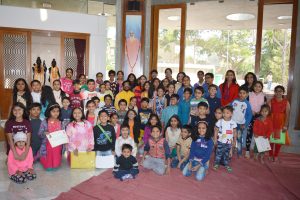 ---